Redesigning a website is more than just moving elements and content around on a page or updating colors and adding new website functionalities. A website is your digital storefront; it's where users go to learn more about your business, your products, and services, how you can help alleviate an issue they are having or ultimately take an action, such as making a purchase or filling out a form.
But your website is also used by your sales and marketing teams to amplify​ your brand message, align your business and customer goals, and ensure leads or purchases are accounted for and are being seen by the right team members.
So that's why when it came to Seattle Sutton's Healthy Eating redesign and redevelopment project, we at Marcel Digital took a holistic approach. We not only focused on making​ the frontend / user-facing side of things but also used Umbraco to revamp the backend so that the business itself could run more effectively and efficiently. Our goal with the project was to cut the costs that Seattle Sutton was incurring through their checkout and payment processing, as well as eliminate unnecessary process steps that were being added by tools installed on their website.
Complete User-Focused Redesign
To start the project, our team of Umbraco Masters and experts jumped into the data to find areas of opportunities. We first consulted Google Analytics to see what pages were driving the most and the least traffic, what the engagement or conversion metrics looked like on those pages, and compared what was working to what was ultimately failing on the Seattle Sutton website. From there, we visualized the data using the power of Hotjar to dive a level deeper and strategize how to leverage everything we pulled together.​ We analyzed hours of user videos, thousands of heat- and click-mapping summaries, and conducted numerous polls and surveys with Seattle Sutton's customers to get a more clear picture of exactly how customers were using the website.
We focused on redeveloping the Seattle Sutton website to be entirely focused on the user in order to provide an experience that more effectively engaged, informed, and inspired action from their key prospects and customers. This meant restructuring the homepage to drive users to informational pages like the meal plan and menu pages and also providing more calls to action within view of the users to move those ready to take action down the sales funnel. To make sure these new pages would perform better than the previous website, we conducted numerous A/B tests and also utilized UserTesting.com to get more in-depth feedback from audiences similiar to Seattle Sutton's prospective customers.
The original Seattle Sutton homepage: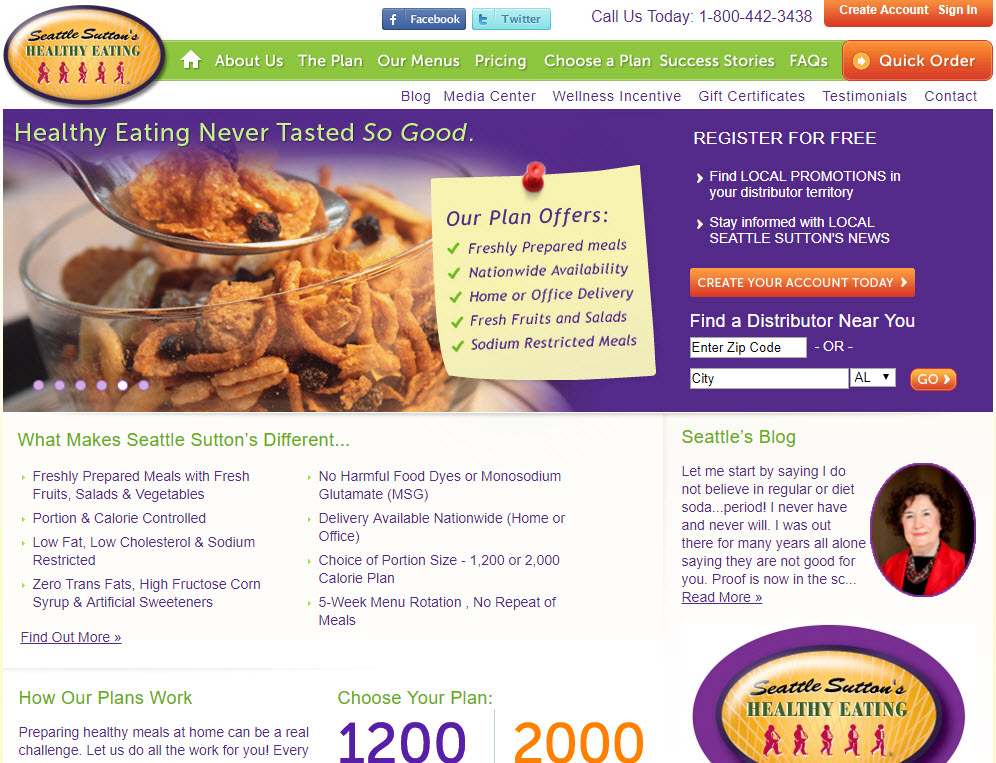 The new and improved Seattle Sutton homepage: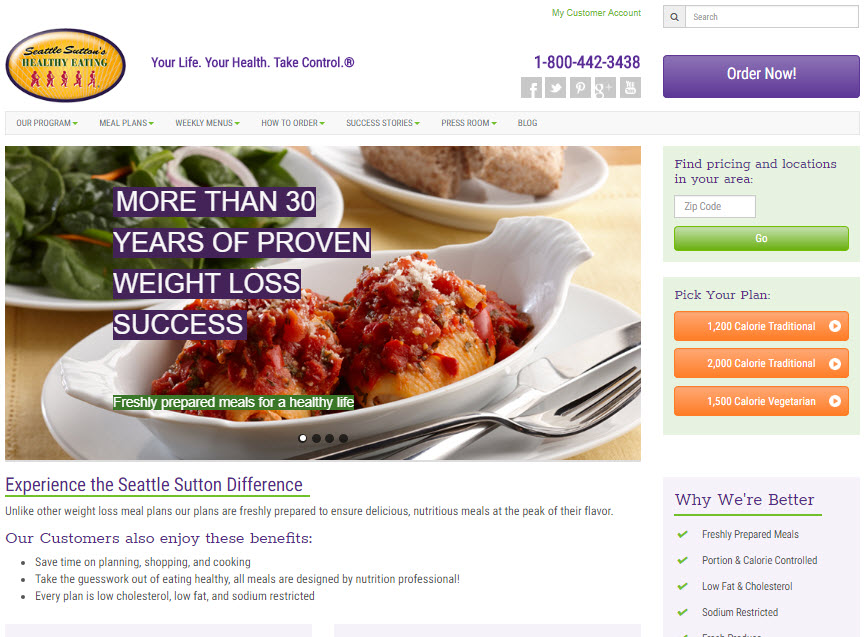 You'll see that we added calls to action on the right to drive users to key meal plan pages for 1,200-, 2,000-, and 1,500-calorie meal plans.​calorie meal plans. These newly developed pages give users more information about calorie based meal plans, such as nutritional analysis, health guidelines the meal plans meet, and the health benefits each meal plan provides.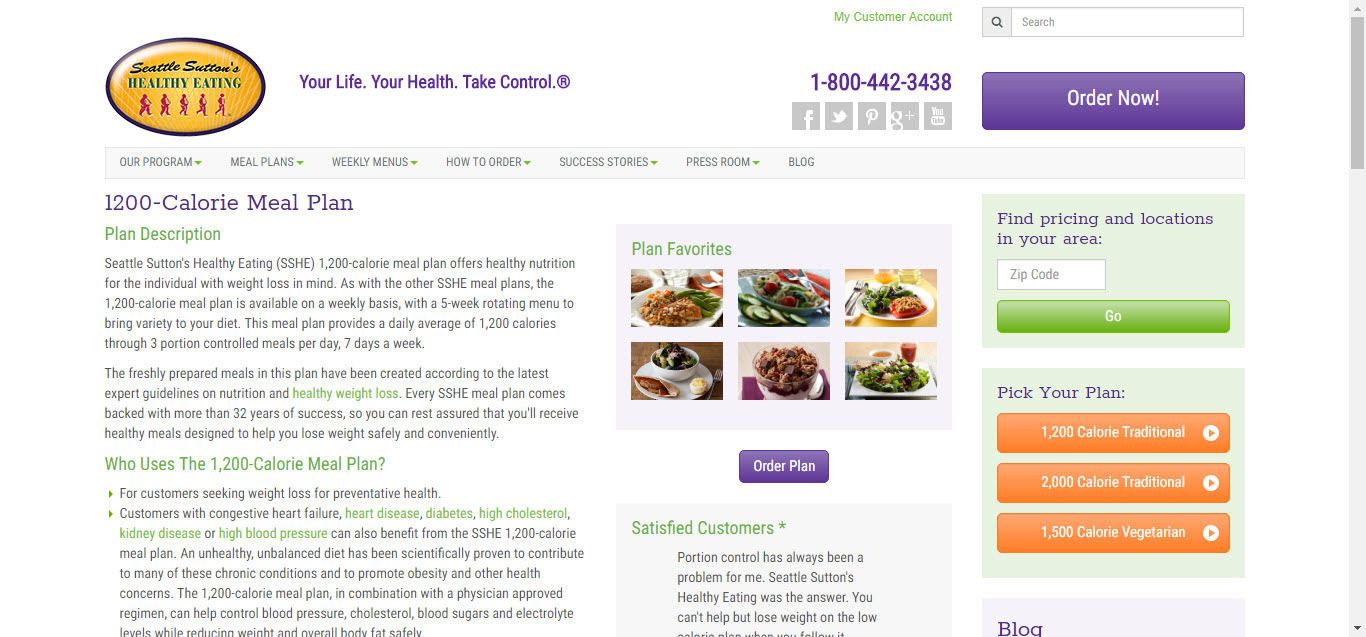 To dive more into detail about the health benefits provided by the different calorie plans, we created Health Benefits pages to break down how SS created plans based on the health goals customers were aiming to achieve​.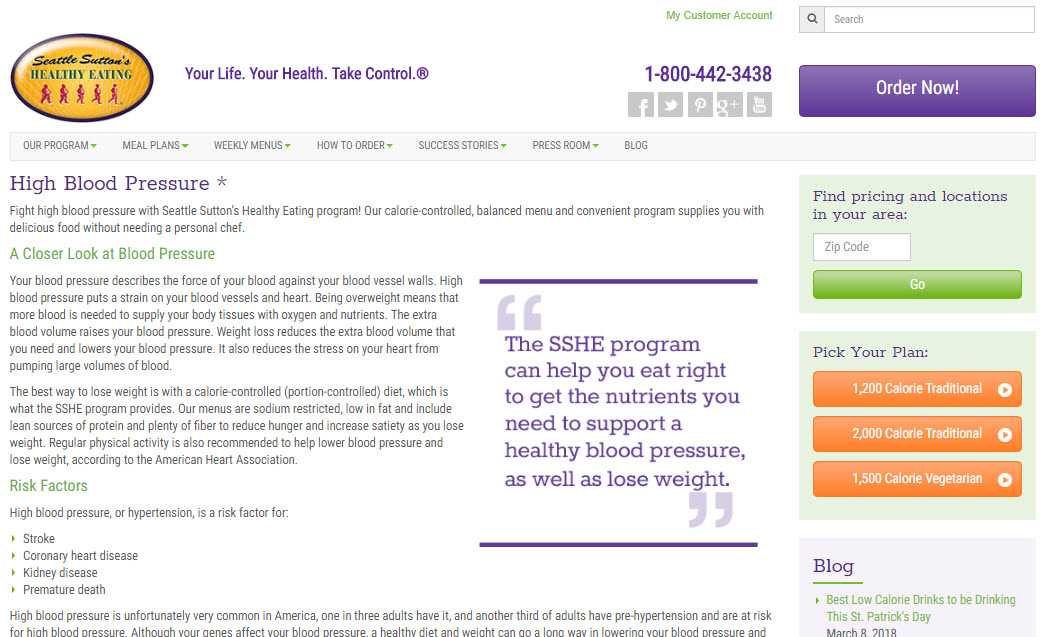 These new pages serve two purposes:
To provide prospective customers with information about the meal plans and their health benefits, nurturing them through the sales funnel
To capitalize on key SEO searches conducted by Seattle Sutton's target audiences and personas
Because of these new pages that we added (and ongoing content marketing consulting), we have seen an 83% increase in organic traffic and 54% more transactions!
Backend & Process Overhaul
But our redesign and development work went far beyond the frontend, user-facing side of the website.
To start, we sat down with the Seattle Sutton executive team at the beginning of the redesign project to talk through their ordering and business processes. We asked in-depth questions to get the full scope of what a customer or distributor for Seattle Sutton would go through in order to place orders. Our goal in these discussions was to become entrenched in their business, learning as much as we could to provide a website and backend process that would not only increase traffic and orders but also improve the efficiencies of their team and business as a whole. Through our meetings and research, we found inconsistencies with the way that distributors and customers were placing orders with Seattle Sutton's headquarters, as well as payment processing issues that were costing them tens of thousands of dollars.
To remedy these issues, we completely stripped the old ordering functionalities and payment processes that were hindering the old website and distributors engaging with the site​ and shifted focus to integrating best-in-class tools that expedite payment and order processing. By updating these processes, we also ensured that any process on the backend operation was happening more regularly and efficiently. These updates included not only order process, but also fulfillment and reporting.​ This would ensure that Seattle Sutton distributors would meet a strict twice a week order processing deadline to ensure their orders are delivered to customers in a timely manner.
Ongoing Maintenance & Support
At Marcel Digital, we don't just build websites to exist and function. We build beyond the launch to ensure that our client's websites are continually performing at an optimal level and are maintained to handle all the functionalities that matter most to their business. Seattle Sutton was (and continues to be) no different. As part of our ongoing Umbraco services, we ensure that Seattle Sutton's website maintains an uptime of no less than 99% and is also always up to date on the newest version of Umbraco.
We also provide ongoing managed services to Seattle Sutton, including SEO lead by a team of Moz Oracles, paid media conducted by Google AdWords Certified Individuals, and CRO website testing by our team of ConversionXL Certified experts. All of these experts work together to build marketing and website strategies that continually drive higher-quality traffic to the Seattle Sutton website, and because of it, engage and convert at a higher level.
To learn more about the work we did with Seattle Sutton and their website redesign, check out our case study here!