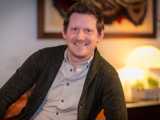 Alex is an experienced website developer with hundreds of technical implementations and websites on his resume. He has a degree in Computer Science from Purdue University and is a certified Umbraco Master. 
He has spoke at the Umbraco US Festival in Denver and Chicago, and regularly attends Codegarden in Denmark to engage with the Umbraco community and keep up-to-date on the latest tools and techniques. 
Alex has worked as the lead on a number of projects from full scale website development to custom web applications, and specializes in translating client needs to efficient technical solutions. 
Alex enjoys tooting his trumpet in the orchestra for community musicals, driving his car at hazardous speeds around the racetrack, and throwing around the ol' disk during some ultimate frisbee.

I don't do well with snakes and I can't dance.
Robin Williams
Favorite Beverage
Not Your Father's Root Beer
Fun Fact
Professional Amateur Track Day Driver
Favorite Restaurant
Benihana, Where dinner is the show
Favorite Song To Dance To
Favorite Nicholas Cage Movie
Most Famous Celebrity Met
What You Wanted to Be When You Grew Up