We create YouTube ads that engage audiences on the world's second-largest search engine. We provide everything your business needs to succeed in YouTube advertising, from research to building your campaigns to in-depth reporting in Google Data Studio and ongoing campaign management.
Right now, YouTube has over 2 billion logged-in monthly users and over 15% of them are from the United States. As the second-largest search engine behind Google, this presents an amazing advertising opportunity for marketers to target specific audiences and prospects with ads driven to build brand awareness, drive traffic, boost sales, and leads, while continuously providing long-term ROI for your advertising budget.
YouTube ads can be targeted in a variety of ways, including (but not limited to):
Demographics
Interests
Contextual Targeting
Behavioral interests
Lookalike
Retargeting
Marcel Digital leverages the above criteria to create engaging YouTube ads that target a variety of audiences through different targeting capabilities and ad formats.
Marcel Digital is a team of certified, seasoned YouTube Advertising experts. We're a Google Premier Partner staffing an entire office of Google Analytics Certified experts, Moz Oracles, designers, and UX experts to help you attract, inform, and convert your prospects through targeted video ads on YouTube and other video platforms. We view YouTube as part of the overall digital journey, educating and reporting on how it fits into the conversion funnel.
What is YouTube Advertising?
YouTube Advertising is an ads platform marketers can use to promote their brand, products, and services through ads in videos on YouTube. YouTube Advertising offers marketers access to billions of users and the ability to target them based on numerous pieces of lifestyle and interest criteria. This ensures your ads are efficient in driving qualified traffic and conversions to your site.
Google has made creating and managing advertising campaigns on YouTube easy and cost-effective for marketing teams and businesses of all sizes.
Benefits of YouTube Ads
From the sheer amount of users to the real-time measurement metrics, the benefits of running YouTube ads surpass that of other video advertising platforms.
Unlimited Reach
There are over 2 billion logged-in users on YouTube with over 15% of those users from the United States. In fact, over 73% of adults in the United States use YouTube. This means that no matter what your industry, your products, services, or your brand, you'll be able to ensure your ads are seen by the right people at the right time.


Connect With Your Audiences
YouTube Advertising offers numerous advertising format types to build brand awareness, promote products, showcase services, and help you engage your target audience on a deeper level. Each ad format allows you to create unique, personalized experiences for your prospects that drive them to connect, click, and convert.


Enhanced Targeting Capabilities
Targeting audiences has never been easier than it has with YouTube Advertising. Need to target 26-year-old grad students who live in New York City who browse sporting websites? Do you have a list of previous customers or people who have visited your website you want to target? What about users who viewed certain videos or follow certain channels? YouTube Advertising gives you the targeting capabilities you need to reach highly targeted audiences and drive awareness and conversions. 


In-depth & Real-Time Reporting
One of the greatest benefits of YouTube advertising is the ability to measure the success of your ad campaigns through in-depth analytics. These reports include the number of clicks/impressions, number of new customers, and how these users found you.
Types of YouTube Ads
YouTube Advertising has multiple ad types marketers can leverage to promote their brand and products. Let's touch on the most used ad formats on YouTube, along with examples, sizes, and devices they work best on.
Display Ads
YouTube Advertising display ads are found off to the right of videos in the "Up Next" and "Recommended Videos" sections. These ads are often relevant to the video being viewed or are based on specific targeting criteria like demographics, interests, videos viewed, or channels followed.
These ads are 300x60 and display best on desktop devices.


Overlay Ads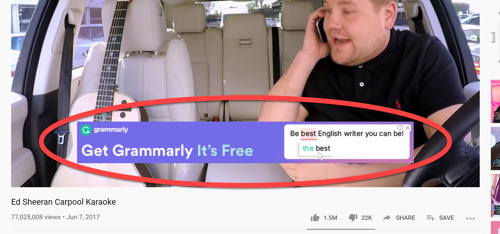 Overlay ads are semi-transparent ads that appear in the bottom center 20% of the video. The ads usually appear a few seconds into the video or at a designated point within the video. As with all other types of ads in YouTube, these ads are often relevant to the video being viewed or are based on specific targeting criteria like demographics, interests, videos viewed, or channels followed.
Overlay ads are formatted as 468x60 or 728x90 image or text ads, and perform best on desktop.


Skippable Video Ads

YouTube skippable ads are ads that play before or during a picked video on YouTube. Usually, these ads play for a few seconds before a notification comes up that counts down from five and ends with a "Skip Ads" button. From there, the user can click to view the video. As with all other types of ads on YouTube, these ads are often relevant to the video being viewed, or they are based on specific targeting criteria like demographics, interests, videos viewed, or channels followed.
Skippable video ads are video formats played in the YouTube video player and work for both desktop and mobile devices.


Non-Skippable Video Ads

YouTube non-skippable ads are ads that play before or during a picked video on YouTube. With these ads, viewers have to sit through the entirety of the ad at either the beginning of the video or during the video. The viewer will then be taken to their video once the ad ends.
As with all other types of ads on YouTube, these ads are often relevant to the video being viewed, or they are based on specific targeting criteria like demographics, interests, videos viewed, or channels followed.
Like skippable video ads, non-skippable ads play in the YouTube video player and are about 15 or 20 seconds in length, depending on regional standards. They work for both desktop and mobile devices.
Bumper Ads
YouTube bumper ads are non-skippable video ads that play in the YouTube video player before the video and are up to 6 seconds long. The viewer will then be taken to their video once the ad ends. They work for both desktop and mobile devices.


Sponsored Cards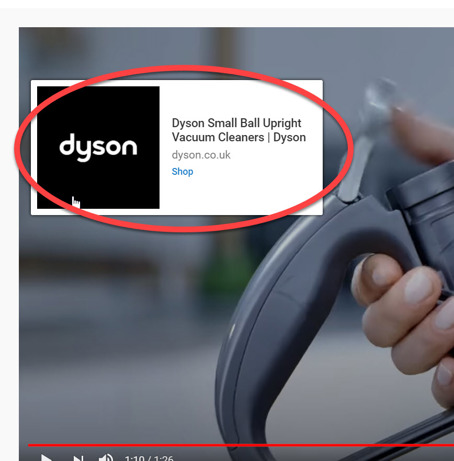 Sponsored cards are various sized display ads that appear at the end of videos that are relevant to the content, such as products or websites. Users can click these ads and be led to purchase a product or take specific actions. As with all other types of ads on YouTube, these ads are often relevant to the video being viewed, or they are based on specific targeting criteria like demographics, interests, videos viewed, or channels followed.
These ads vary in size and work in both desktop and mobile devices.


Discovery Ads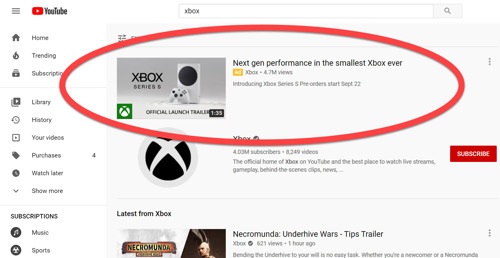 YouTube discovery ads videos are used to promote video content in places of discovery. This includes next to related YouTube videos, YouTube search results, or on the YouTube homepage on mobile. Users can click these ads to view the video or visit the channel page.
Video discovery ads consist of a thumbnail image from your video with some text, they vary in size depending on where on YouTube they appear and work on both desktop and mobile devices.
Types of YouTube Ad Targeting
Along with the types of ad formats available in YouTube Advertising, there are a variety of targeting capabilities that give marketers ads access to (literally) billions of users at any given time.
Demographic and Interest-based Targeting
Targeting users based on their age, gender, income, and more. Take a look at your previous customers and prospects. Note who they are and where they fall in all these categories:
Age
Income
Location
Parental status
Gender
Job
And more
From there, you can more accurately target audiences based on those details.
Custom Intent
With Custom Intent, marketers are able to target YouTube audiences specifically interested in your services or products through the keywords they search. We will show your targets a display ad if they have searched certain keywords in the past on YouTube or even Google.


Custom Affinity
Custom affinity allows you to target individuals who visit websites related to your services or products. For instance, if you sell sporting goods, you can target audience members that often visit sporting or sport retail chains websites.


Lookalike
Leverage first-party data on YouTube Advertising by targeting individuals who are similar to people on your marketing or email lists. Give us your list and we will show your ads to similar audiences.


Website Retargeting
Website retargeting allows marketers to target visitors that have visited their website or web properties. It is done through the use of cookies. Users that visit your website are cookied and are targeted as they continue their regular browsing on the web. When this user and their cookies come to YouTube, they'll be shown your ad to revisit your website.


YouTube Retargeting
Much like website retargeting, video retargeting allows you to show ads to video viewers or channel visitors. These users are either logged into YouTube or cookied within YouTube ad shown ads based on their video and channel history.


Customer Match/CRM lists
Do you have an email or marketing list? Show specific individuals from your marketing lists specific ads. We will simply upload your list into YouTube, create your ads, and go, optimizing along the way.


TrueView for Shopping Ads
Have a product or service video on YouTube that you're hoping drives sales? Connect your product ads to your Youtube videos and drive transactions. Use sponsored ads, display, overlay, or bumper videos that users can click through to product pages or your website for them to make purchases or take important actions.


Specific Product Retargeting
Want to capture users who abandoned their cart or were about to make a purchase? If a user was about to make a purchase on your site, you can show them a promotion for that same product in videos to entice them to complete their purchase.
Our YouTube Advertising Services
Now, like any other digital marketing effort, YouTube advertising takes rigorous research, strategic planning, implementation, maintenance, reporting, and ongoing optimization to ensure you're getting the full benefit. Marcel Digital offers full-service YouTube Advertising services to ensure your efforts are seeing more traffic and conversions to drive marketing ROI.
Focused Audience Research
Our YouTube advertising experts become an extension of your team, learning everything there is to know about your customers and prospects. They then layer on customized audience targeting within YouTube utilizing a variety of technologies to ensure your ads are reaching qualified customers and prospects while they view videos on YouTube.


Cross-channel Campaign Strategy and Execution
We incorporate YouTube Advertising into your larger digital marketing strategy by keeping seamless and consistent experiences across your YouTube ads and marketing channels. We ensure your brand voice and messaging remain constant as users click from ads to videos, ads to landing or product pages, and ads to your website. This will help to not only increase overall engagement as users encounter your ads on YouTube but will also help to increase conversions overall, leading to a better overall brand experience. 


Goal-orientated Metrics and Reporting

As a Google Analytics Certified Agency and Partner, we take our reporting seriously. Data is our single source of truth and we use both Google Analytics and Google Data Studio integrations to give you the full scope of how your YouTube Advertising efforts fit into the bigger picture of your digital marketing strategy. Our team will provide you with comprehensive, real-time reporting on your YouTube efforts, providing reporting that tells the story of how your video advertising is performing and make recommendations on how to proceed through roadblocks and opportunities.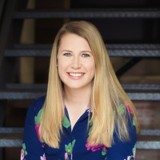 Marcel Digital is simply the best Digital Marketing agency. We hired them years ago, and I can't say enough amazing things about their dedication to the field, to my team, and their phenomenal leadership team. Top-notch professionals all around.
Kim Rafalowitz / Dir. of Global Marketing / Worldpoint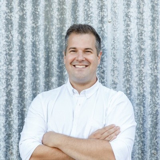 I went with Marcel Digital over a larger - and much higher priced - competitor and it's one of the best decisions I've made. Marcel Digital are lovely people to deal with, extremely knowledgeable and approachable and willing to take the time to examine possible solutions that differ from how they would normally proceed. I value the partnership with their company and am planning on having our company be a client of theirs for years to come. Can't recommend them enough.
Michael Duquet / Director, Web Strategy / Absolute Software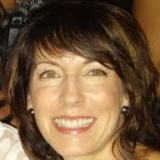 Having a partnership with Marcel Digital has been a lifesaver for our business. We could not be happier with their work ethic, attention to detail, and superior expertise. I highly recommend them if you are looking for a talented, and trustworthy partner!
Diane Locher / Director of Sales and Marketing / Precision Medical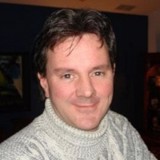 We have been using Marcel Digital for the past few years. We attribute our growth to the staff at Marcel and have embraced them as part of our company. Their insight and attention to detail have been indispensable. They take a personal approach to our products and processes and see our success as their own. We highly recommend Marcel!
Rob Dunbar / Marketing Manager / Lightmart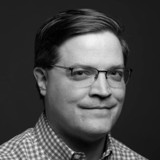 We continue to be impressed with Marcel's insight and execution across our patient care and higher education operations. The Marcel team knows how to work with more involved stakeholders and is very attentive to their requests. And we can count on them to bring us fresh ideas as search trends develop. I am always impressed with their desire to try new approaches and maximize the time they spend on our accounts. We're looking forward to a creative and productive year with them.
Mark Donahue / Digital Strategy Manager / Rush University Medical Center
SEE OUR WORK
Paid Media Case Studies
Get In Touch
Have questions about our Paid Media services? We'd love to chat. Fill out the form and someone from our team will be in touch with you shortly.