It Starts With Strategy
The digital marketing world is interconnected. Being successful starts and evolves with an integrated digital strategy. Without Google Analytics, your digital marketing & internet marketing efforts have no clear measure of success or ROI. Without a clean, fast, intuitive website that renders properly across multiple devices, visitors won't engage and convert to maximum potential. Without constant website and campaign testing, you'll waste budget while sacrificing opportunities for conversions and revenue.
The bottom line is: it's imperative your digital strategy includes a comprehensive and integrated approach, leveraging multiple digital marketing services & internet marketing solutions, while remaining flexible to an ever-evolving digital landscape.
Our Integrated Digital Marketing Services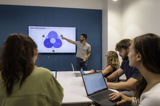 It's All Integrated
At Marcel Digital, our digital marketing services and strategies aren't siloed. Our teams are cross-trained, constantly collaborating, and integrated through process. Our Dev team works with our SEO team to publish website changes. Our SEO team and paid team share data to discover opportunities and risk. Our Analytics team works with our Conversion Rate Optimization team to compile data and analyze results. Our UX experts collaborate with our developers and content marketing teams to build websites that better attract, inform, and convert. We build custom integrated internet marketing strategies that are focused on one thing: the success of your business' digital goals.
Get In Touch
We deliver digital strategies that drive results and websites that convert. We'd love to help you with your next project. Reach out today, let's talk.