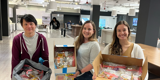 Yesterday the Marcel Digital Team got together in person for a philanthropy event in partnership with Erie House, a renowned social services nonprofit located in Chicago's West Town neighborhood. Our event aimed to support Erie House's after-school programs by providing snack bags filled with some healthy options for the children. This event marked another milestone in our ongoing partnership with Erie House, following our successful volunteering experience at their facility last October.
About Erie House
Erie Neighborhood House, established in 1870, has been a beacon of hope and support for immigrant and low-income families in Chicago. Their mission revolves around empowering the city's immigrant community, as well as individuals and families from diverse backgrounds, by providing education, critical services, advocacy, and a nurturing environment. Erie House's programs cover a wide range of areas, including children and youth, mental health, community wellness, adult education, legal services, and more. Together, they strive to foster a just and inclusive society.
Preparing Snack Bags for After-School Programs
Continuing our commitment to Erie House, Marcel Digital hosted a philanthropy event in our office space with the aim of supporting their after-school programs. Recognizing the importance of nutrition and healthy snacks for children, we prepared snack bags filled with popular favorites such as goldfish crackers, pretzels, fruit cups, and more. These snacks not only provide nourishment but also contribute to a positive and enjoyable after-school experience for the children at Erie House.
The event was a collective effort from the employees of Marcel Digital, who enthusiastically worked together to pack the nearly 50 snack bags. By providing these snacks, we hope to support Erie House in creating a nurturing environment that fosters the well-being and growth of the children they serve.
Join Us in Making a Difference
If you or your organization is looking for an opportunity to get involved with a remarkable nonprofit organization that is deeply committed to community support, we encourage you to consider volunteering with Erie House. They offer various volunteer opportunities that align with your skills, interests, and availability. By contributing your time and energy, you can help Erie House continue its mission of creating powerful communities and impacting lives.
Get In Touch
Need help analyzing your current Google Analytics implementation or help migrating to GA4? Fill out the form, and we'll get back to you as soon as possible.