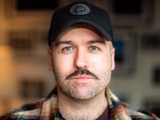 Tom is an experienced, entrepreneurial digital agency leader with 15+ years of experience building business in both the UK and the US. Tried and tested team builder, able to blend teams of the most talented people in our industry to create outstanding digital products and experiences for our clients.

Originally from the west coast of Scotland, with a number of years spent in Cambridge, England, before relocating to the US to lead the expansion of a British agency's global footprint. Tom is also an advisory board member for a tech startup as well as a mentor at 1871.

Outside of work, Tom is a passionate amateur photographer, car enthusiast and traveler.
Gradually, then suddenly
Ernest Hemingway when asked how he went bankrupt
Favorite Vacation Spot
Road tripping to the national parks out west
Favorite Challenge Food
As a child on holiday I would challenge myself to eat at least one pizza per day... I was a little chubby
Hidden Talent
Played saxophone in my high school orchestra, won Scottish and British national championships and played in various spots around Europe
Weird Fact
Both my grandfathers were born in the 1890's and were 55 when they had my mother and father
Fun Fact
Grew up in a small town on the West Coast of Scotland and after graduating university moved to Cambridge in England before moving to Chicago in 2016
Favorite Song To Dance To
Favorite Nicholas Cage Movie
Most Famous Celebrity Met
First Job
Office Junior at a Law Firm
What You Wanted to Be When You Grew Up