Companies struggling with their conversion rate often don't think of their content management system (CMS) of choice as part of the problem, but sometimes it contributes in big ways. For instance, a CMS can directly effect a business' ability to attract, inform, and engage the target audience that matter most to their overall sales and leads. Leveraging a CMS that gives full control over the entire conversion process is important for any business in today's digital world.
At Marcel Digital, our Umbraco web development experts used the power of the Umbraco CMS and our conversion rate optimization expertise to create sleek, user-focused landing pages to increase overall leads by 87% and boost the conversion rate up over 150% for our client.
Background of Project
Arbour Group is a leading provider of regulatory compliance products and services for the life sciences industry. They have assisted over 250 clients worldwide with the management of their business risk by assuring compliance with applicable FDA and international regulations as well as industry best practices.
Our goal with the Arbour Group project was to increase leads through their landing pages for services and products they offer. The goal of these pages are to inform life science companies, such as those in pharmaceuticals, medical device testing, biotechnology, and diagnostics, about their master validation processes and to collect leads via a form that lives on the right side of the page.
Here's an example of the original landing page layouts on the Arbour Group website: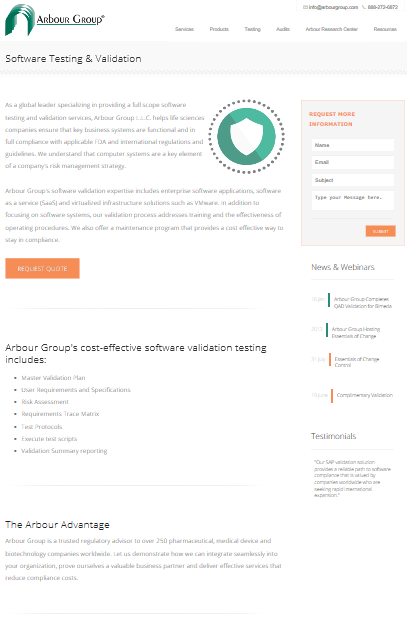 First part of the process was to analyze the performance of current landing pages to find where conversion bottlenecks were happening for users. Based on the data uncovered by our usability experts, we would then create a design for a new landing page that we felt would not only boost overall engagement with users but most importantly, increase overall conversions.
To prove our design would result in more conversions, we would create an A/B test between the current landing page and our new design. The winner would be become the design and layout for the landing page moving forward.
Our Analysis
Marcel Digital got started by integrating Hotjar software (of which we are a Founding Member) onto the Arbour Group website. Through this powerful tool, we were able to go a level deeper with our data by leveraging visuals such as heat, click and scroll mapping, as well as user videos, to see exactly how users were engaging with the page and where the biggest points of friction were.
Example of scroll and click maps: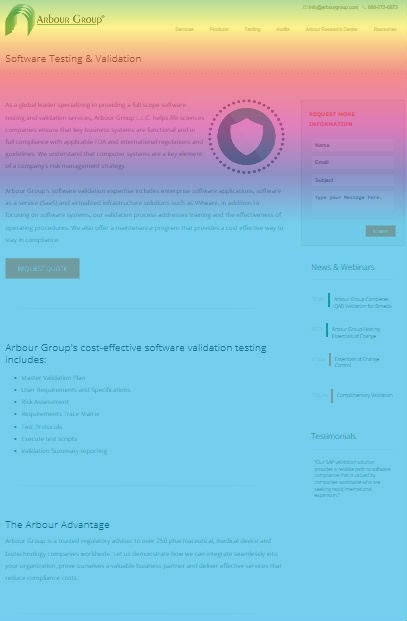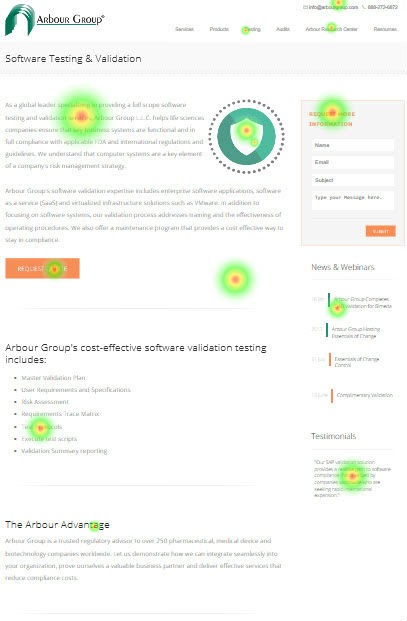 In Hotjar, we were also able to utilize branded user surveys to gather more direct data from the users themselves. For instance, upon trying to exit the page, a survey would pop up and ask the users questions about their experience and why they chose not to contact Arbour Group during their visit.
Here's an example of a user survey: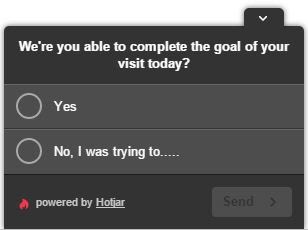 Examples of the questions we asked:
Did you find the information you needed today?
What is your opinion on the design of the page?
What information helped you today?
What information is missing on this page?
Why did you choose not to contact Arbour Group today?
The information we gathered from users taking the time to answer our questions was invaluable. Not only did it give us direct feedback about how our pages were coming across to users, but it went deeper than any metric or visual could take us. It is direct insights straight from the source – those who were actively seeking services that Arbour Group provides telling you their exact thoughts. It doesn't get any better or more exciting than that!
As we were collecting our visual and survey data in Hotjar, our analytics experts deep dove Google Analytics to get quantifiable data from engagement metrics. As Google Certified Partners, we analyzed key performance indicators (KPIs), such as bounce rates and time on site, to see if the content could be a potential issue as well. We would use the data from Google Analytics along with our visual data analysis from Hotjar to put together a hypothesis on what design layout we believe would work better than the current page.
What we found during our analysis:
Users found the design of the current landing page to be bland and "weak"
They also found the design and layout to "lack credibility"
Some users didn't even notice the form on the page – light grey on white background
There was no direction for next steps – no eye-catching headlines, images, or call to action indicators
Users were wondering where testimonials or certifications were
Overall, users didn't find the information or design to exude trustworthiness
We then compiled all of our data and began prioritizing based on the bottlenecks we found and areas where we saw the biggest opportunities for improvement. Our team then sat down and got to work on what we thought would increase conversions for Arbour Group's landing pages.
Our Umbraco Updated Design
Using the data collected from Hotjar and Google Analytics, our usability experts, designers, content specialists, and Umbraco Masters collaborated to create a more efficient and effective landing page design and layout.
Here is the design we came up with for a new Arbour Group landing page: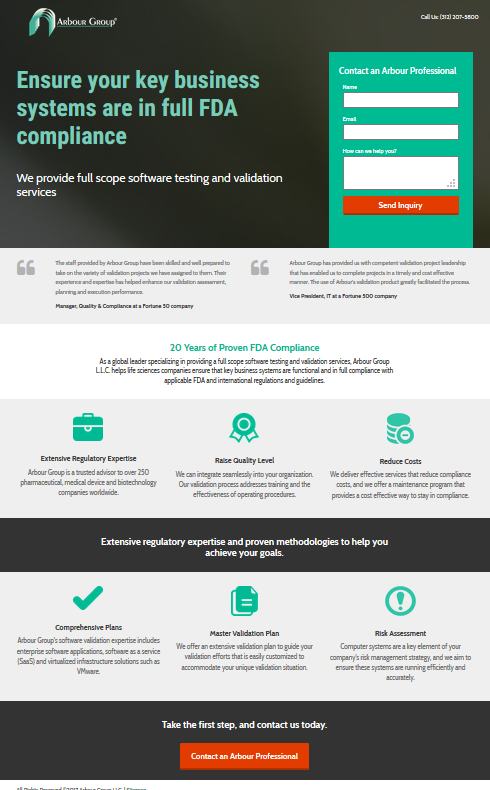 Our goal with this design was to be more benefit-focused for users in the content, structure, and layout of the page, as well as more brand-focused in our design. This meant we structured content on the page to flow in a logical fashion that would not only inform users but keep them moving down the page and inspire them to take action and ultimately convert. From a design standpoint, this meant using colors true to the Arbour Group branding guidelines and eliminating the original landing page's plain white blandness and overall weak presentation.
Why our experts chose this design and layout:
We wanted a benefit-driven headline to be the first thing the users saw
We wanted content to layout in a logical fashion:

Clear, user benefit-driven headline with form
Testimonials (quick validation)
The benefits of working with Arbour
The process of how Arbour works
A call to action that brings the user back to the form

We wanted to distinguish calls to action from other
Because Umbraco CMS is so easy to customize and flexible with our branding needs, we were able to make our content and design vision come to life using it. To do so, we utilized what is called the grid layout. The grid layout is a feature in the back office of Umbraco CMS that allows content editors and marketers to easily structure content on their web pages in a prioritized and easy to follow manner. This allowed us to put our most important calls to action, forms, and information in a logical flow that would more effectively engage the user, because it was easy to navigate and removed conversion obstacles, building the user's confidence to convert.
An example of the grid editor in Umbraco CMS: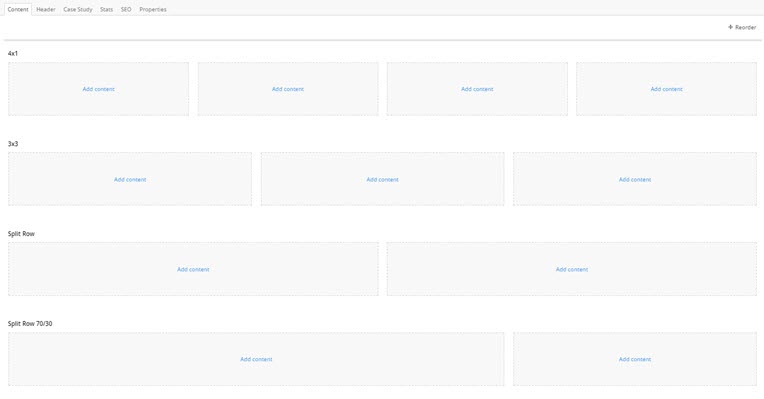 Using the grid layout also meant that the new Arbour Group landing pages would render properly on different devices, such as smartphones and tablets, because they were flexible to fit the screen of any device they were being seen on. This type of feature is called Responsive Web Design, which is the preferred web design of Google and other search engines and is now considered an internet standard and best practice.
The Results
Upon design approval by Arbour Group, our Conversion Rate Optimization experts set up a split test between the current landing page and our variation design. To test, we would split traffic between the two landing pages to see which experience resulted in more conversions. We allowed the test to run for a month to collect enough data to make a decision.
We're happy to report that not only did our Umbraco CMS design beat the original landing page design, but it absolutely shattered it! We were able to increase leads through our Umbraco landing pages by 87%, or over 100 leads, and boost the overall conversion rate by 150%! While we're incredibly proud of our team of experts for putting together a great design and strategy, our partner Umbraco CMS deserves just as much kudos for giving us the ability to make it all happen. Because of them, we were able to quickly integrate the tools we needed to collect data and test our design, as well as build a design that we didn't have to settle on or give up flexibility for. They are truly great partners and because of this and the many other successes we've had during our partnership, they continue to be the CMS we use and trust to drive our client's businesses forward.