You put a lot of effort into landing pages, because you have traffic coming from your paid ads, you have referral traffic coming from your backlinks and partner pages, and you also have traffic coming from your email marketing campaigns and social media platforms. But no matter how much traffic you get, you can't seem to get your traffic to convert at a satisfactory rate, leaving the success rate of your marketing campaigns lacking and your leads and sales funnel dry.
When this happens, it's easy to feel defeated and want to pull your ads or backlinks, but it's extremely important to consider your landing pages, the content they contain, and the overall presentation that your prospects are seeing.
Thankfully, creating engaging, informative, and inspiring landing pages has never been easier, especially when you use Umbraco. Below, our Umbraco web development experts will walk you through what to consider when building a landing page, as well as what elements will lead to higher conversion rates, leading to more sales or leads for your marketing campaigns.
Before You Build A Landing Page
First, jumping in to create a landing page in Umbraco is incredibly easy and exciting, but it's important that before you start creating a landing page for every product, offer, or service you provide, you assess the reasons for why you're creating this landing page and why visitors will care. Take a step back, huddle with your marketing / sales team, and develop a landing page that aligns your business goals with your audience goals.
Here's how you get started:
Know your goals: Ultimately the reason you are creating a landing page is because you have an offer and you want to create a targeted page with content that speaks directly to the benefits of that offer. There are three types of content you can create:
Navigational: This is when content is focused on telling a user or prospect more about a business and its capabilities.
Informational: This is when content is focused on telling a user or prospect more about the features and benefits of a particular product or service.
Transactional: This is when content is focused on inspiring a user or prospect to take a particular action, such as making a purchase or filling out a form.
When you create a landing page, your offer and content will fall into one of these three categories. You'll want to make sure you know what you ultimately want your audience to do once they reach your landing page and that the content is relevant to their needs and the search they completed (or website they were referred from or ad they clicked) to reach your landing page.
Know Your Audience: When you decide on a goal and an offer to help your business achieve that goal, you'll want to decide who your target audience is – i.e., the people that are most qualified to convert on your landing page. This is a crucial step because ultimately your landing page will be created to speak directly to this target audience's needs and wants. For instance, you'll want your content to speak to their issues, how your product helps alleviate that issue, and why you're not just the best option but the only option.
Know Your Offer: There is nothing more frustrating to a user or prospect than coming to your landing page and not knowing what the offer is or not what their next step is. When you write content for a landing page, make sure you understand what you are offering your target audience and what action you want them to take. Anything less will confuse them and ultimately cause them to leave your landing page, lowering your conversion rates.
Know Your Competition: This is a reminder of something we all learned in Marketing 101. Take the time to appropriately research your competitor's landing pages and offers. This will help you better understand their offers' benefits and value, as well as help you better differentiate yours.
Building A Conversion Focused Landing Page
Now to the fun stuff. Building conversion-focused landing pages is easier than you think — it's a simple matter of marketing empathy. You are working to create an experience that inspires the end user to convert. To do this, you need to speak their language. You need to show the benefits and values of accepting your offer to help. You need to hit multiple psychological and visual touchpoints in order for them to feel comfortable in moving forward and taking the next step.
We recommend considering the following best practices when creating your Umbraco landing pages:
Use the grid: Umbraco uses the grid layout system, meaning you can easily prioritize your content and quickly create layouts that are uniform and responsive to the device that they are being viewed on. To do this, simply click elements in the Umbraco backend, choose the element type (such as text, image, video, form, etc.) and add! From there you'll be able to drag those elements to wherever you want them to live on the webpage, adding colors and styling to suit your branding guidelines without bothering your web developer.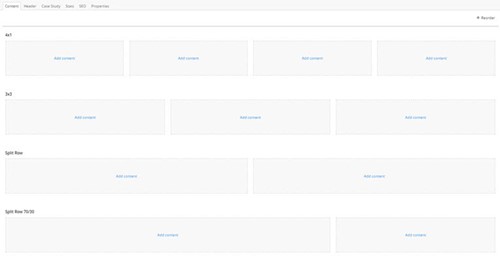 Keep it simple: As humans, we enjoy simplicity, especially when we're searching for information or looking to take action, like making a purchase. We prefer clear, simplified content and forms that don't take 25 minutes to complete. We like visual indicators like colors and arrows that tell us "look here" or "this is your next step." When you create a landing page, make sure that it is simple, clean, easy to read and navigate, and that your calls to action (CTAs) are visible. If you look at your page and wonder "is this too much?" – it probably is.
Place CTAs above the fold: Burying your forms, important buttons, and other CTAs where users can't see them upon loading a webpage greatly decreases your conversion rate. Make sure that your primary conversion points are distinct and eye-catching to the user somewhere above the fold, meaning within view of the user upon the web page loading.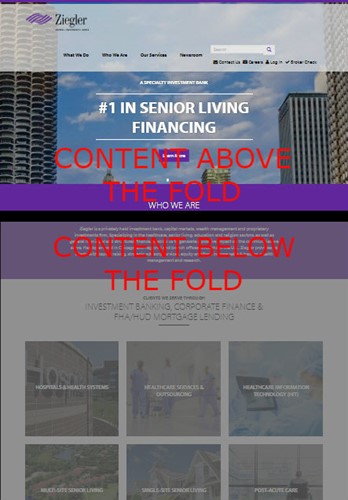 Having your CTA within view of the user immediately upon landing on the page will help them understand what action you want them to take and will save them the hassle of trying to track down their next step.
Make CTAs clear and relevant: This point means a lot of things, but what it boils down to is this making sure that your CTAs are relevant to your audience's needs and that you are clear in what you are offering in return for their time and information. If you are not clear or your offer is irrelevant to their needs, you'll find more users bounce than ultimately take action. Relevancy is key in marketing; if you're not speaking to the needs and issues of your target audience, you'll see them bouncing off the page and going elsewhere to do their business.
Create compelling content: As marketers, we have this innate urge to tell users or prospects what we want them to hear, instead of what they need to hear. What I mean by this is that users are on your landing page for a reason, and it's important that the content you create is empathetic to their issues and needs. Make sure your content states what the issue they are facing is, how your offer helps alleviate that issue, and the benefits of accepting your offer and why you're, again, the only option. Doing so will speak directly to the user and give them confidence you understand their pain points.
Make offers exciting: Nothing captures a target audience's attention more than the possibility of an issue or pain point being relieved. If you can write content for your offer in a compelling and engaging manner that is empathetic to your target audience's needs then you will greatly increase the chances of them converting on your landing page. Read your content out loud to yourself and to your team members. Pay attention to the words you are using and how they are framed. Do they instill excitement? Do they make you want to act? Do you clearly hear the benefits? Keep these things in mind when you're doing this exercise – makes more difference than you know.
Choose relevant images: Always make sure that images or media used on a landing page are relevant to the offer you're providing. For instance, don't show an unrelated product picture to the one being offered. That just causes confusion and makes the user wonder if they are even going to get what they want if they fill out a form. Strive for consistency across the board, but especially with visuals like images, video, or other types of media.
Keep it branded: Always make sure that your landing page has your logo and your branded business colors. This may seem like an obvious statement, but you'd be surprised at how many brands and businesses we have worked with leverage too many colors or elements that don't mesh with or follow their branding guidelines. Users are far more conscious of your branding items than you know; it's important that you follow your own guidelines when creating landing pages.
Show testimonials and certifications: Do you have testimonials or certifications that validate your offer or enhance it? Show them off! Certifications and testimonials are a great way to vouch for your offer and ensure your target audience that you are recognized for your work and efforts. If you have certifications, it's your marketing duty to empower your brand and users by showing these accolades at every opportunity.
Turn on tracking: I can't stress this enough – make sure that you have installed Google Analytics or Google Tag Manager on your landing page so you can get the full scope of how your prospects are interacting and engaging your landing page. Not having an analytics installation on your web page will not only leave you flying blind on how your landing pages and marketing campaigns are performing, but it will also strip away any data that gives your team insights or data to improve your efforts. Get analytics installed and start getting data to drive your landing pages forward.
Make it fast and mobile friendly: According to Google, mobile sites lag behind desktop sites in key engagement metrics such as average time on site, pages per visit, and bounce rate. This is important to note as 30% of all online purchases and conversions happen on mobile. Going further, a study by Google showed that U.S. retail mobile sites loaded in 6.9 seconds in 2016, but 40% of consumers will leave a page that takes longer than three seconds to load. What this means is that we need to be keeping our landing pages fast, especially on mobile. If users encounter slow loading landing pages, they will bounce and not convert. Work with your development team to make this a priority!
Need Help Building Your Dream Landing Page?
Hey, we get it, there's a lot here and quite a bit of legwork that goes into creating a set of great landing pages. But did you know that Marcel Digital has Umbraco Masters and renowned digital marketers that could help make your landing pages conversion powerhouses? If you're struggling to keep your conversion rate up and running the way it should be, don't hesitate to reach out to the Umbraco team at Marcel Digital. We're always happy to hop on the phone to hear how we can help out with your project!