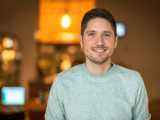 Kyle is a seasoned digital marketing strategist with a wide range of experience in website development, search engine optimization, analytics, paid media, and attribution. He is certified in Google Analytics, Google Ads, Google Data Studio, and is even a Certified Umbraco Developer.
He is focused on cultivating successful relationships through data-driven decision making, and has a proven track record of success. He believes in forming partnerships where Marcel Digital can act as an extension of the team - rather than a vendor - by providing proactive solutions and opportunities to drive business goals.
He has had the opportunity to present at B2B Ignite, Umbraco US Festival, HCIC, and AAMC, and has appeared as a contributor on Forbes and Medium.


Go into the world and do well. But more importantly, go into the world and do good.
Minor Meyers Jr.
Favorite Vacation Spot
Anywhere with a brewery tour
Favorite Beverage
A well crafted Old Fashioned
Hidden Talent
I'm amazing at ping pong and Guitar Hero
Weird Fact
I know almost all there is to know about the show "Full House"
Fun Fact
I used to be a radio DJ for a classic rock station
Favorite Pastime
Road trips and roadside attractions
Favorite Song To Dance To
"Footloose" by Kenny Loggins
Favorite Nicholas Cage Movie
Most Famous Celebrity Met
What You Wanted to Be When You Grew Up