Choosing a content management system (CMS) can be quite overwhelming. A lot of businesses and brands are blinded by the bells & whistles of CMS' and often forget one simple aspect in their choosing: What do we REALLY need when it comes to a CMS?
Over the years, Marcel Digital's web development team has worked with numerous types of CMS' across multiple verticals and have found that the best implementations are ones that meet the needs of it's users and provide the website's visitors an experience that's intuitive and beneficial.
When choosing a CMS, the process is simple:
Brainstorming
Prioritizing
Researching
Implementation
Below, we list what businesses should keep in mind while researching options for a new CMS and how to best tell what CMS will best suit your business and user needs.
Know Your Business Goals And Needs
Much like any strategy in business, you need to know the overall goal of what you're trying to accomplish, and in choosing your CMS focusing on your goals should be no different. Ask yourself (along with your team), "What do we want to accomplish with our website and what about our current CMS isn't helping us accomplish that goal?" Sometimes, a new CMS might not be the answer.
It's important to keep in mind that different CMS' have their own respective strengths and weaknesses. Some are great for e-commerce while others are great for simple blogging needs. When choosing a CMS, make sure you understand how your website is structured, or will be structured, and what kind of functionalities you will need in order to bring that vision to life. A CMS is a partner in helping you create an experience for your users and brand and having a full understanding of what you need to accomplish your goals will help you in choosing the right partner.
Ease Of Use
When researching your CMS shortlist options, it's important to find a CMS that is not only easy to use, but also offers functionalities and features that will help your brand develop a goal focused website with a fantastic user experience.
For marketers and content developers, make sure that the CMS will offer ways to quickly edit, update, and remove content on your website. This is a standard feature of most CMS and is often known as a WYSIWYG editor (What You See Is What You Get). Here's an example…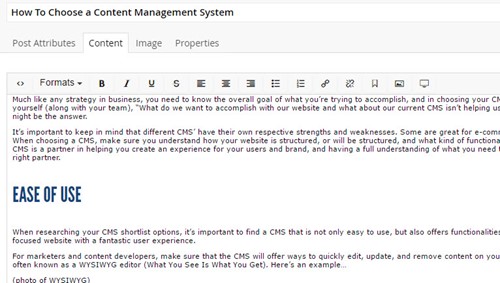 For your web developers, make sure that your developers have a wide range of customization and freedom when it comes to development. Look for a CMS that is open-source language, gives your developers extensive documentation and training if needed, and is also easy to extend and expand upon. Doing so will make for happy developers, and when they are happy, we're all happy!
Responsive Design Capabilities
For those not familiar, Responsive Web Design is a type of design that allows you to change elements and layouts on your webpage to respond to different screen sizes. This means that you are able to seamlessly view your website on desktops, mobiles and tablets without losing the integrity of your site's design or the functionality that makes it work.
Responsive design is also important because, unlike with a separate mobile website, your URLs will not change and you can also have one Google Analytics implementation, meaning you won't lose data that you normally would between your desktop and mobile sites.
Here's an example of what a responsive design looks like…
Notice how all device displays are consistent in design and also fit the screen in which the site is being viewed. Responsive design allows for greater user experience and removes obstacles that could be encountered with a separate mobile website.
This is an extremely important tip to keep in mind while conducting your research because according to Google and their mobile SEO guidelines, this is the recommended design pattern for web design when it comes to your website. When picking a CMS, make sure that their templates and themes are responsive.
Make Sure It's SEO Friendly
I can't stress this tip enough, make sure that your shortlist of CMS options have full search engine optimization capabilities and is able to make your website SEO friendly. What I mean by this is that when it comes to search like Google and Bing, there are a series of best practices that one can take to help their website gain organic visibility for relevant user searches, and having a CMS that allows you to influence these items is essential.
For instance, find a CMS that allows you to handle SEO tasks like:
Create readable and customized URLs
Create and edit title tags
Implement 301 redirects
Create sitemaps
Ability to add image alt tags
Create a site search
Allows for image compression
Doesn't have a ton of unnecessary HTML, Javascript, or CSS already built in
Allows for index / noindex control
Add multimedia like images and videos
The list goes on and on and on and on...
Some CMS' even give you a built SEO plugin or a library of tools to choose from to help you accomplish this goal. Be sure to see what SEO features and documentation the CMS vendor has available on their website, as well as what plugins may be available to help make your website a SEO powerhouse. The last thing anyone wants is a shoddy SEO website, but when coupled with a CMS that limits your SEO abilities, that could spell disaster. Make sure you have a professional SEO expert take a look at your list of content management systems to ensure it abides by SEO best practices.
Check Design Flexibility
Having the ability to create the exact brand centric and user focused web experience you want is important, that's why when choosing a CMS, you find a platform that can handle custom designs. Some CMS will offer a library full of themes or templates, and while that is a nice to have, you will want control to edit within those templates and possible the ability to change a template all together.
Web design is a differentiation factor when it comes to your industry. It's how you set yourself apart and establish your identity as a brand in the digital space. When choosing a CMS, make sure that design and development capabilities are in your control so you can create the exact website you and your users want.
Make Sure You Take A Demo
What better way to ensure that a CMS is what you need than to see it in action? This is a great opportunity to take your shortlist of CMS options and make it even shorter. Be sure to schedule a demo with the CMS vendor and provide a list of specific actions you'd like them to cover in the demo. This will ensure that your demo is targeted and tailored to your specific business needs and can accomplish what you need it to during use.
If possible, have parties from your team at the demo who will be using the CMS most actively (including your marketers and web developers) so they can see first hand how the CMS will work and also see potential downfalls. Make sure you collect a healthy list of questions to ask during the demo and make sure that if something doesn't make sense that you are asking for clarification. A demo is a great way to understand the pros and cons of each of your CMS options, and definitely a step you should take.
What Kind Of Support Do They Have?
Eventually, you will have questions about your CMS and unique use cases as to how certain features or functionalities may work. During these times, you will need expert or technical help provided by a professional who knows your CMS inside and out. When researching your CMS and going through your demo, make sure you understand the support options available to you.
Most CMS vendors offer a wide arrange of customer service support, including email, phone, and sometimes even you're own dedicated expert. Also, take note of the user community and forums available to you. Sometimes asking a question to the community or researching previously asked issues or questions are sufficient enough for some developers and marketers!
Our Choice? Choose Umbraco
Marcel Digital is an Umbraco Gold Certified Partner, meaning that Umbraco is the CMS we trust most when it comes to creating one of a kind, unique websites. Why do we love Umbraco? The answer is simple.
For marketers, Umbraco...
Is easy to use, customizable and has intuitive editing capabilities
Can easily enhance your website and productivity with Umbraco community packages
Gives top notch professional support from Umbraco core support team (no matter your package option!)
Offers multilingual back office tools
And much, much more
For web developers, Umbraco…
Has a friendly and collaborative developer community
Offers built-in content cache and dynamic cache for macros
Has CSS and Javascript optimization capabilities
Offers complete programming access in the Umbraco CMS
Has extensive and thorough documentation
To see the websites we have created using Umbraco, take a look at our case studies, as well as what Umbraco had to say about our websites. When it comes to creating a one of a kind, customized, and true to brand website, we trust Umbraco.
Need help choosing a CMS, implementing a CMS, or migrating to a new CMS? If you have any questions or concerns about your research, feel free to reach out to Marcel Digital and we'd be happy to have a conversation! Our web development experts have worked with numerous CMS' over the years and can help you choose one that best suits your needs!