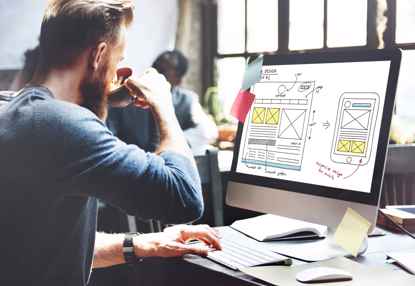 Search engine optimization (SEO) has come a long way in the past few years. Long gone are the days of catering to the search engine with specific keywords awkwardly dropped into a piece of content to the point that it was practically unreadable. But it isn't that SEO necessarily changed, or rather did not initiate the change. It was more about the search engines, namely Google, constantly changing their algorithms.
However, they did so because of yet another change – consumer behavior. Consumers were changing the way they shopped and searched for things online, and search engines had to quickly adapt to those new ways to keep up.
As a result, businesses and website owners are all over the place when it comes to SEO. Some are stuck in the early '90s, while others are a little more current, but still ignoring how customers approach search engines.
This guide will clear things up a bit.
So, is your website SEO friendly? Here's how to find out – and how to fix it.
User Experience
User experience, or UX, is critical. If your customers aren't having a stellar experience on your site, they will just click off and go elsewhere. There are far too many proverbial fish in the sea for a business to ignore this crucial part of SEO and the online experience.
There are a few simple things that can make all the difference. First, start with your content. Use your keywords and phrases. Yes, keywords are at the heart of any good SEO content strategy, and it will probably always be that way. But understand how to use them – and how your customer is using them to find you.
Make the user experience easy and comfortable with simplified site navigation, fast load speeds, and make sure your site is mobile friendly. If you haven't optimized your site for digital devices yet, now is the time. According to Datareportal, around 91% of internet users go online via their mobile devices. What kind of mobile experience are you giving your customers?
Responsive Design
When it comes to having a mobile-friendly website, you want to stick with a responsive design as opposed to a separate website. A responsive design gives you a single URL, so there's no confusion. Your customers type in your URL, and your website automatically adjusts to whatever mobile device they are using.
This means less duplicate, something Google does not like and will penalize sites for having. It also means that your backlinks are not divided with some pointing to your website site, and others pointing to your mobile site. Instead, all backlinks point to the same source, which is great SEO, and the website simply adjusts to accommodate the device.
Fast Loading
A slow page speed can be death to a website or at least to its ranking in the search engines. There are several factors that contribute to a slow-loading page, which can really negatively impact your SEO. Optimize your code by minimizing it. Remove all characters that are not necessary, such as commas, formatting, spaces, code comments, and code that isn't being used. Setting your cache expiration date for a year makes load time faster as well. Enabling compression also helps, as does using a content distribution network.
Image size is a common issue with load times for websites. Often, individuals will load full-size images that are huge. This can bring your load time down to a crawl. Using PNG format for graphics and JPG format for photos can help, but resize as well – not necessarily by dimensions, but look at how many MBs, and reduce that.
Keyword and Search Intent-Focused Content Strategy
Keywords are the force that drives the SERPS and are at the heart of SEO. Do your research. Conduct thorough digital competitor analysis, analyze the keywords they're ranking for and research the keywords that you use to take their rankings. Create an editorial calendar and use it to prioritize and schedule content to build visibility for your primary keywords. This will help you keep your content strategy organized. Take into consideration how long your blog posts should be and what makes high-quality SEO content to capture those rankings, avoiding creating "content for the sake of content".
You'll use your keywords all over your site, but the most prevalent is in your content, especially your blog. However, experiment with different types of content, including social media and even video to find what works best for you.
Use Schema
Schema gives your SEO a boost by generating tags relevant to your site that you can insert into your HTML in the headers of your page. You can read more about Schema markup at schema.org. Take some time to map out your schema opportunities and implement those that seem to be the most beneficial, especially in driving more traffic to your site from search through rich snippets.
If you need help, you can use Google's SDM Helper. This may take some studying, but once you have completed it, you can test it by using Google's SDM Tester.
Meta Descriptions
Meta descriptions are the short descriptive text that is displayed under a webpage's listing in the search engine. You can get a lot of mileage from a well-optimized meta description. While you may be tempted to simply write a brief overview of the page, putting the science of SEO behind it will make it work even better for you.
There are four standard rules for an effective meta description. It must:
Be 155 to 160 characters in length
Utilize your focus keyword
Be relevant to the content on that page
Be unique for each page
It is also a good rule of thumb to keep the content user-benefit focused.
Internal Linking
Internal linking can do wonders for your SEO. Link to relevant pages on your website, including product descriptions, service pages, contact pages, and blog posts. Avoid keyword stuffing but do try to leverage your primary keywords in the anchor text. Check them regularly to make sure that they are working and don't redirect.
This is one of the best strategies for an SEO-friendly website. However, make sure that the content you link to is strong. Review your blog posts on a regular basis and update them often. This not only keeps the information current, but it also keeps the content fresh and new. Search engines love that.
Optimize Headers
Many people who don't do SEO on a regular basis typically forget about the headers of their website, but that is missing out on an excellent opportunity to increase SEO for a website. Use your headers to provide structure for your page and break up content, making it easier to read and easier to scan.
Optimize your headers by including keywords. Try to use your primary keyword at least once in your headers and format them using H1 for the main header or title and H2 or H3 for subsequent subheads within the text or for other sections on your page.
Headers can also bring a lot of value beyond SEO. Keep them relevant to the content but make them interesting. Use them as a sort of road map for your readers to scan your content and get an idea of what it's about. Headers should not be there just for the sake of having them. They need to add value and serve the purpose of guiding the reader through the content.
Optimize for Voice Search
Voice search is quickly becoming the standard for many search engines. As AI technology grows and becomes more, well, human, search engines are becoming more intuitive, and voice search enables that. Optimizing your site for voice search will give your SEO a huge boost and likely put you ahead of the game because businesses are only now coming to understand its importance.
Keep your focus on conversational keywords and phrases. Ask and answer questions within the content. Think of how a person would ask a friend for certain information. They would not just state a word or two; they would speak in sentences, ask complete questions, and interact in a more human way. Search engines are being programmed to interact in exactly the same way.
Leverage your schema and focus on mobile experiences. Remember the importance of a mobile-friendly website? Well, this should really drive that point home. It is all intertwined.
Local SEO
Also, don't forget about local SEO. If you are a business that operates in a specific area or provides services to a certain area, then local SEO is essential. Think about how someone might search for your product or service in your area and integrate those terms into your content – but it is OK to use stop words! Leaving out stop words is an old, outdated practice. Instead of saying "Attorney San Antonio," it is OK to write "Attorney in San Antonio." The search engines have come a long way over the past decade and stop words don't faze them at all.
Check Your Backlinks
One of the most important ranking factors in the eyes of Google and other major search engines are backlinks pointing to your website. Google has taken major steps to penalize websites that are building spammy backlinks to increase their search engine visibility for keywords and searches over the years and have given preference to site owners who build high-quality backlinks.
It's important that you're checking your backlinks on a regular basis, trying to remove or disavow backlinks that are irrelevant or outright spam. You want to build backlinks to your website and content that are high quality, relevant, and drive traffic to your website. We recommend looking at your backlink profile on a quarterly basis and implementing an auditing process that has you conducting quality control on your backlink profile.
SEO-friendly web development is not for the faint of heart. Is it doable? Absolutely. It takes time, patience, and maybe a little study if you aren't familiar with the ins and outs of it – especially if it's been a while. The truth is that SEO has changed dramatically in just the past two or three years, not to mention 10 or 12 years. If you have basic knowledge, it shouldn't take you long to catch up, but you do need to study current SEO best practices (here's our 2021 SEO checklist to get you started) because the outdated stuff just won't cut it anymore.