You've probably heard of rich snippets if you've done any kind of SEO research, and you've definitely seen them if you've ever conducted a search on Google, but there is still confusion as to what a rich snippet is exactly. In this post, we wanted to first clearly define what a rich snippet is and provide examples of what they look like, and then help marketers and businesses optimize their website and content to take advantage of this feature from Google and other search engines to drive more traffic.
What Are Rich Snippets?
Rich snippets are enhanced visual search results that are displayed on a search engine results page (SERP) that lead to higher click through rates. For comparison's sake, a regular search result doesn't contain extra information outside of a page title, a URL, and a meta description whereas a rich snippet might contain an image, Google reviews, pricing, contact information, a piece of content pulled directly from the page that answers the search conducted, and more.
The information for rich snippets is pulled by the search engine from websites using structured data markups (SDM), such as Microdata, Microformats, RDFa, and Javascript. Our SEO experts breakdown rich snippets and how you get them below.
Why Do You Need Rich Snippets?
So why do you even need rich snippets? Isn't it enough to have a regular snippet? Yes, you could settle for a regular snippet. But rich snippets are really great for search engine optimization for many reasons.
First, they help your site stand out from your competitors on the SERP. Rich snippets look more professional and polished.
Movie Rich Snippets

Review Rich Snippets

Product Rich Snippets

Recipes Rich Snippets

Healthcare Rich Snippets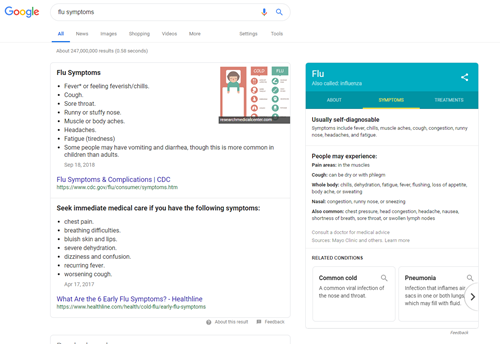 Second, rich snippets offer people more information about your site, they will be more inclined to go ahead and see what your site is all about, increases your click through rate from searches.
Finally, since the click through rate increases, you'll receive more traffic from that keyword search result because more people found that your site matched their search parameters. And because your site gets more traffic, your overall search engine rankings will improve in the long-term. As you can see, there's everything to love about rich snippets!
What Kinds Of Rich Snippets Can I Optimize For?
You can optimize for all kinds of rich snippets. Certain niches are definitely more "friendly" for rich snippets, with recipes probably topping the list. However, you can optimize for rich snippets in a variety of business and organization categories, such as:
Products - Supported information includes price, ratings, currency, warranty information and condition (used or new)
Reviews - Supported information includes star rating and highlighted review
Recipes - Supported information includes cooking time, calories and more
Movies - Supported information includes start time, end times, length of movie and ticket prices
Events – Supported information includes start dates and times, length of the event, ticket prices and location
Music - Supported information includes lyric excerpts, highlighted tracks and links to buy
Videos - Supported information includes name, title, role and professional affiliation.
How Do You Get Rich Snippets?
You don't so much get snippets as make them happen. You need to add structured data to your site called structured data markup. There are several different ways to do this. Although it sounds complicated, you don't need to be an expert in coding to add rich snippets to your site. SDM is a type of coding, but when you create it with the help of schemas, it's deceptively easy to make the content needed for rich snippets to appear on your SERPs. You can learn all about the various types of markup and tools available through Schema.org. Schema is the rich snippet standard that's accepted across all the major search engines like Bing and Google.
Before you bother working on the SDM, though, determine if you already have structured data markup on your site. Depending on which kind of site you have (Wordpress, Joomla, etc.), your theme might have schema built into it. You can double check to see if there's any markup currently on your site by logging into your Google Search Console.
If you find out you don't yet have SDM, the next thing you'll need to do is decide if any of your content fits into the kinds of categories that can be optimized for rich snippets. If not, then you don't need to worry about creating rich snippet SDM. If it does fit into one of those categories, you'll need to prioritize what content on your site is worthy of markup. Just like building SEO into your site pages, you don't want to have competing rich snippets on your own site.
Next, decide how you'll install the SDM. You can do this using HTML, Google Tag Manager, or SDM Highlighter in Search Console. If you're doing this for a client, you'll need access to their hosting service account or via FTP. Finally, test if it works. You can't just Google your site and see if the rich snippet comes up because it might take a while for it to populate. Instead, use Google's SDM tester.

You'll need to be patient and wait to see how the rich snippets perform. After they appear online, you can track the performance.
How To Track Rich Snippet Performance
First, note your baseline Google Analytics from before you installed the SDM. This gives you the starting point so you can judge the performance.
Next, log into your Google Search Console and check that your SDM is being crawled with no errors. If there are issues, you'll need to troubleshoot them before moving on to the next steps.
Next, track your traffic / KPIs in Google Analytics and compare to your baseline.
Keep tracking your rankings for relevant keywords using a keyword ranking tracker of your choice (at Marcel, we use Google Search Console, Moz Pro, and SEMRush). Also, keep your eye on your competitor's rankings for keywords so you can make changes if you have to.
Finally, make adjustments as needed so that the rich snippet appears as you want it to.
Getting rich snippets to appear correctly can seem overwhelming, but it's not as hard as it sounds on paper. There are lots of tools available to help you input the correct information, like the Google Data Highlighter. Once you do have successful rich snippets in place, continue to track your rankings, because they'll change over time according to relevance and competition from other sites. Rich snippets, just like all SEO tactics, are a dynamic tool that needs many adjustments as time goes on. But once you do it the first time, it will become like second nature.
Looking For A Professional SEO Agency
Marcel Digital is a Chicago based digital marketing and web development agency that offers numerous services like SEO, paid media, website development, conversion rate optimization (CRO), Google Analytics management, and more digital marketing and web development services. We staff the world's highest endorsed Moz Oracle (the world's #1 inbound marketing website) and are in the top 3% of Google Certified Partners in the world. Our comprehensive, integrated SEO strategies are focused on driving quality traffic and leads/sales to your website, showing you true SEO ROI. Contact us today if you'd like to learn more - we're always happy to chat!