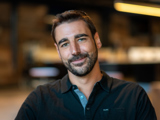 Joe knows what it takes to drive SEO results. He is an experienced SEO specialist who currently leads the SEO department and strategy at Marcel Digital.
Over the years, he has created a holistic, proprietary website migration process that ensures onsite and offsite issues are addressed during the development process.
Joe has completed hundreds of SEO projects including website migrations, data-driven content strategies, organic linkbuilding, and new website launches. Joe has built an SEO program focused on search engine best practices, the latest industry tools and tactics, and expert knowledge. 
He has managed the SEO accounts of several Fortune 500 Companies and has optimized websites for National health systems, large eCommerce businesses, established educational institutions, and franchise organizations. He has a proven track record of improving organic performance and recovering penalized websites.
Twenty years from now you will be more disappointed by the things that you didn't do than by the ones you did do
Mark Twain
Favorite Challenge Food
Spicy foods (until Portillos starts an eating challenge)
Weird Fact
I have never had Chipotle
Fun Fact
Avid Fisherman – trying to replace Jeremy Wade on River Monsters
Favorite Song To Dance To
Favorite Nicholas Cage Movie
Most Famous Celebrity Met
What You Wanted to Be When You Grew Up