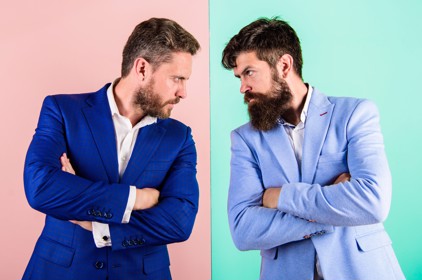 Identifying your target customer base and determining how to best attract them to your business is only half the battle to building and maintaining a successful business. What about what your competition is doing?
In our over 17 years as an agency, we're always shocked by how many prospects and businesses are not conducting thorough competitive analysis. Not only does it give you insights to where your competition is succeeding, but it can also give you new digital marketing ideas to implement into your strategy to increase traffic and conversions.
What Is Competitive Analysis?
A competitive analysis is a study in how your competitors differentiate their brand by examining their product mix, marketing strategies, brand voice, reputation among customers, and other attributes. A robust competitive analysis quickly transforms into a business and marketing strategy where your own firm is now better positioned to develop new competitive advantages and brand strategies.
What Makes a Competitor in Digital Marketing?
Competitors aren't necessarily monolithic: they aren't always companies offering the same exact products and services as you, although they are certainly a type of competitor. In a digital marketing context, however, a digital competitor analysis is direly important because the way that people use the internet to learn more about brands is constantly evolving. When performing a competitive analysis, consider the following types of digital competitors:
Companies Targeting the Same Audiences Online
A target audience is a different concept from a target buyer, and sometimes the two concepts can end up converging. For example, energy drink manufacturers frequently work with Twitch streamers playing all types of video games for their viewers to the point that these beverages have become deeply embedded in gaming culture. Energy drink makers are one of the very few industries outside of technology and e-sports willing to regularly sponsor streamers who have large, attentive viewerships that sometimes rival primetime TV.
Any vendor that sells these energy drinks, like a grocery or convenience store, would have the same target buyers. However, as far as digital marketing presence goes, energy drink manufacturers look toward major video game websites, gaming publications, and other sites adjacent to gamer culture to better understand their target audience's interests, demography, and other crucial information that helps them build more effective marketing campaigns.
Companies Selling the Same Products / Services
Companies that offer the same product as you need to be studied. Why would a customer pay $300 for a jacket at one clothing company's website, but think your prices are too high? Why does one clothing brand have an enormous Instagram presence but is not mentioned in the press? Examine their strengths, weaknesses, and overall market position relative to your own, and incorporate the opportunities you see into your own ongoing digital marketing strategy.
Companies Ranking for the Same Keywords
A company that ranks for the same keywords as you, or for the keywords you are hoping to rank for, is one to look out for.
They may or may not be in your vertical, but if they're generating traffic and getting page-one results on Google, you need to include them in your competitive analysis. Having a well thought out, goal-focused search engine optimization (SEO) strategy in place is paramount in any ongoing digital marketing strategy and conducting thorough competitor analysis will help you find any content gaps to capitalize on and expand your keyword universe.
Companies in the Same Locations
Even if a business is an entirely different industry than yours, such as a local mechanic compared to your accounting firm, local nuances should be taken into account regardless of size.
What kind of information is your local audience seeking? Chicagoans want to know what L and bus stop your physical location is near, while Los Angeles residents want to know which freeway is the closest. If you're not from that region, are there linguistic differences that separate their webpages from similar companies in other parts of the state and country? This will also help you fill in any content and keyword gaps from a local SEO strategy perspective.
Direct vs Indirect Competitors
A direct competitor sells the same product or service as you, but an indirect competitor sells a different product that satisfies the same customer's needs.
For instance, a customer who's hungry and dislikes cooking could buy a microwave meal at a convenience store or pick up a hot pizza at Domino's on the way home. The two are indirect competitors, but both competing for the same customer.
Benefits of Conducting Competitive Analysis in Digital Marketing
A thorough competitive analysis helps you hone your target market and segmentation. It not only helps you better understand the current state of your industry, but it also provides you with an action plan for the present and future of your company among other benefits.
Understand Your Target Customer
First, it provides a better understanding of your market. By analyzing why your target customers patronize certain businesses you can determine how your company fits in and how to reposition accordingly. Your target market may end up wanting a completely different product or experience, or perhaps you will choose a new target market entirely based on your findings. Subsequently, digital competitor analysis allows for stronger and more accurate market forecasting.
Understand Your Competition
As the name implies, the competitive analysis provides a more detailed understanding of your competition. It's important to watch what they're doing in terms of product offerings, customer experience, and overall online presence so you can find ways to surpass them in these areas while improving your own company's shortfalls. Competitive analysis can provide your team with a framework for consistently tracking competitors over time and monitoring their market share and the appearance of new players in the field.
Expand Your SEO Strategy
Since SEO is such an integral component of digital competitor analysis, it helps you develop more sound keyword and content planning strategies. Your competition can be more in tune with what your target audience wants to read, but you can determine how to attract the same viewers with the right keywords and content that converts. It also teaches you which keywords to start monitoring for shifts in volume, ranking, and ranking difficulty.
Looking to Step Up Your SEO Performance?
See how Marcel Digital can help you achieve that
Better Projections and Budget Forecasting
Lastly, one of the overlooked benefits of a competitive analysis is that it allows for better budget forecasting. Analyzing the competition can help you determine which marketing areas need beefing up and which ones can weather cutbacks. With a solid SEO strategy and market position analysis resulting from your competitive analysis, you'll have a clearer picture of how much you can expect to spend in the foreseeable future.
How to Do Competitive Analysis in Digital Marketing
Have a Clearly-Defined Marketing Goal
Ultimately, what is your objective with your marketing campaigns?
Higher revenues and reduced operating costs are almost always the end goal for any business owner, but several steps need to be taken first. Talk to your teams and determine what your long-term business goals are and how digital marketing fits into those plans. How does analyzing your competition and their online presence help you reach these goals?
If higher sales are your goal, examine what is and isn't working and what the competition is doing as far as lead magnets are concerned. Increasing your social media presence could mean hiring more social media managers and experts, and advertising on these platforms. It all starts with identifying a marketing goal.
Have a Clearly Defined Target Customer
A target audience can be different from your target customer, so you need to find out more about the latter and have well-researched and honed buyer personas that enable you to market to them more effectively.
What kind of websites does your target buyer visit? What kind of interests, values, and preferences do they have? How old are they, where do they live, and what other kinds of demography are they likely to fall into? Your previous customers can lend some insight here, but so can your competition's customers.
Find out what kind of branding imagery and content is most likely to resonate with them and make them want to engage with you, along with the channels they're more apt to use such as email campaigns or social media.
Know Which Digital Marketing Channels You Want to Focus On
It can take some experimentation to find out which digital marketing channels you need to prioritize, but you can start with a list of places you think your target buyer is most likely to frequent. For instance, paid search ads for a food delivery service that run at dinnertime are more apt to drive sales than a social media post that could get lost in their feed or not be seen at all.
Make a list of channels to prioritize, such as social media, email, display ads, YouTube advertising, and content. Determine which ones result in the most and least traction, and why. This will help refine your overall marketing strategy.
Looking to Step Up Your SEO Performance?
See how Marcel Digital can help you achieve that
Identify Key Competitors to Focus On
Based on the kind of customer you're targeting and digital marketing channels to prioritize, now it's time to zero in on the competitors you want to analyze. Preferably, you should have one competitor from each group outlined earlier. But depending on your product mix and field you may not have much competition, but you should still aim for three to five companies to analyze.
Analyze the Competition's Websites and Digital Marketing Channels
Thoroughly browse your competitors' websites, digital marketing channels, press mentions, and any other information that you can find out about them.
Look at what they are doing in terms of messaging and branding, overall online presence, customer experience and outreach, and other areas that are crucial to brand-building and ongoing survival as a business. What are they doing differently that you're not right now, and why aren't you doing this? What seems to be successful for them?
Also note opportunities they could be missing out on or other disadvantages that may not be incredibly obvious. For instance, a website that's difficult to navigate can negate even the most polished ad campaigns and large social media presence.
Use this information to improve your own market position.
Analyze Competitor Marketing Positions
Positioning is all about differentiating your brand in the market. Thousands of brands can offer the same product, but there's a reason why they have the reputation and following that they do.
So, how is your competition differentiating themselves and how are you doing the same? For instance, you could be using similar branding marks, font faces, or iconography to your competitors but have a completely different color scheme. A fun and informal brand voice can be a winner for a youthful clothing brand, but would it work for a global law firm if your competition sounds studious and serious in their communications?
Discern how you can out-differentiate them, as this makes your brand more memorable. Create scorecards for various attributes, like branding materials, communication style, customer experience, and social media presence. Use these scorecards for further branding and differentiating efforts, like content creation and thought leadership efforts (e.g. podcast appearances, magazine interviews).
Understand Your Key Performance Metrics
Your key performance indicators (KPIs) tie back to your business and marketing goals. What metrics do you need to keep track of to see if you are on course to reaching your goals? Which metrics are important in terms of tracking your competition as well as overall audience activity?
While there are several monitoring tools that can alert you when your brand is being discussed on social media or mentioned in blog posts and the press, Google Analytics has a host of goal and event tracking tools that provide you with a fuller view of your audience. If you make a landing page for a product but it's not converting, where are those leads coming from? How can you improve the KPIs related to this landing page?
You should also set up keyword track metrics to ensure that you're outranking your competition on certain keywords. Use this information to set monthly goals and find ways to keep improving and moving the goalposts.
Develop an Ongoing Competitive Analysis Report
When a new month begins, compile all of the above metrics into a report (preferably Google Data Studio). This information can help you make more informed business and marketing decisions and pinpoint opportunities to capitalize on.
Poor KPIs can help you isolate ineffective strategies and halt methods that aren't getting any results so you can stay within your marketing budget and improve your digital marketing ROI.
Learn how to rigorously analyze the data in Google Analytics reports so that you can gain new insights on your own audience and what the competition is doing in the digital marketing sphere. The competitive analysis provides a framework for improving other areas within both your digital marketing efforts and overall operations.