When you boil it down, SEO isn't all that complex once you understand that you need to put people before algorithms. But algorithms change and along with them so do SEO services and best practices, and with 2018 about to come to a close it's time to think about how you're going to start the new year with a new strategy. If you want to stay ahead of the game as far as SEO is concerned, here's where you'll need to focus your resources and efforts in 2019.
Make Mobile-Friendliness A Top Priority
Google is now a mobile-first search engine and the others have joined suit so mobile-friendliness is imperative. Having a well-designed mobile site is only half the battle, however. Just because you have a responsive site in a mobile-first index doesn't mean that your SEO is geared towards a mobile audience. Per Search Engine Land, 79% of keywords return different returns on mobile and desktop devices. Not only are different results expected, but people also search differently on a phone than a desktop computer and with the significant rise in voice-based searches this is only expected to change even more.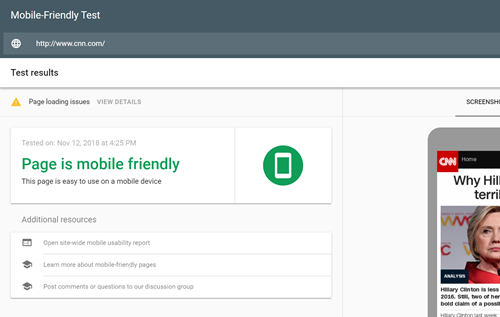 If you're wondering if your website is mobile-friendly and would like to get Google's opinion on it, take a look at their Mobile-Friendly Test tool. This tool will help give you greater insights as to what mobile issues Google is noticing on your website, and also provide you with resources to remedy these issues for not only better search visibility, but more importantly, a better user experience for this visiting your website. We highly recommend leveraging this tool, as it's the most direct mobile insight you'll get from Google.
Be Prepared For Voice Search
Gartner estimates voice-activated searches will account for 30% of all web browsing sessions while "near me" searches have seen a 500% increase in just two years. With the shift towards voice-based searches in addition to "near me", "open tonight", and similar searches based on the user's real location and time, natural language is going to become a SEO priority in 2019. When directing content writers to account for this in blog posts, web pages, and other content that relies on specific keywords, natural language placement needs to have even more emphasis than the actual keyword.
Another way to capitalize on voice search is to make sure that you're using structured data markup, namely Schema. Schema is a type of markup that allows website owners and marketers to give search engines more information and descriptions to to content on the webpage it's crawling. When you use Schema, you're able to tell search engine crawlers what keywords are the most important keywords / phrases on the page, as well as publisher information and more. This will help your webpage and content potentially rank higher in search, for more voice searches, and also give you more visibility in the way of rich snippets, hopefully leading to higher click through rates from search. Here a couple of examples: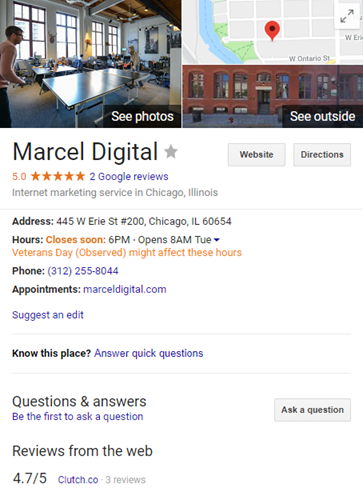 Recipe Rich Snippet

Review Rich Snippet

But that's not at all! Rich snippets are everywhere. Take a look here to see what opportunities are out there for you and your website.
Pay Attention To Backlinks, Both Internal And External
Backlinking is extremely important and you need to have both external and internal links. External links help search engines process what type of website you run. For example, Search Engine Land is a highly-trusted resource along with other marketing sites like Neil Patel's network, Content Marketing Institute, and HubSpot. If you're linking to spammy-sounding or questionable websites, search engines will frown upon it and it will have an adverse effect on your ranking. High-quality external links help prove your site's worthiness.
Internal links, links to pages and sites within your network, are equally important because they not only work symbiotically with visitor engagement (someone who read all of a blog post will want to read another one you have linked) but they're also crucial for bumping up a page's spot in search results. Like external links, they also help search engines understand your site architecture and which web pages are the most important.
Single-String Is Out, Keyword Clusters Are In
Keyword clusters, the optimization of web pages for variations of keywords and keyword stringers, is not a new practice. However, it's going to be your SEO best practice for 2019 since content management systems haven't kept up with Google's algorithmic changes.
The most notorious example of single-string insistence in a cluster world is the Yoast plug-in in WordPress in that has this fixation on a single-string keyword for each web page. As a result, getting that top position on Google for these single-string keywords matters a lot less today, according to the Content Marketing Institute. The top position provides about 21% of your total clicks, the second result 10%, and the third placement yields 7.5%. This ranking still plays an important role but it's not as much of a be-all-end-all as it used to be.
There's no need to optimize webpages for just one keyword anymore. Clusters are the new black.
Stay On Top Of Meta Tags And Alt Text
The title and meta title should contain your target keyword as should the H1 heading. Your H2 headings should contain both target and secondary keywords when possible. While your meta description isn't an actual SEO factor, it's beneficial for the user and helps them understand the web page's intent.
Alt text for visual content should also not be ignored. Not only does this help users with disabilities, but alt text is searchable and it's a golden opportunity to add your keywords.
Keep A Clean House As Far As Your Website Architecture Is Concerned
The term "website architecture" can sound intimidating but it's not as technically difficult as one might picture. You want to keep your website hospitable to search engines and the best way to do that is to keep a clean house with respect to your sitemap and web pages. Remove broken links and fix orphaned pages, and make sure that your backlinks are clean and important pages are easy to find. Broken links and pages that aren't linked to from anywhere else within your sitemap drag down your search engine ranking.
Make Sure You Have A Secure Website
You want your website to get indexed by search engines and having https:// helps protect users' data between their devices and your website where the "s" stands for secure socket layer (SSL) encryption. Make sure you have a robust and up-to-date security certificate from your hosting service as it not only makes your site pass malware scans, but also gives both users and search engines peace of mind. A privacy policy that is easy to find in your site's footer also lends more confidence to users and you should have one clearly defined on your website even if you are not legally mandated to do so.

As mobile devices and voice search continue to dominate web searches, SEO efficacy will continue to evolve alongside search algorithms and user behaviors. Keeping a clean sitemap is tried-and-true SEO best practice but there was a time when reaching the top organic search result on Google was an incredibly important goal. Keyword stuffing died out and now single-string is eclipsed by keyword clusters. 2019 will usher in interesting developments in how people search and what will get traction.