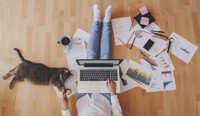 Marcel Digital is committed to providing world-class digital marketing and website development services and strategies. We are also committed to our employee's health and the health of our community. We have been preparing internally for weeks to ensure a seamless transition to a remote office.
Starting tomorrow, we will be temporarily closing our Chicago office due to Coronavirus and moving to remote, work from home environments. For years our team has implemented processes and technology to ensure seamless integration between our in-office and work-from-home collaboration and therefore you can assume there will be no interruption to communication or work.
All daily communications, calls, meetings, email, Slack, reporting, and ongoing work will continue, uninterrupted.
If you have any questions or concerns, we'd be happy to discuss in more detail. Please reach out directly to your Project Manager or feel free to contact us.
Thank you for your trust and thank you for your business. Please stay safe.