Today's web experience relies heavily on ease of use for your website visitors, and one way to make that happen is through a single sign-on (SSO) functionality. For those of us that don't readily recognize that name, you're definitely familiar with it in practice and probably use it yourself. Say you goto a website that requires a login of some kind, there's usually two ways you can go about it:
Create a new account from scratch by filling out forms
Create a new account using your Gmail, Facebook, Twitter, etc., with one click
The latter is called Single Sign-On (SSO) and according to a study conducted by AddShoppers in 2015, roughly 20% of web users use SSO versus traditional login. Now, again, this study was conducted in 2015, so the data is obviously a bit dated, but one can extract from this that a good majority of web users are using SSO because it's fast and simple, and there's a very good chance that this number is much higher in 2018.
While SSO is a great functionality to add to your website, there are some Google Analytics attribution elements to consider when implemented. This is what we found recently with a large, B2C eCommerce client that was using Facebook as a SSO source. Below, we'll take you through the process of identifying misattribution due to SSO and how our Google Analytics experts fixed this issue to present a more clearer and true picture of how SSO was actually performing.
Loss Of Attribution Due To Single Sign-On
As we just said, if your website uses SSO, chances are your attribution is broken. Depending on the percent of your traffic that signs in using SSO, any decisions you may make could be based on inaccurate data.
We recently identified this issue on a large, B2C e-comm client using Facebook as an SSO source. At first glance, we would have recommended continuing to run conversion-based Facebook ads due to the last-click attributed success of our efforts. From there, we would be able to test out new ads and keep running what we had as it was showing success.
When we launched paid social efforts, we were reporting that we generated $2.50 in revenue for every $1.00 in ad spend. We had identified through cleaning the data that Facebook, in fact, does not drive direct revenue for the business but it was very much a top-of-the-funnel, awareness-based strategy. After we resolved this attribution issue, our return on ad spend (ROAS) dropped to $0.20 for every $1.00 in ad spend. 
After our analysis, we decided to rebuild our ads to focus on higher funnel calls to action, such as "Click to Website". This rebuild decreased our cost per click from $24.99 to $1.85, resulting in 50 more clicks we get for every $100 in ad spend!
Let's Understand Why This Is Happening
It may be easiest to think of this from the path of a unique user. Let's say I clicked on an organic listing, made my way to the website, added an item to the cart, created an account via the Facebook SSO and then purchased an item. Understandably, we'd say Google / organic was the source and medium that led the user to convert. Nice job SEO team!
The issue arises that once I go to "Sign In with Facebook," I'm sent to Facebook to enter my credentials which then send me back to the website. From an analytics perspective, my organic session was broken, so now once I convert, Google Analytics attributes "facebook.com / referral" as the source and medium that led to the conversion. Sorry SEO team!
Ultimately, using SSO without proper tracking can result in lowering the attribution for marketing channels driving conversions to your website. When your data is misguided like this, it could mean you're putting marketing dollars in channels that aren't performing as well as they appear in your data, and taking budget away from channels that actually are.
What Can You Do To Fix It?
The good news is that it's easy to resolve your attribution. First and foremost, you'll want to add facebook.com in this example to your referral exclusions list. Other options could be Twitter, LinkedIn, PayPal, Google, etc.
You can do this by navigating to the Admin section and selecting Tracking Info under Property. This will open up a dropdown of options and you will want to select "Referral Exclusion List."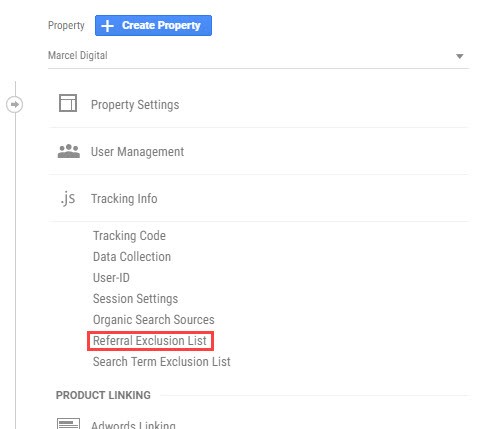 Go ahead and add your domain name on the subsequent page. There's no need to include the subdomain, or in other words, the preceding "www". Depending on the source, this in itself is the not the solution. If you use a site like Paypal or Microsoft, you're likely not getting traffic from these sites so you're done.
When discussing social sites like Twitter and Facebook, you'll want to leverage UTM tagging so you can still get credit for your paid and organic posts on those platforms. What you'll need to do is manually tag all of your paid ads and each organic post with proper (and consistent) UTM tags.
Not sure what a UTM tag looks like? Here are a couple of examples:
Twitter: example.com?utm_source=twitter&utm_medium=cpcsocial
Facebook: example.com?utm_source=facebook&utm_medium=organic
You can use a URL shortener service like bit.ly to better control the character count in your posts.
Have questions about the reliability of your data? We'd be happy to perform an audit to ensure your data properly reflects how users are accessing and interacting with your website! Just head over to our contact page and send us a message - we're always happy to hear how we can help!