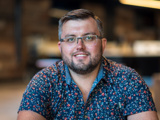 Dan is an experienced analytics expert verified by his many years of successful implementations as well as his certifications in Google Analytics, Google Tag Manager, and Google Data Studio. Dan has a background in digital marketing, giving him the ability to structure analytics accounts more holistically and provide more meaningful, decision-making reporting.  
Dan has led many projects ranging from simple Google Analytics installations to comprehensive implementations. His solutions are rooted in tracking business goals and understanding digital channel attribution.
Born and bred in Chicago, he comes from a large family with 7 other siblings. Dan is a father to a set of twins and husband to his amazing wife, Jessica. He loves traveling, cooking, sports, and spending spare time with friends and family.
If statistics are boring, you've got the wrong numbers.
Edward Tufte
Hidden Talent
I make a mean Memphis-style BBQ sauce
Weird Fact
I started a Wakeboarding school
Fun Fact
I have two brothers adopted from Mongolia and a sister from China
Favorite Pastime
Wakeboarding & Snowboarding
Favorite Song To Dance To
None, you won't catch me dancing
Favorite Nicholas Cage Movie
Most Famous Celebrity Met
What You Wanted to Be When You Grew Up