On Thursday, March 16th, Marcel Digital hosted a philanthropy event in support of International Women's Day that took place on March 8th. The event was held in Chicago, where employees were invited to help assemble personal hygiene kits for the Southside Center of Hope, a local organization that supports women in need.
The event was a great success, with around 20 employees coming together to assemble the kits. The kits included basic necessities such as toothbrushes, toothpaste, soap, shampoo, and feminine hygiene products. Each kit was carefully put together with care and attention to detail. Some of the team members then hand delivered the 100 kits to the local facility.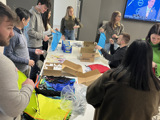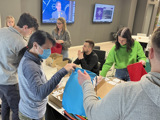 Marcel Digital has a long history of supporting local charities and organizations and we believe in giving back to the community and making a positive impact wherever possible. This event was just one of the many ways that we're working to make a difference in the lives of those in need while building a positive internal culture.
The Southside Center of Hope was chosen as our event partner because of their commitment to helping women in the Chicago area. The organization provides a wide range of services, including counseling, job training, and housing assistance. Marcel Digital is proud to support their mission and help make a difference in the lives of the women they serve.
Overall, the philanthropy event was a great success, and Marcel Digital looks forward to hosting more events like this in the future. Stay tuned to this space to see more about how we're living our values through active philanthropy.