If you pay attention to your organic search performance and your Webmaster Tools, which I highly recommend you do, you are probably well aware of Google's Manual Action. Another way you may have heard about this is by way of Google "penalizing" websites.
You may also be reading this right now because you have a Manual Action on your own website.
If you are not aware of what a Manual Action is, a Manual Action is Google's way of manually (of course) reviewing a website and looking for manipulative tactics performed such as spammy backlinks, thin content, and over optimization, and removing your listings in the search results until these tactics have been cleaned up or removed.
The way a webmaster can overcome this action is to clean up issues on the website and to submit a Reconsideration Request. This is the action of asking Google to review issues on the site and to take away the penalties against it after deeming it now follows the quality guidelines.
Types of Manual Actions
There are two types of Manual Actions:
Site-wide manual action: This is when an entire website has been penalized.
Partial match manual action: This is when certain pages or sections of a website have been penalized.
While there are two types of Manual Actions, there could be multiple reasons for triggering them. Some of these reason include:
Unnatural links - Perhaps the most common type of Manual Action, especially for those that have worked with SEO companies in the past, is the Unnatural Link. This notification covers different areas, including links pointing to your site, links that direct users off of your site, or links that were acquired via payment or link schemes. You can learn more about these issues here.
Spam - This includes anything from user-generated spam to sneaky redirects, pure spam to misuse of structured data markup, and even what Google reads to be just plain gibberish. You can learn more about these issues here.
Hacked site - This means that Google suspects that your site may have been interfered with by a third party with the intentions of hurting your website's performance. You can learn more about these issues here.
Hidden text or keyword stuffing - Google will penalize websites for attempting to hide text on a page or for over optimizing a page for a specific keyword or query. This is blatant manipulation and will definitely hurt rankings and performance. You can learn more about these issues here.
Thin content - Automatically generated content, providing no real value in your content, or taking content from other websites will cause Google to see your website as low quality, resulting in a potential penalty. You can learn more about these issues here.
Image mismatch - This is when images on your website are appearing differently than they would in search. You can learn more here.
How Do I Know If I Have Been Penalized?
The best way to check if your site has a Manual Action is to login to Google Webmaster Tools, click Search Traffic, then click Manual Actions. Depending on your notifications, you might have a page that looks like this:

If you do not have a Manual Action, your page will look like this:

Google will also notify via the email address attached to the Webmaster Tools account: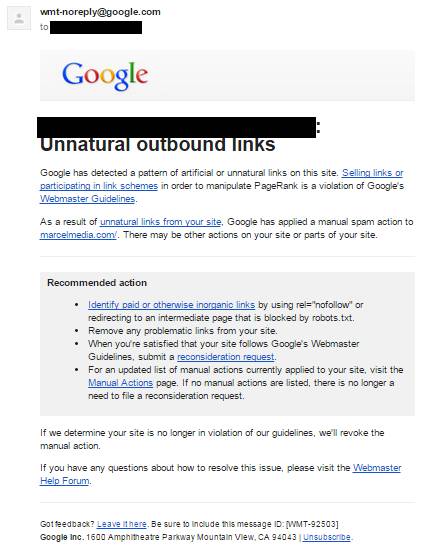 These messages will vary depending on the type of penalty or Manual Action you have and will generally include resources on how to remedy the actions placed against your website.
How Do I Remove A Manual Action?
While there is no clear cut, step-by-step way to remove a Manual Action, there are steps you can take based on the notification you receive, and successes others have had in removing penalties. Additionally, Google will send you resources, backlinks, or examples of issues on your website so that you have more insights on how to fix them.
Removing A Content Or Spam-Related Manual Action
Depending on the type of content or spam Manual Action you receive, you should do the following:
Conduct a content audit and ask yourself these questions:
What content is relevant?
What content is irrelevant?
Based on Google Analytics / WMT, what content gets the most visibility and traffic?
What content gets the most goal completions?
Is my information architecture easy to use, and correct?
Can any content be updated, removed, or consolidated?
Is any of my content spammy or off topic?
Is any of this content copied from another site?
Being able to take an unbiased approach and wholeheartedly answer these questions will help you prioritize your next steps.
Removing A Link Related Manual Action
Backlink Data Collection
By far the most important aspect to your reconsideration request is your data collection and assessment of backlinks. What you're going to do in this phase is collect your backlinks, research those backlinks by manually checking them, getting second opinions from tools, and placing those links into categories.
Those categories usually fall into: good, neutral, or bad. Bad of course being links you want to remove, good being those you want to keep, and neutral being middle ground that can either be left alone or inspected further.
Keep in mind that all vendors give different sets of links. No two sources give you the exact same list, so it's important that you pull links from tools and vendors you trust. I personally pull links from the following tools:
Google Webmaster Tools - These links are specific and direct from Google. Make sure you download these and research them - these are the links that Google sees and want you to be aware of. While they don't give you the full list of links to remove, you can generally find patterns in the information they are giving you. If you focus on any tool, look into these the most. I would also note the anchor text that Google is finding the most in your backlink profile.
Majestic - Majestic is a fantastic tool to assess backlinks within the last 30 days, as well as over the last five years. Majestic breaks down your backlinks topical relevance, as well as the metrics for the sites linking to you. Do they have a lot of spam backlinks themselves? Do they link
LinkRisk - I love LinkRisk. Reason being, it gives me an individualized backlink profile scores, meaning it goes through my entire backlink profile, looks at all of the links that they can find, and scores those links based on their algorithm. From there, they give my website an overall backlink profile score. Beyond that, they categorize your backlinks by Good, Low Risk, Neutral, Suspect and Bad. You can read more about their system here.
What to Look For in Backlinks
There are multiple telltale signs that could potentially set off red flags. This quick assessment can tell you if links are immediately bad or look into. Here are some examples:
Directory links (example)

Usually these spam directories have the same template layout with

Inspect URLs with blatant spam words

Free
Porn
XXX
Submit
Directory
Paid
Links
URL
Sex
etc.

Check for multiple domains and URLs on the same IPs

This can usually be an indicator of link farms or spam

Irrelevant links

If you are receiving links from a shoe website and you're a car dealership, it's obviously not relevant
Outreach for link removals
The process for outreach on links you wish to remove takes time, patience, and detail. You have to stay on top of your outreach and take notes on both the process and outcome. This will be extremely important when setting up your reconsideration request.
Obtain an email address for the source link (so rather than john203948@gmail.com, use john@example.com)
Put together tabs in Google docs

Toxic backlinks
Links not removed
Links removed
Links requesting payment for removal
Bounced requests

Create link removal lists in Google docs

Include the site, backlink location, email address, dates you sent requests, and outcome

Set up a disavow file

Links removed
Links that were not removed
Links that needed payment to remove
Links you could not find contact information for
We recommend reaching out 3-4 times with a period of 5 days in between each attempt. Keep track of the dates you reached out and the outcomes in designated tabs and keep your communication professional and to-the-point.
What about links from my site to others?
If you received a Manual Action regarding links from your site pointing to other sites, do the following:
Run a crawl of your site (I use ScreamingFrog)
When the crawl is done, click "Bulk Export" in the navigation
Export this list and put into a Google docs spreadsheet
Check the following items

Anchor text
Status codes
Source pages

This could tell you if you have blog comment spam

What type of link it is
Check to find links that are broken, spam, or irrelevant to the content. By cleaning or "nofollow"ing outbound links, you show Google and search engines that you are taking the steps to keep your site clean, ultimately building the integrity of your website and who you link to.
Building Your Reconsideration Request
After you have done your outreach and took notes of the outcomes, it's time to set up your reconsideration request. The key to a great reconsideration request is detail across multiple areas. Here is a quick outline to help guide you:
Details of issues from Google
Details of your tactics that caused these issues
Details on location of issues
Details of steps taken to clean up issues
Details of outcomes from those steps taken

We removed __% of toxic backlinks
We refreshed __% of our content
We removed __ pages from our site that were irrelevant
Provide examples

Details of your process moving forward to ensure issues do not happen again
What I personally like to do, is write a quick paragraph essentially saying:
"To the Google Search Quality Team,
We recently discovered a Manual Action was placed against _______.com for (Partial or Site-Wide) Matches. These actions were placed because of "(reason for the Manual Action)".
It has been our top priority to address these actions and have any and all issues resolved. We have provided you with the following information regarding our efforts to help clean up ________ (issues - content or backlinks). You can read more here:
(link to longer document with steps taken to resolve issues)
_____ is committed to meeting the Google Search Quality guidelines. If your team still finds our site does not meet the guidelines, please send examples as we are determined to immediately remove any and all issues that violate guidelines.
Please contact us if you have any questions or comments.
Best,
(your name)"
I put this information in the "Request a review" pop up that comes when I click "Request a Review" under the Manual Action page.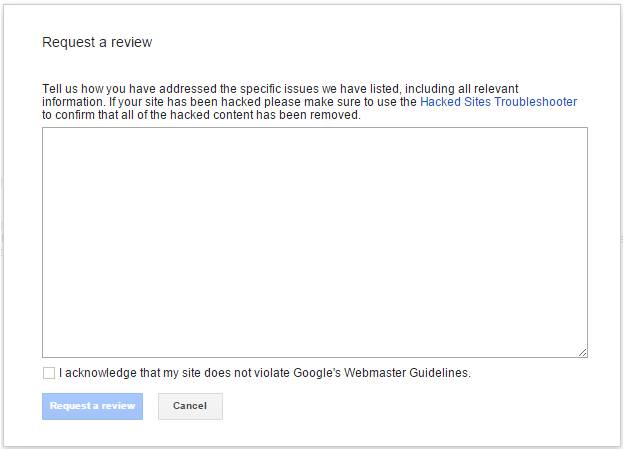 It takes some time for Google to review your request. Generally, longer waits between responses are a better sign. Historically, we have found that the longer it takes to get a response from Google, the better off we were.
When you have successfully removed a Manual Action, Google will send you the following via email: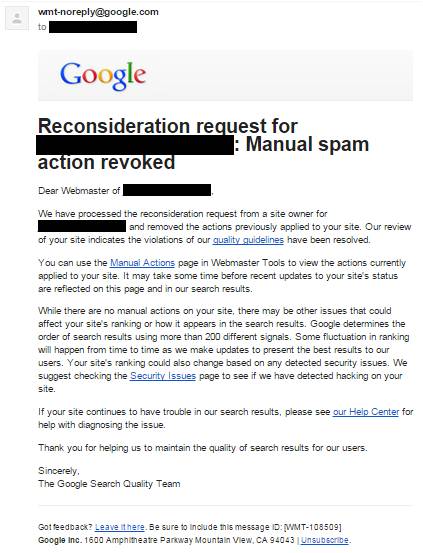 You will also see this message in your Webmaster Tools: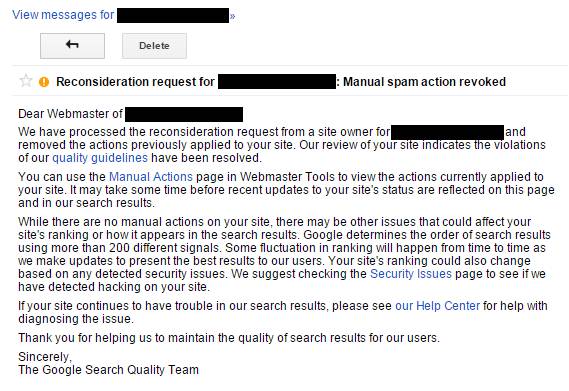 However, if you receive a notification stating: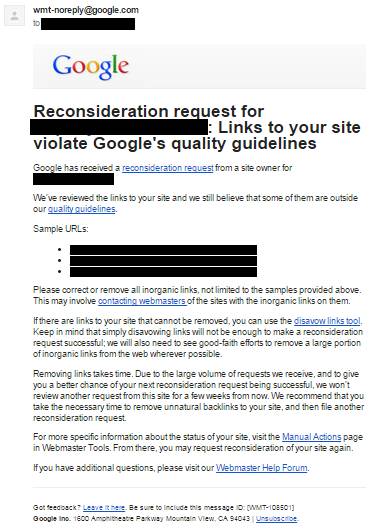 This means that you still have work to do and that you will have to go through the process again. It is recommended that you wait a few weeks in between receiving your updated notification and sending another reconsideration request, giving yourself time to try and resolve issues.
I Got My Manual Action Removed! Now What?
First, congratulations for removing your Manual Action - that's a great feat and something you should be proud of! That being said, do not expect your rankings and organic traffic to shoot back up. That's most likely not going to happen unless you are a big brand name.
Typically, you will either see no improvements, some improvements, or improvements once other algorithms or updates take place. Unfortunately, it's a waiting game.
The best thing you can do is make sure that your site abides by the best practices put forth by Google Webmaster Tools. Make sure you are providing a unique and valuable user experience for those coming to your website. Create content that provides value to the user and throw old link building tactics to the wind.
Be sure to regularly check your backlinks and content, and to benchmark performance of top landing pages as well as queries. The more you stay on top of your website performance, the better off you will be.
We have had multiple successes in removing penalties from websites by utilizing the steps above. While everyone's website is different, it is possible to remove a penalty with the right amount of information and effort. It can take a considerable amount of time to get a penalty removed but ignoring a penalty can be absolutely detrimental to your website traffic. It is important to go through the necessary steps to removing a penalty to ensure that you are staying in Google's good graces.
Consider this a new opportunity to be the presence online that users and search engines value. Be the best you can be. Be honest, be transparent, and be the ONLY when it comes to your user experience.
If you think you have been hit by a penalty, but don't know what to do in order to remove it, our SEO experts are standing by and ready to help you! We'll take a look at your website's analytics and audit your website in order to find the root of the problem, and also provide next steps to help your site get back on track. Feel free to contact us and we'll be happy to discuss your business needs!