As shown by the previous statistics, consumers are expecting a more and more personalized experience from the brands and businesses they interact with online. Unfortunately, a lot of marketers and website owners are having an awfully hard time meeting these expectations – or simply are not utilizing personalization as a marketing tactic, which may be for a variety of reasons. All of which we will address.
Reasons for failing to personalize sites vary, but within this quandary, there are a few points to consider:
40% of marketers can't get insights quickly enough.
39% of marketers don't have enough data and 38% of marketers have inaccurate data.
32% of marketers lack internal resources.
What this shows us is that we need to have tools and processes in place that empower us to collect, analyze, and use data in a way that provides a more relevant and unique website experience for our prospects.
Strategy can be derived from data, but most of us have no idea where to begin. We're not aware of what resources we need, what we need to be looking at, and how to create tangible tactics from data. As digital marketing experts and Umbraco Masters, we're here to tell you that the tools you need are right in front of you, and it's easier than you think to start a personalization campaign.
Regardless of whether your issue is caused by a lack of insights, resources, or budget, there's no reason to not be pursuing personalization. After all, the brands and businesses that are able to leverage personalization see, on average, a 19% uplift in sales and conversions.
Building Personalized Umbraco Experiences
So what does it take to build a personalized website experience? It's actually pretty simple when it comes down to it, but there is a process you need to abide by with your Umbraco web development team in order to maximize your personalization efforts' efficacy. To do so, you must carefully examine your current website visitors alongside your current customers to get a more full picture of your target audiences and segments.
Identify Target Audiences & Segments
Before you pursue any type of personalization campaign or leverage the tools and software that can provide a unique website experience, it's important that you research your audience, customers, and prospects to get a more full picture of the segment types that differentiate them.
To do this, you'll need an analytics suite. As a Google Certified Analytics Partner, we insist on installing Google Analytics and Google Tag Manager to your website, as these tools provide the most in-depth data and insights about who your audience is, how they got to your website, and how they engaged once they were there.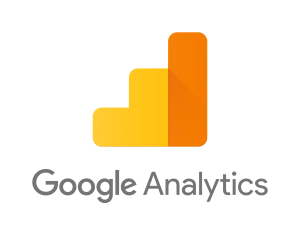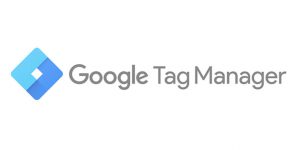 When you research your target audience, it's important you understand who they are, how they think, and what they are looking for in their content and website experience. You'll need to understand what engages them, what informs them, and ultimately, what inspires them to take action.
For instance, focus on key demographics like:
Age
Location
Gender
Income
Job title
Focus on key psychographics like:
Personality
Lifestyle preferences
Hobbies
Values and beliefs
Opinions
Attitudes
Lastly, focus on previous behavioral actions like:
Pages visited
Site or page referrer
Forms submitted
Emails opened
Links clicked
Another easy way to answer your questions about your target audience is to look at your current customer or client base. There is a wealth of information there to help you build out your personas and the types of customers that are more likely to convert on your website. This is especially easy if you have a Customer Relationship Management (CRM) system in place to look at trends from your past customers.
All of the items listed above (and yes, many more are available) will help you establish personas of the people visiting your website. From there, you can begin to look at common issues or pain points that those target audiences have, or why they visited your website in the first place, in order to clarify how you can be of greater assistance – or need – to your prospects.
Focus on Main Pain Points
All consumers and prospects have an issue or pain point they are trying to alleviate. They need a solution to a problem and something about your website or your marketing drew them to explore your products, services, or offers more in depth. It's important that when you begin a personalization campaign, you focus on the pain points these prospects have and how you can better create a unique marketing message that speaks to how your products or services can help alleviate their concerns.
To do this, focus on:
Highest converting products / offers
Most visited pages on your site
Most engaged media (video / downloads) on your site
Most submitted forms
Emails with the highest open rates
What these items will tell you is where your target audiences are engaging the most with your messaging and the types of products / offers they are most interested in. From there, you'll be able to get a better idea of the issues they are having based on your current messaging and the features of your offers.
Another often underutilized method of research is surveying through polls. A survey is a way to get feedback from your website visitors and customers to conduct market research, finetune your processes and products, and increase customer satisfaction. We highly recommend this practice and do so regularly with our clients.
If you decide to survey or poll your audience, ask them questions on the website or via email, such as the following:
Tell us about yourself.
What information helped you make a purchase?
If you didn't make a purchase, what information would have helped you make a purchase decision?
How do you use our products?
Would you recommend our product to others? Why?
What other brands' products were you considering against ours?
What type of content would you like to see from us in the future?
To do this, you'll need a way to poll your website's visitors. As Hotjar Founding Members, we're partial to Hotjar and the amazing features that allow us to take our audience data levels deeper than its competitors. Plus, it's easily integrated into Umbraco CMS and doesn't slow your website down at all. Here's an example of a website survey: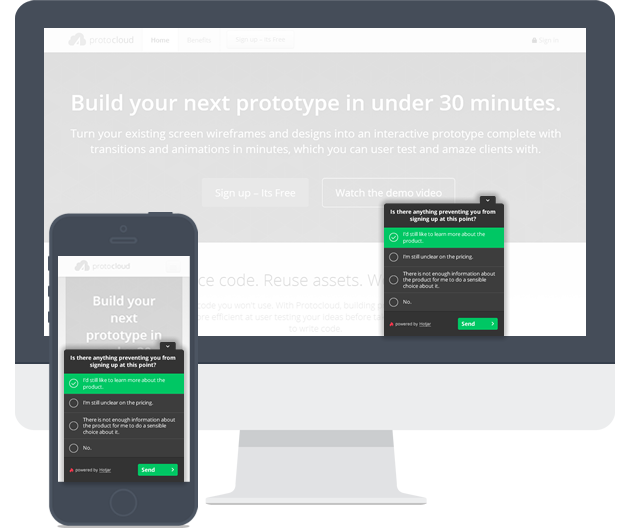 Not only will you be able to ask users questions, but you'll also get:
Heatmaps (see where users are click and scrolling)
User videos (see exactly how users are browsing your site)
Form analysis (see how your forms are performing)
User testing (get direct feedback from people testing your site)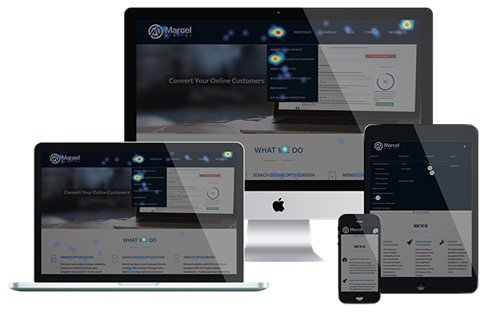 The great thing about heat maps and user videos are that they allow you to directly see where users are clicking on your site – illustrating the power of data to eliminate any type of guessing game in data analysis and thus strategic planning.
Answer Visitor Pain Points With Your Solutions
After you research your target audiences and dig deeper into the insights and actions that define and segment them, it's time to think how you can begin to create content that aligns your business goals with your target audience's goals, i.e., how you can tailor content to alleviating their pain points through your products or services.
Today our aim is to focus on website content – as opposed to other marketing content – in order to show you how tailoring your messaging can have a powerful impact on your performance data with your target audience.
The image below shows you how to find your content sweet spot. What we're looking at here are two circles: one is your business offerings (services, products, and offerings) and the other is your prospect's issues and needs. Your goal is to create content that falls right in the middle.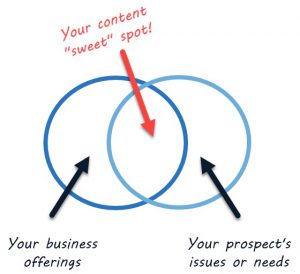 Remember, each target audience segment will have a different goal when they come to your website. Some will be browsing, others will be actively researching, and others will be evaluating and comparing you against other options for your services or products. It's vital that you understand each segment's needs and create content that aligns both your offerings and their issues – that understanding is your path to the sweet spot.
How to Showcase Alignment through Content
Whenever you're writing or creating content for your target audiences and segments, it's important to understand where in the sales funnel they are. As we stated before, audiences are either browsing (top of funnel), researching (middle of funnel), or evaluating (bottom of funnel), and the content you create will need to fall into one of these three categories.
Your content at the top of funnel will be more introductory. It will have very little to do with your buyer's interests and needs and will instead be more focused on giving your audience an idea of who you are and what you offer. Here, you're trying to build brand awareness and drive leads.
Middle of funnel content will focus on nurturing audience members and leads that are more interested in your services and products. This content will be persuasive and educational, and targeted to those who are more inclined to take action.
Lastly, bottom of funnel content focuses on persuading your target audiences to take action with your company. An action can be anything from filling out a form to making a purchase. Where top and middle of funnel content is focused on brand building and thought leadership, bottom of funnel content gives more direct details about your products and services, such as their benefits and how they solve a problem or issue.
Here are a few general outlines for the types of content that you'll possibly need to create based on where your segments are in the funnel:
Top of funnel ("browsing") content:
About Us page
Service / product pages
Blog articles
Middle of funnel ("researching") content:
White papers
Case studies
Videos
eBooks
Email marketing
Blog articles
Bottom of funnel ("evaluating") content:
Webinar
Assessment
Free trial
Demos
Evaluation
Discount codes
Blog articles
It's important to understand that the type of content you're creating will fit into a certain part of the conversion conversation. While your content needs to be on point in regards to speaking to your visitors needs, your conversion points need to be just as relevant.
Focus on Relevant Conversion Points
Within each portion of the funnel, you'll also want to make sure you're presenting relevant conversion points and next steps for those personas engaging your content. If your calls to action aren't relevant to that portion of the funnel or those personas, you may risk losing their interest, or worse, making them feel overwhelmed or pushed.
Look at the content you're creating for each portion of the funnel and think to yourself, "What is the goal of this page?" or "What is the logical next step?" Work with your marketing, design, and Umbraco web development team to create eye-catching calls to action that get the user's attention, are clear in what you want them to do, and are also easy for them to use.
Different conversion points to consider:
Making a purchase
Submitting a form
Clicking a button or link
Visiting a particular page
Watching a video
Pay attention to how users are interacting with these conversion points through your Google Analytics implementation, as well as your heatmap tracking and user video software. As you observe these metrics in action, you'll be able to get a more clear idea of the pitfalls and opportunities in your website's usability. Then you can take steps to continually provide a more relevant and personalized user experience.
Umbraco Packages as Tools to Drive Engagement
When using Umbraco, you have a lot of great packages created by award-winning Umbraco web development teams and 3rd-party integrations available to you to add to your website in order to take full advantage of personalization.
Personalisation Groups
Personalisation Groups is an Umbraco Package that allows website owners and marketers to showcase different types of content to different segments of their website visitors.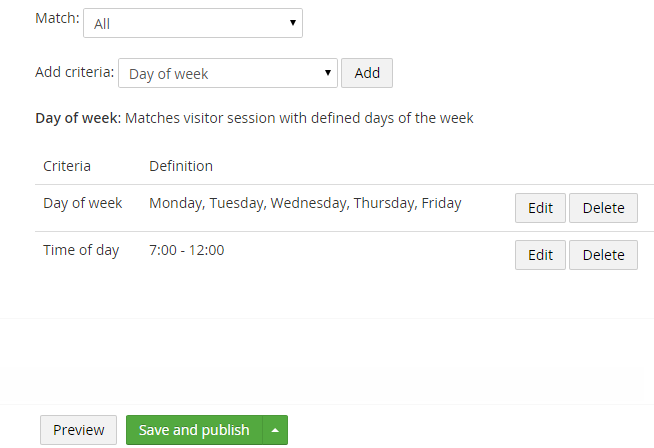 Using Personalisation Groups, you can personalize content by criteria such as:
Authentication status
Cookie key presence/absence and value matching
Country (via IP matching)
Day of week
Number of site visits
Pages viewed
Querystring
Referral
Region (via IP matching)
Session key presence/absence and value matching
Time of day
This tool's capabilities give you more granular control over the type of content your target audience segments are seeing.
Footprint
A favorite Umbraco package of ours, Footprint tracks behavior and segments users/traffic based on your established segment settings. With Footprint, you'll be able to track users' movements across your website and segment them based on certain actions and criteria. Not only will you be able to provide different content to different user segments, but you'll also be able to track analytics metrics based on those users to see how your personalization efforts are performing. That ability is powerful!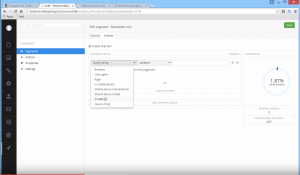 Using one of these two packages from Umbraco will give your team control like you've never had before. Viewed content and conversion points will become much more impactful. There are also many other personalization softwares your Umbraco web development team can integrate with your website, and you can check those out here!
How to Get Started
As a marketer and website owner, we know you want to focus more on providing the best possible experience to your website visitors and prospects. In this white paper, we discussed how you can achieve that goal through personalization – what personalization is, why it's important, and how to implement personalization on your own website.
Our key takeaways:
Decide on your business goals.
Conduct stringent target audience research.
Break your target audience into segments.
Align your business goals with your segment's goals and pain points.
Create a content strategy that fulfills both of your goals.
Focus on conversion points relevant to content and audience.
Leverage Umbraco personalization packages to provide a better, more relevant user experience.
We've provided some additional resources in the next section (conveniently titled, "Additional Resources" ) to help you and your team get off on the right foot with your personalization efforts. This is your first step toward providing a great user experience for all of your target audiences – a step that we strongly recommend in order to stay ahead of your competition.
Additional Resources
Guides to Web Personalization:
Analytics Suites:
Umbraco Personalization & Engagement Packages:
Website Testing Tools:
Visual Data Suites:
Guides to Conversion Rate Optimization:
Guides to Content Marketing