When we put too much effort into broad marketing campaigns that often don't target a specific audience and see little in return, it can be easy to forget about other marketing efforts that naturally increase qualified traffic and conversions on your website. One of those marketing channels that gets less love tends to be search engine optimization, otherwise known as SEO.
For a lot of businesses, SEO is handled by an internal marketing person that has read a few articles or "how-to" guides getting a website to meet a basic level of SEO best practices, but often falls well short of a rigorously thought out, long term strategy, missing key growth opportunities as time goes on. This is understandable, marketers can be spread thin and focused on higher priority items, but it doesn't take away that SEO, when done correctly, has huge returns and benefits to your business.
Take into consideration the following facts from from our friends at Junto:
93% of online experiences begin with a search engine
57% of B2B marketers stated that SEO generates more leads than any other marketing initiative
61% of internet users do research on a product online before making a purchase
And the it's the same game if you're a local business:
72% of consumers who perform a local search visit a store within 5 miles of their current location
78% of location-based mobile searches result in an offline purchase
61% of mobile searchers are more likely to contact a local business if they have a mobile-friendly site
What this all points to is even if you are a small marketing team that wears a lot of hats, you need to have a good portion of your time and marketing efforts dedicated to an ongoing SEO strategy that capitalizes on the ever growing marketing channel that is organic. But don't worry! Even if you're a small operation or a one person marketing team with little resources to dedicate to an ongoing campaign, there are things you can be doing to kick your SEO efforts up a notch.
In this post, our SEO team put their heads together to come up with five areas where we see prospects and clients are missing major SEO opportunities that could immediately have impact for even the most basic of SEO strategies.
AMP Up Your Website
Web users and Google both love fast loading websites, especially when it comes to mobile. So in order to meet this growing industry standard, Google created what is called the Accelerated Mobile Pages initiative in 2015, a project that saw a new coding language restricting pieces of HTML code on mobile devices to increase loading speeds and reliability by up to 85%. AMP allows for publishers and site owners to deliver their content fast to mobile users, leading to less frustrations for your site's visitors and higher overall engagement rates.
Google returns AMP pages in mobile search like this...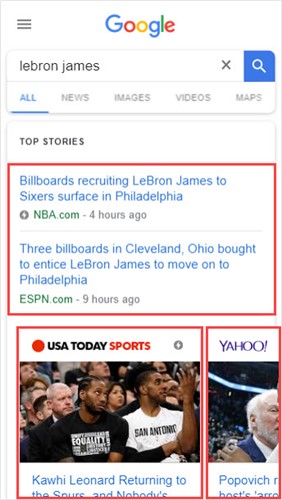 You can scroll through these AMP news boxes from left to right...

When you click through these boxes, the pages have a more stripped down look...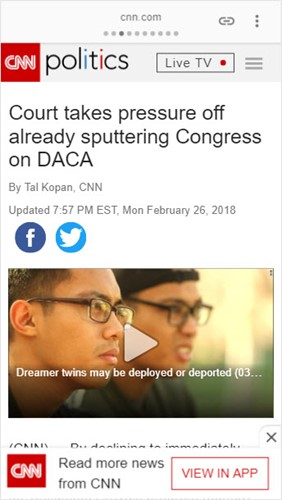 This stripped down presentation makes it easier for users to load and navigate content on the move while using their mobile devices, increasing overall engagement. If you're still on the fence on whether you should be using AMP; 90 percent of AMP publishers saw a higher engagement rate after adopting AMP and 80 percent of publishers also reported receiving higher viewability rates, according to a study conducted by DoubleClick (a subsidary of Google).
To learn more about the AMP projects and how you can take advantage of it's mobile awesomeness, check out the AMP project website!
Put Some Schema On It
Schema is a collaborative tagging effort from major search engines, like Google, Bing, Yahoo, and Yandex. They came together to provide users and site owners the ability to tag different pieces or elements of their website's content to show search engines what important information they should pay attention to when they crawl their websites. When search engines crawl a website, they recognize these pieces of Schema and use them to guide what information should be returned in search results.
Schema can be applied to:
Contact information
Images
Products / services
Important links
Keywords
Recipes
Movies
Local businesses
And much more. To reward site owners that apply Schema on their website, Google and other search engines return your website and / or content in the form of rich snippets, which increase clickthrough rates from search due to their visual appeal. In fact, using Schema can help pages rank four positions higher.
An example of a local business rich snippet: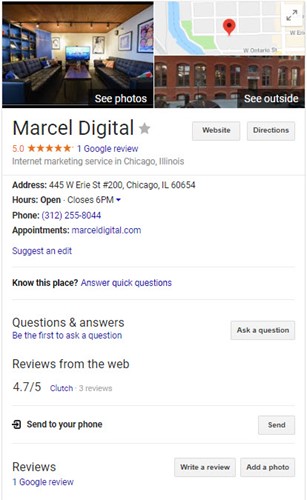 Review rich snippet:

Medical condition rich snippet: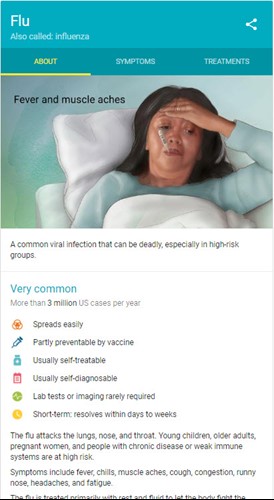 Recipe rich snippets: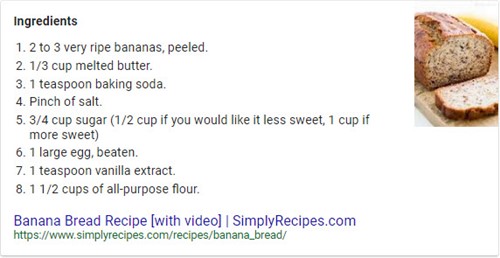 You get the idea. According to our SEO Manager, Joe Stoffel:
"Many websites neglect the opportunities that schema structured data provides. Whether it be feeding more information to Google and enhancing Knowledge Graph results or producing rich cards or aggregate star ratings results, schema offers opportunities for all websites to better stand out in search. Frankly, if you are an ecommerce website and are not already displaying information such as price, availability and product rating in your organic results, you are already falling behind the game. And with all the different schema CMS plugins/modules/extensions available, implementing structured data has never been easier!"
If you're not currently using Schema, head over to Schema.org and get together with your web development team to prioritize content and page opportunities where Schema can be applied!
Natural Link Opportunities
We know that having a backlink profile filled with quality, natural links are still a core part of Google's algorithm and acquiring these are crucial for your website's performance in organic search. Many SEOs invest time creating new relationships and developing new resources with the goal of accumulating new backlinks or online mentions, but a lot of SEOs and marketers miss a major opportunity: brand mentions or references that aren't linked. If you're a well known brand that creates and shares a lot of content, there is a pretty solid chance that your brand is mentioned on the internet somewhere without a link.
For example, here's a brand mention for Marcel Digital in Forbes:

Now, this is an outlier as Forbes does not usually include links, but the example itself would be that of an unlinked brand mention. Brands and businesses usually have multiple unlinked mentions across the web and often don't take advantage of reaching out to publishers to thank them and ask for a link back to their website. But a lot of times, most marketers and site owners don't know how to find them.
Joe recommends using tools like Fresh Web Explorer, or Google itself, to find online mentions of your brand:
"Check to see if they are providing a link back. If not, then you have identified a great linking opportunity for your website. Reach out to the webmaster explaining who you are, thank them for the reference and request they link back to that same resource on your website. You have already done the work to earn these opportunities, now you just simply need to ask."
Joe also recommends looking for links that are pointing to broken or redirecting pages on your website:
"I also highly recommend using a tool like Open Site Explorer's Link Reclamation Tool to find links going to old pages that 302 redirect or return a 4XX status code. Reclaim these lost linking opportunities by reaching out to the linking webmaster with a request to update the link or by implementing a 301 redirect."
Take a look at these tools listed above with your team to prioritize and strategize the linking opportunities that will have the biggest impact on your SEO moving forward!
Respond To Reviews
As a marketer and avid user of the internet, one of the biggest letdowns I encounter online are brands and local businesses that don't respond to reviews. I experience this heartbreak in two very real ways:
I see a brand or business that doesn't listen to their customers
I see a brand or business that misses huge opportunities
Consider the key findings from BrightLocal:
In 2017, 97% of consumers read reviews for local businesses
85% of consumers trust reviews as much as personal recommendations
Positive reviews make 73% of consumers trust a business more
Lastly, responding to reviews is more important than ever, with 30% naming this as key when judging local businesses
While all points above are important, the last point often gets most overlooked by businesses. There are many reasons for this: some businesses don't know where to look, some don't know how to respond, and sadly, some just don't care. But if you find that users are able to leave reviews on sites such as Google My Business, Facebook, Yelp, or the Better Business Bureau, then it's your duty to be actively monitoring and responding to them, good or bad.
Our SEO Manager, Joe Stoffel, says:
"Working with customers on their issue gives you the opportunity for a 'make-good' which may cause the customer to update their review to a more positive rating (these are not set in stone). Why is this important? Have you ever Googled "best [insert product/service] near me"? You probably have, millions of these queries are performed each month (see search volume for "best pizza near me"). By default, Google only returns businesses with review ratings of 4.0+ in their local results. At the same time, other users that see these negative reviews will also see that your company is going out of their way to resolve customer issues which creates a better image for your brand."
I wrote a post recently discussing the importance of responding to reviews with more tips called 4 Reasons Why You Should Respond Reviews.
Speed Up Your Website
Users and search engines want fast loading websites, so it's our job as site owners and marketers to ensure that our website is providing a fast and clean web experience. This is important for many reasons:
47% of consumers expect a page to load in 2 seconds or less
40% of consumers abandon a website if it takes more than 3 seconds to load
A 1 second delay decreases customer satisfaction by 16%
52% of consumers state that a quick loading page is important to their site loyalty
But, it also affects your overall SEO performance. Back in 2010, Google told the SEO world that site speed was one of the signals used in ranking web pages. There are many ways that Google and other search engines will look at a website's speed. For instance, Google takes into consideration:
The amount of HTML, CSS, and JavaScript on your page
The amount of redirects you have in place
The file size of images
The server response time
If you are using browser caching
Google provides a wealth of indepth information to help you and your development team to review so you can implement a strategy to get your website performing at it's absolute best!