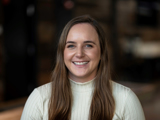 Olivia is an experienced project manager with a background in managing website development projects and digital campaigns. She has a range of experience with different industries including construction, manufacturing, healthcare, fintech and more! Olivia's approach to project management includes excellent attention to detail and proactive communication to ensure high quality deliverables and seamless projects.

Outside of work, Olivia enjoys spending time at the barn with her horse. She also enjoys going to Chicago Blackhawk games and hanging out with friends and family. 
For one to fly, one needs only to take the reins
Melissa James
Favorite TV Show
Avatar: The Last Airbender
Weird Fact
I'm terrified of anteaters 
Fun Fact
I have the same birthday as my brother and we're not twins!
Favorite Song To Dance To
Favorite Nicholas Cage Movie
Most Famous Celebrity Met
What You Wanted to Be When You Grew Up