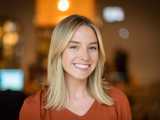 Morgan is an expert in paid media, specializing in creative ways to provide solutions in paid advertising platforms for all types of goals. She has managed millions of dollars in media spend on multiple channels including Google Ads, Microsoft Advertising, Facebook Ads, X Ads, and LinkedIn Ads.

Morgan's expertise is rooted in data, regularly utilizing real-time data to optimize accounts on a daily, weekly, and monthly basis. She is certified on all advertising platforms, as well as Google Analytics, to ensure she utilizes the latest techniques and technologies in her day-to-day operations.

In her spare time, Morgan enjoys traveling to new places.
Life is what we make it, always has been, always will be.
Hidden Talent
I haven't tumbled in over 10 years but I can still do a backflip from muscle memory.
Weird Fact
My arms are grossly double jointed.
Fun Fact
The Dan Ryan expressway was named after my long lost cousin.
Favorite Song To Dance To
I Want to Dance With Somebody
Favorite Nicholas Cage Movie
Most Famous Celebrity Met
What You Wanted to Be When You Grew Up