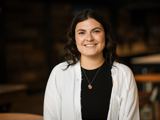 Leah recently joined Marcel's Digital Marketing Associate Cohort as a new grad from the University of Wisconsin-Madison. At UW, she earned her BS in Computer Science and Communication Arts, with a certificate in Digital Media Studies. Through her education and past projects, Leah has experience bringing projects to life through web development and user design. Leah enjoys using her technical expertise in combination with her creativity to create clean applications.

In her spare time, she enjoys hanging out with her three family dogs, working her way through the NYT bestseller list, and spending time with loved ones.
Do something today that your future self will thank you for.
Sean Patrick Flanery
Favorite TV Show
The Marvelous Mrs. Maisel
Hidden Talent
Crushing the NYT mini-crossword
Weird Fact
I am not the biggest fan of ice cream
Fun Fact
I love podcasts, such as Normal Gossip, Smartless, and The Office Ladies
Favorite Restaurant
Bar Corallini in Madison, Wi
Favorite Song To Dance To
Anything Taylor Swift or related
First Concert
Miley Cyrus / Hannah Montana
Favorite Nicholas Cage Movie
I've seen The Croods, but that's about it
Most Famous Celebrity Met
What You Wanted to Be When You Grew Up
Cake Decorator (think Cake Boss)