It's important for every healthcare organization to develop and execute a highly focused SEO strategy while also ensuring that it remains flexible to unforeseen circumstances and situations. This couldn't be truer than now with the global Coronavirus (COVID-19) pandemic. While it's a time of uncertainty for many, this is also a time for marketing teams at healthcare organizations to take a look at their current SEO strategy to not only make sure they are staying the course with high priority SEO tasks and focus areas, but also making sure to incorporate new pieces of content and SEO tasks to stay top of mind for users searching for Coronavirus treatment and information.
Below, our team of Moz Oracles put together a quick list of SEO tasks you and your team can implement into your healthcare digital marketing strategy during Coronavirus.
Audit Your Site
Conducting regular ongoing SEO audits of your website on a monthly and quarterly basis are a best practice when trying to maximize and maintain your search engine visibility for key healthcare searches. But it's especially important now while other hospitals and healthcare systems take their eye off the ball that you take a look at crawl errors on your website, backlink profile, title and other meta tags, as well as Schema and your internal linking structure, to ensure that your website is abiding by SEO best practices and is fully optimized.
There are plenty of world-class SEO tools at your disposal, including ScreamingFrog, Moz Pro, and Search Console to help you find SEO issues on your website to fix and make your website SEO friendly. Make sure that you're not only optimizing your site for Coronavirus related searches but that you're also keeping your other healthcare service pages optimized for keywords and searches that other patients use to find your website and healthcare services.
Build COVID-19 Focused Content
Chances are your healthcare organization is providing Coronavirus related services to help slow and contain the spread of COVID-19 in your community. Now would be the perfect time to not only start building out content on your website around COVID-19 services you provide but to start incorporating Coronavirus news pages and resource sections that patients can use for regular updates and information in your ongoing content marketing strategy.
Make sure that you optimize these page's title tags, internal links, and that you also include them in your website's navigation and homepage banner for quick access. As new information about Coronavirus or your COVID-19 services comes out, you can update these pages real-time to keep your patients and prospective patients up to date. This is especially important as Google and other search engines tend to give priority to fresh content, especially when it's timely and relevant. Always remember to include these pages in your sitemap XML as well!
Leverage Schema
Schema is a piece of code (structured data markup) that you put on your website, via HTML or Javascript, that helps search engines better understand the content that lives on your website and pages. It also gives you the ability to markup content and web pages into certain categories. For instance, you can markup content on pages as:
Organization
Address / contact information
Medical conditions
Signs and symptoms
Causes
Risk factors
Therapies (including drugs and procedures)
Tests
Devices
Studies and trials
Guidelines
Diets
Supplements
Clinic locations
Exercise plans
Anatomy
And more. When you implement this code on your webpage, you not only increase the likelihood of boosting rankings (studies have shown Google and other search engines give higher rankings to pages / websites with schema on them), but you also increase the chances of your content being returned as an enhanced search result called rich snippets. Rich snippets come in a lot of different forms, for instance:
There are organization rich snippets (taken from Google My Business data)...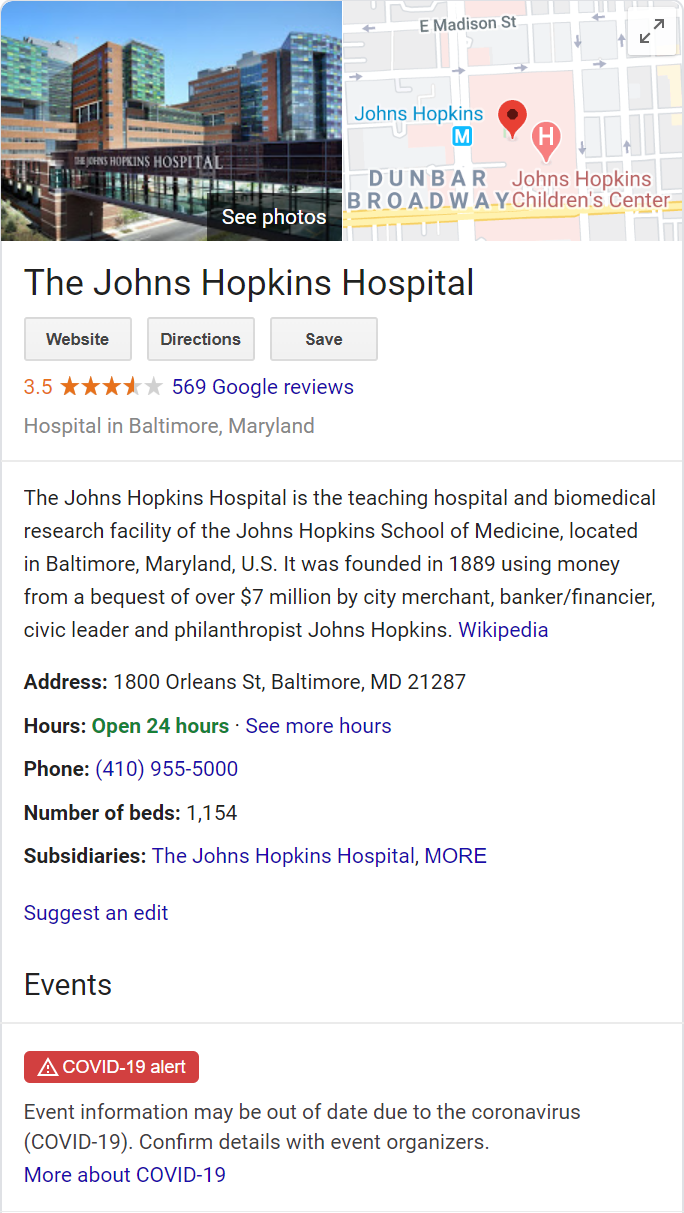 Medical condition rich snippets giving more information about ailments...

There's also symptom rich snippets...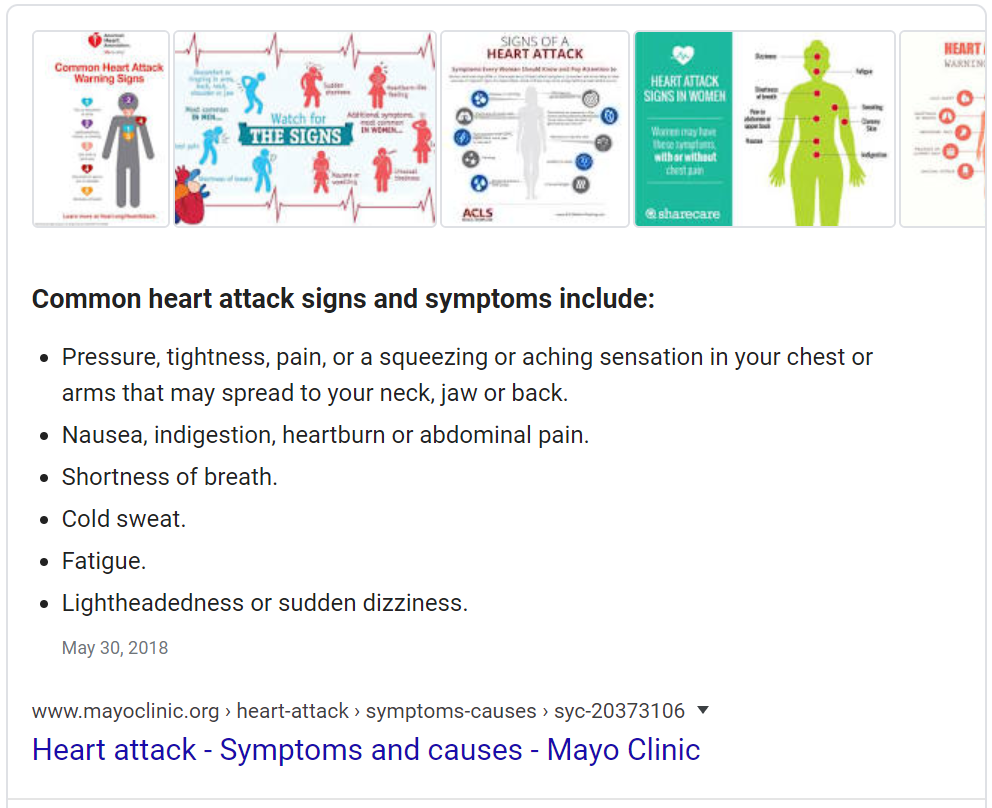 It's also important to note that Google has recently added structured data markup for COVID-19 announcements. As many organizations, such as governments, health organizations, schools, and more, are making urgent announcements regarding COVID-19 affecting aspects of everyday life, Google and other search engines now provide schema for facility closures, cancelling or rescheduling of events, and new availability of healthcare facilities, like testing centers. Other special announcements include:
Announcement of a shelter-in-place directive
Closure notice (for example, closing a school or public transportation)
Quarantine guidelines
Travel restrictions
Notification of a new drive-through testing center
Announcement of an event transitioning from offline to online, or cancellation
Announcement of revised hours and shopping restrictions
Disease spread statistics and maps
All information is taken from Google's resources here.
Take the time to not only apply schema to new pieces of content that you're putting on your website, but also retroactively putting it on pages that currently don't have it on your website. Take a look at your current top priority service pages, organic traffic, and rankings, and start applying schema to pages that get a good amount of traffic from search and result in higher levels of engagement or conversions for your healthcare organization.
Focus On Local SEO
Most healthcare searches are done so on the local level, in fact, 47% of internet users search locally for information about doctors or other health professionals. When you're developing and executing a local SEO strategy, it's important that you're leveraging services like Google My Business and also citation management tools like Moz Local or SEMRush. Using these tools allows you to put your healthcare organization address, website, services, contact information, and more across multiple high-quality local business citation websites. Not only does Google use these citations to validate business information, but it also results in your site obtaining high quality and relevant local backlinks pointing to your website helping grow your organic rankings and traffic. Also, it's important to note here that you make sure that you're doing the same thing for medical clinics and satellite locations, not just your main location.
When it comes to content, make sure you're developing local focused content around services you provide, especially for Coronavirus services if you provide them. This will help those seeking COVID-19 testing and treatment at the local level find your healthcare organization and the services you're providing to treat them. Also, don't forget to build content around news updates pertaining to COVID-19 and how the local community can help in slowing and contain the spread of Coronavirus.
Keep An Eye Review Aggregators
It's important that you pay attention to review websites that patients are actively using. For instance, patients can leave reviews on your Google My Business, Healthgrades, and social media websites like Facebook. This is important for two reasons: the first is that Google and other search engines will return these reviews and ratings in search results and use them in ranking your website. Second, and by far the more important reason, is that it only takes 1-6 online reviews for potential patients to form an opinion about your practice. This means that one bad review can deter prospective patients from visiting your healthcare organization in the future.
When checking your reviews, remember to be actively responding to both good AND bad reviews. Responding to good reviews keeps the great experience going for your patients and responding to bad reviews gives you the opportunity to make good on that patient's bad experience. Responding to both validates the time of the patient leaving the review, but more importantly, it shows prospective patients that you're a healthcare organization who listens to their patients and acts on feedback you're receiving. Of course, this all starts with providing excellent care, especially in uncertain times like we're facing now with Coronavirus, but in the end, it shows that you care beyond the appointment and providing healthcare services - you care about the person behind it and hear them.
Look For Press Release / Interview Opportunities
The world community needs to hear from healthcare professionals right now, especially the community in your backyard. If you have information or data that helps contain the spread of Coronavirus, and that information is important to your local community or beyond, make sure you're releasing press releases or conducting interviews. First and foremost, any helpful or vital information to slow and contain COVID-19 and protect your community is the most important aspect of sending out press releases and conducting interviews, so be empathetic and don't capitalize on people's fears right now. But from a SEO standpoint, these releases and interviews help build organic visibility by way of branded mentions and backlinks to your website, especially when they're from reputable news sources.
Remember, the main goal above all is to get information to your community to help them stay safe and healthy during Coronavirus; focus on that in any digital marketing and SEO tasks first.
Need Some Direction?
While there is no digital marketing roadmap for what is happening in the world with COVID-19, we're here to help where we can. If you ever need a sounding board or have questions regarding digital strategy during this time, send us a message. We'll set up an hour for you and our Moz Oracle SEO expert to discuss your current SEO strategy for free, no strings attached. We're all in this together and we want your community and prospective patients to get the information they need to stay safe and healthy.