Google My Business (GMB) was launched in 2014, designed by Google to give business owners more control regarding what shows up in search results when someone searches for their business name on Google.
GMB allows business owners to edit the business or branded information that searchers find, including hours of operation, address, and phone number(s). In addition, Google My Business allows owners to post photos related to their business in order to give searchers a better sense of that business. It also gives customers an opportunity to review the business and owners a chance to respond to those reviews. Here's an example of what comes up when you search "Marcel Digital" in Google: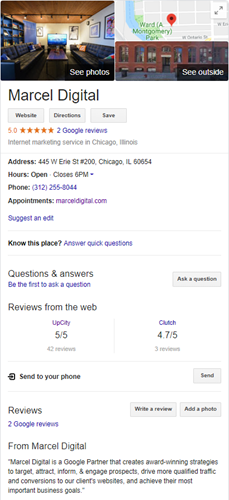 Google uses this validated and verified information to return your business in relevant searches that users conduct, both for branded and unbranded search. This means that when someone types in a business name or a service / product that you provide, Google will go through businesses that match those characteristics and return them to the searcher. Those businesses or brands that have done their due diligence in optimizing their web presence and information in Google My Business listings will get more visibility for relevant searches than those that don't.
What Information Can You Add To A Google My Business?
Beyond the standard business information, you see above, Google My Business listings also allow for owners to post notices about sales, change of management, or anything else they deem valuable. The four post types currently available are:
What's New
Events
Products
Offers
Each post type allows business owners to add photo, description, a call-to-action button, and link. Those call-to-action options include: Buy, Order Online, Learn More, Book, and Sign Up. A Google Map is generated once a new listing is created, further increasing searchability.
It should be noted that a GMB listing does not replace a business's website, but rather enhances their branded visibility and exposure through Google search, Google Maps, and Google+.
In a nutshell, it works like this: someone searches for information about a business in the Google search engine. That business's profile shows up on the right side of the search result page, offering potential customers the information they need at a glance and increasing their local visibility.
The best part of Google My Business? It's absolutely free to business owners. It's like being offered a marketing tool at no cost. Not only is Google My Business free, but creating a GMB listing is also an integral part of any solid SEO expert's ongoing local SEO strategy. While there is certainly a benefit to business owners, GMB also benefits customers by providing pertinent information in one easy to find location.
Optimizing Your Google My Business Listing
As an owner or leader in your business, you have access to the services and advantages that Google My Business offers. If you want to harness the power of GMB to its fullest potential, here are some ways to make the most of the opportunity:
Create Your Listing
The first step is to create a listing. If your business has been in operation for several years, it is likely that a GMB listing has already been created and all you need to do is claim it. Visit the Google My Business page and enter your business name and address to learn if your business already has a listing.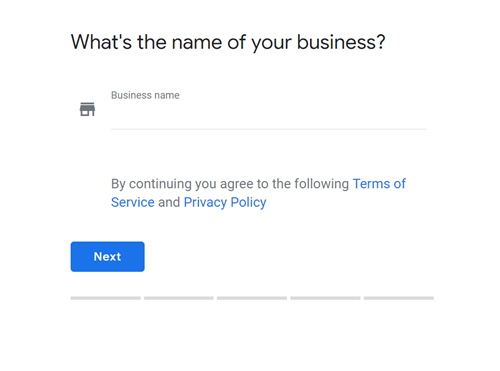 Pick The Correct Business Category
Businesses are categorized by the services they provide. Take your time choosing the proper category for your business in order to ensure it will show up when a customer is looking for your products and/or services. One of the best things you can do is to choose categories that are quite specific. For example, if you own a gluten-free bakery, you have a better chance to rank for "gluten-free bakery" than for a generic term like "bakery."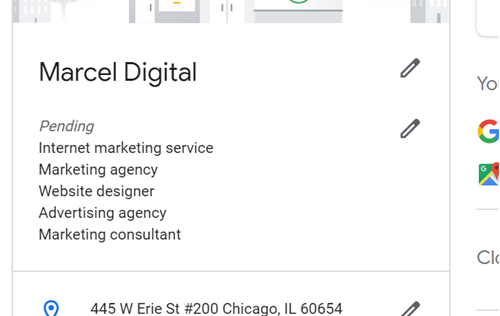 Double Check Information
While this sounds obvious, the simplest mistakes can cost you business. Make sure your address, telephone number, website, and business hours are correct.
Add Photos
Humans are visual creatures and will spend more time exploring your GMB if there are photos to look at. Carefully chose photographs that will offer a sense of your company, employees, services, and logos. Encourage your customers to upload any photos they've taken associated with your business. For example, if you sell wedding dresses, ask one of the brides to upload a photo of her special day. If you really want to kick it up a notch, hire a Google certified photographer for an Indoor Street View Tour. It's all about making customers and potential-customers feel comfortable doing business with you.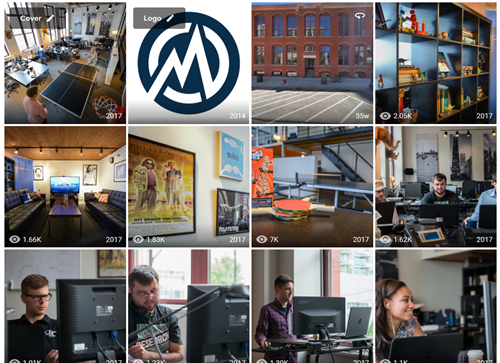 Tag Your URL
Tagging your URL allows you to track clicks from the GMB listing to your company website. This is important because it allows you to know which visits to the website are organic and which originated at the GMB listing. We have a post called What is URL Tagging & How Do I Do It? that you can check out.
Respond to Reviews
Take advantage of the opportunity to respond to reviews left by customers, even if they're negative. Few things make a business look better than showing concern for their customers and striving to make them happy, even after a bad experience. Again, we have a blog post that covers this called 4 Reasons Why You Should Respond to Reviews that will help you in responding and staying on top of reviews.
Take Advantage Of All Opportunities
Whether a potential customer calls or messages your company for more information, follow up on their interest as soon as possible. Everyone likes to feel as though their business is important and it's up to you and your representatives to make them feel that way.
Track Your Performance
One of the benefits of a GMB listing is that you are able to edit it as needed. By tracking how many click-throughs to your website originate at your listing and how many calls and messages you receive due to the listing, you will get a sense of whether it's capturing the interest of potential customers. If you're not happy with the results, make tweaks to your listing that might be more attractive to customers. For instance, you might change the photos or describe special offers in a different way.
Make Your Logo Stand Out
If you're creating a new logo for your business, choose something that will stand out and inspire people to click on your listing. Ask friends, family, and employees what they think of logo mock-ups before you commit to anything.
Protect Your Listing
Check your listing frequently to make sure that no one else has made edits to it or changed your listed business website to their affiliate link. Hackers and black hat SEOs have gotten very creative in finding ways to drive web traffic their way - make sure you're checking in often.
It's important to note that all of the above features and capabilities are available through your Google My Business dashboard. When you login and select your business listing, you'll be brought to a page that looks like this: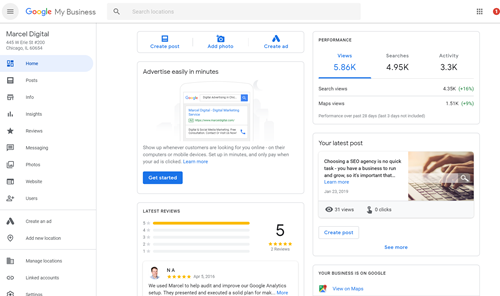 Simply look to the left navigation where you can click and edit information or track performance insights of your Google My Business listing.
Before You Go...
Any business owner can claim a Google My Business listing, but unfortunately a good amount of us won't or simply won't optimize Google My Business to it's full potential. GMB offers you another way to promote the business you've worked so hard to build, and by nurturing your GMB, you are also nurturing your business. Remember - Google uses this information to return you for branded searches as well as unbranded industry and local searches. Make sure that you're taking full advantage!
As always, if you're having issues with your Google My Business listing or ongoing SEO strategy, don't hesitate to give us a shout or click my face in the bottom right hand corner of your screen - we're Google Certified Partners and always happy to help!