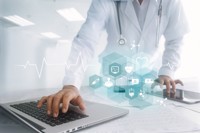 Healthcare organizations are scrambling right now to stay on top of Coronavirus while also providing world-class care to other patients with various healthcare needs. This becomes a problem for healthcare digital marketing teams to not only stay consistent in their messaging and marketing priorities but also in shifting focus to this new uncertain reality we're all facing. There is no blueprint for what's happening right now, but there are steps we can take to help keep the momentum moving forward.
To start, healthcare digital marketing teams should first focus on how they are communicating about Coronavirus to their community and patients, and how their digital marketing channels (such as SEO, paid media, content marketing, and social media) fit into that message. At Marcel Digital, we're currently working with our healthcare clients to shift digital marketing strategies to fit this new mold. Here's what we're telling them.
Keep Communicating
This is an opportunity for healthcare organizations and hospitals to build their reputation as thought leaders during unsettling times. Make sure you're regularly posting updates via your website, email, paid media, and social media channels to your respective communities and followers so that they are aware of what's going on with COVID-19. Give your audience the information they need to help stop the spread of Coronavirus and how your organization can help them in doing so. Be sure to not only communicate with the community at large, but also with your employees and internal teams so they are informed and empowered to assist.
Build Coronavirus Content
If you're providing Coronavirus services or testing, make sure that your website and content reflect that. Have a banner or alert on your homepage with messaging about your COVID-19 services, important community updates, and a call to action that a user can click to get more information about those services. Build pages out that accurately and concisely give information about how prospective patients can get in touch with or come to your location to get tested. Make sure contact information is prioritized so that they can quickly touch base with your healthcare organization - you should consider having a live chat functionality as well to respect social distancing.
Don't Lose Track of SEO
This is a great time to audit your website and knock out technical SEO and off-page SEO task items. Chances are your team is working remote right now, and in addition to the content development above, you can be conducting SEO audits to stay on top of website issues and build new pieces of optimized content to help maximize and maintain search engine visibility. Crawl your website using tools like ScreamingFrog, Moz Pro, and Google Search Console to get an inventory of broken pages, duplicate content, and overall site performance.
You should also be looking at items like your title tags, meta descriptions, crawl errors, Schema, internal links, etc., and prioritizing important SEO items that need to be fixed based on impact and effort. Doing this will help your overall user experience, as well as build your visibility for important healthcare and COVID-19 organic searches.
Leverage Paid Media
Contrary to what a lot of healthcare marketing teams believe right now, it's more important now than ever to keep your budget in paid media. While Coronavirus is currently the most pressing health issue, other health issues aren't taking a time out. There are still prospective patients looking for other healthcare services, and you want to be appearing in search results when they happen. You should also be focusing on paid channels like display advertising to build brand awareness and paid social to help provide information about your Coronavirus and COVID-19 services.
Get on Social Media
Building on the communication piece above, don't forget to leverage social media as a communication tool. Be sure to keep posting real-time updates on your Facebook, Twitter, and other social media platforms to keep communicating with your respective communities. People are home right now and actively engaging with social media at a much higher level than ever before. Keep them informed, keep them engaged, and keep them in touch by posting information and answering questions as they arise. If you need tools to help you, download social apps directly to your phone or leverage solutions like Buffer to send alerts and schedule posts.
Don't Forget About Reputation Management
When was the last time you took a look at your Google My Business reviews, or other review websites like Healthgrades? Did you know that 69% of users conduct searches before booking an appointment, while 82% of prospective patients consider an online review the same as a personal recommendation? If you have these profiles (if you don't, get them immediately and start pointing patients to them to give reviews) make sure you are staying on top of these reviews, paying attention to what patients are saying, responding to these reviews directly (both good and bad), and then acting on them in your day-to-day healthcare services.
Remember, each review good or bad is an opportunity. You should be expressing gratitude for good reviews and making amends on the bad reviews. Not only does this validate the reviewers time for doing so, but it shows prospective patients that you care about the patient beyond the appointment or healthcare service you provided - it shows you're with them, and listening, beyond.
Implement Telemedicine
Social distancing is top priority when it comes to slowing and containing the spread of Coronavirus. Because of this, nonessential in-person healthcare appointments are put on hold to focus on providing care to patients infected by COVID-19. To remedy this, most healthcare organizations and hospitals have implemented a telemedicine program to help patients that need nonessential healthcare services. If you're not currently doing this, now is a great time to investigate. It enhances your ongoing healthcare services and provides an incredible convenience to your patients. Make sure that you communicate to your prospective and current patients that you offer this service, and then provide information and calls to action on how they can take advantage of it moving forward.
Put on Webinars in Lieu of Live Events
Did you have events scheduled in the near future or over the summer? Chances are these events are either postponed or canceled due to social distancing recommendations from the CDC and the government, but that doesn't mean that your events or the information they contain have to sit on a shelf. Instead, consider leveraging tools like Google Hangouts, Zoom, UberConference, and more to put on webinars. Webinars are a great way to repurpose live events and connect with more patients than you could have in a live setting. It also gives attendees the chance to engage by asking questions, chatting with other attendees, and downloading slides/resources that increase the chances of them reaching out to your healthcare organization.
Don't Stop
Whatever you do, do not neglect your organization's healthcare digital marketing strategy at this time. You need to be effectively communicating via your email and social channels, engaging your community and prospective patients on the channels they use most, building and maintaining your search engine visibility, and leveraging the latest technologies to directly communicate with patients via telemedicine and webinars. Now is not the time to be taking your foot off the gas. Instead, it's time to rethink your digital marketing strategy and tweak to our new temporary reality.
Be a healthcare provider that informs, engages, and provides true value to prospective and current patients through real-time updates and access. It will help you in the short-term, but more importantly, build your reputation as a healthcare organization that was there when patients need you most.
Have Questions?
Again, there is no blueprint for marketing teams right now. We're all facing uncertain times, but this is also a time for healthcare organizations to build their reputation as a community thought leader that provides world class healthcare. We're offering assistance to healthcare marketing teams and providers to get them pointed in the right direction. If you and your team have questions or would like our digital marketing and web development experts to take a look at your current healthcare digital marketing strategy, give us a shout. We'd love to hear from you and help to think through a comprehensive strategy in these uncertain times.