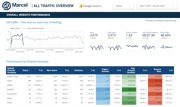 Gathering data is a crucial part of understanding your current position and how to best adapt moving forward. However, that data isn't worth much if it's scattered. And, you won't get much out of it if you can't really visualize the big picture. Google Data Studio makes it easy to create impressive reports and dive deep into the data from just about any source.
This is one free tool you should learn how to leverage to get the most out of your data.
What Is Google Data Studio?
Google Data Studio is a reporting platform from Google that collects your data into reports and fully customizable dashboards to make it easier to read and share. You will have access to visual graphs and editing power to add links and images, change colors and annotate reports.
Is Google 
Yes, Google Data Studio is free. Google Data Studio is a revamp of Data Studio 360 that was launched as BETA in 2016. It came out of BETA mode in 2018, but it isn't as well known as Google Analytics.
The Google Data Studio allows you to bring in data from a lot of places without the need for additional software or tech knowledge. You can pull data from places like:
Google Ads and Search Ads 360
Google Analytics
Google Display & Video 360
Google Sheets
Google Search Console
Social Media (Facebook, Twitter, Reddit, etc.)
YouTube
Databases (like MySQL, BigQuery and PostgreSQL)
Flat File Upload
Google Cloud Storage
You will even be able to share Data Studio files for live editing, similar to sharing a Google Doc. You can also finish them and send them as attachments. Or, you can embed your reports into pages for articles, blog posts and annual reports. There are plenty of free Data Studio templates to help you get started.
Google Data Studio vs Google Analytics
You might feel comfortable staring at the cold, hard data by now. Or you may still feel a little lost with all the numbers and options of Google Analytics. Either way, Google Data Studio is here to make it more informative and really improve your data visualization.
Let's first look at some features of Google Analytics (GA):
You will be able to create dashboards that provide an overview of key metrics and reports.
You aren't able to easily share data without Google Analytics access (or a screenshot).
Only data from Google Analytics for your property can be used for reports—no other sources.
Each dashboard can only contain 12 widgets, limited data presented in a report.
Now, let's contrast with some Google Data Studio features:
A huge variety of ready-made templates or you can design your own.
Easily sharable with full control over viewing and editing permissions.
Access to data from a lot of sources beyond GA through "Partner Connectors"
No widget limit (charts, graphs, tables, etc.) on your dashboard or reports.
Filters can be applied to individual charts rather than the entire report.
There is no limit on how many users can look at your report at the same time.
Google Analytics will still offer some key data, but there are a lot of limitations in reporting. For a broader picture, Google Data Studio is going to offer much better access and control. There is no question Google Data Studio is the stronger tool — especially if you have a desire to share information, watch data from multiple sources or have more control over report designs.
Bottom line: Google Analytics isn't going away any time soon, but you will want to spend most of your time in Google Data Studio (where you can access your Google Analytics data along with everything else!).
Benefits of Google Data Studio
There are a number of ways you can take advantage of Google Data Studio.
Connect All Your Data Sources
Having access to all of your various data sources in one place is huge. Google offers a free tool to help you do this through Google Data Studio. You will have a live data connection to more than 350 Google Data Studio connectors.
Not only can you use multiple data sources within the same report, you will be able to showcase different datasets throughout your report. You won't be limited to data ranges since you have access to the live data. 
Create Beautiful Visual Data Dashboards
You can use your company's colors (or your client's) to create a dashboard that fits your marketing scheme. This isn't just nice to look at — it offers you professional charts and reports for sharing and publishing. No more mish-mashes of graphics or need to recreate them on a different program — you will be able to control prefilled themes or create your own. You will be able to edit the page size, alignment and layout. 
Use Real-Time Data & Dynamic Controls
One of the coolest sharing features about Google Data Studio is the dynamic controls. With access to real-time data, you can allow your viewers to filter through content and change date ranges without updating the report itself. If you don't want the data to change, you can even include or exclude content from a filter — limiting what your viewers can access.
Drill Down Into the Data
Google has a Drill Down feature that specifically gives you a granular data focus to get into the nitty-gritty. Google notes, "Adding drill-down charts to your reports can make them more interactive, reduce the number of separate charts required, and make it easier to find insights at various levels of detail in the data."
Control Over Metrics
Not only do you get to choose which metrics go in the report, but you can even give the viewer more control with Optional Metrics. These are metric options they can look at if they want to without having to edit the report. This helps keep your report clean, but provides more data they can drill into if they are interested.
Bookmark Important Settings
If you have report settings that are something you want to pull on a regular basis, you can preserve those settings with the bookmark feature in Google Data Studio. Bookmark links allow users to your viewers to save their preferred data settings within the parameters of the report. When you enable that setting, they will be able to save their setting preferences so they can keep them in place when the report is reloaded. 
How to Use Google Data Studio
This tool is going to keep you busy for days. Ready to explore? Getting started is pretty easy.
Use your Google account to log into Data Studio
Click Create (located in the top left corner)
Select Data Source
Link any relevant data sources, like social media platforms or Google Analytics
Back on the Google Data Studio dashboard, click Create again
Select Report
Along the right-hand side, you will see data sources to choose for the report
Choose a basic theme and edit the colors, layout, charts and more
Your changes will be automatically saved as you work (similar to Google Docs)
When you are done, you can click Share in the upper right corner 
Choose Download to save to your computer or Share to pass your report on to others
Create Beautiful Google Data Studio Dashboards to Drive Results
Google Data Studio is a great tool to help you understand the metrics and create stronger strategies. Get the most out of your data with professionals who can help you choose your key performance indicators and see what the data really says about your audience and your campaigns.
Marcel Digital offers an expert perspective on all things Google. We've been an official Google Partner since 2003, and we are experts in website analysis. Our team can help you create stunning reports and customized templates that take your analytics to the next level. Contact us today to schedule a consult.