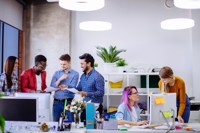 It's not enough to simply have a Google Analytics implementation in place when it comes to your long-term digital strategy and marketing plan for your business. You also need proven expertise and airtight know-how in your corner to make the most of your data, help your strategy reach its full potential, and deliver the results you're after.
A professional Google Analytics agency can take the guesswork out of the equation, but it's important to make sure you choose the right one. Here's a closer look at the most important things to look for to ensure you're happy with your choice. How does the agency you're considering measure up?
Are They Certified?
Credentials should be priority number one when hiring any professional team, and this is no less the case when you're in the market for a Google Analytics agency to partner with. You want experts on the job that not only know Google Analytics from top to bottom, but have the qualifications to prove it.
Is the agency you're considering part of the Google Analytics Technology Partner program? Google tech partners are uniquely qualified to deliver the top-tier solutions your company needs. They're also endorsed by Google itself, so it doesn't get much more official than that.
Is each of the agency's team members both Google Analytics certified and Google Tag Manager certified? You want every person involved in your project to be qualified on every level, and those are two important credentials to look for.
Does this agency go the extra mile to stay at the top of their game? Look for teams that make it a point to stay on top of emerging trends and cutting edge approaches to what they do. Google Analytics partners in particular should be attending the Google Analytics Certified Partner Summit at Google each year to make sure they're always in the know as to the latest developments.
They're Goal-Oriented
No two businesses are alike, so no two analytics strategies should be either. Steer clear of agencies that apply the same couple of cookie cutter approaches to all of their clients' projects regardless of industry or individual objectives. You want customized solutions crafted from the ground up with your unique set of business goals in mind. A good analytics team will listen intently to you when you talk about both your short-term and long-term goals.
They'll also make it crystal clear that they understand your vision for your company, and this will show when they talk about how they'll approach your project. Custom dashboards created with your specific objectives and unique needs in mind should be par for the course. Reports, interpretations, and data analysis presented should clearly show how agency efforts are serving your goals as well.
They're Honest and Transparent
No Google Analytics agency worth hiring would ever leave you in the dark when it comes to any aspect of your project. Steer clear of agencies that talk over your head, fail to disclose their methods, or refuse to clearly answer your questions when it comes to any of your data. You should never at any point feel like you don't know what's going on or like you can't ask for clarification if you don't understand something specific.
In fact, a good analytics team goes out of their way to keep the customer in the loop from start to finish. Hire a team that delivers timely, detailed performance reports on a monthly basis so that you can keep perfecting your ongoing marketing strategy. A good team will also make it clear that you are the owner of both your analytics instance and any data involved. In other words, they're honest, forthright, and completely transparent in every way.
They Can Prove They Get Results
At the end of the day, fancy credentials and snazzy approaches to a given analytics strategy are terrific, but they need to be backed by a solid track record. How good is the agency you're considering at getting their clients the results they're after? Can they point to specific case studies that speak to their ability to knock it out of the park on a project like yours? Do they have testimonials from former clients that further back up the agency's ability to deliver on their promises?
Don't be afraid to ask for these things. A Google Analytics agency with the type of record you're looking for will welcome the chance to show off their ample collection of glowing recommendations and impressive successes. They'll be able to explain exactly how they got the results they did for the companies in their cases studies, as well as present you with detailed strategies as to how they'll do the same for you.
Remember: It's a Partnership
At the end of the day, you'll be trusting the agency you hire with the future of your business and your livelihood. It's important to feel like their methods are in sync with what you're looking to accomplish in the future. You should feel 100 percent comfortable collaborating with them on an ongoing basis as well. You're looking for a partner to help you row in the right direction at all times and a good fit Google Analytics Partner will row with you - your success is their success.