When it comes to the ever-changing digital marketing landscape, search engine optimization is still, while often underutilized, an extremely powerful marketing tool. This is especially true in the healthcare and medical practice industry, where search drives 3x as many visitors to hospital and medical practice websites than non-search visitors. That's an important marketing channel to focus on when it comes to showcasing your healthcare office. But the irony is for as important as it is to leverage SEO services for medical offices and hospitals, most are not taking advantage.
The good news in all of this is that hospitals and medical practices offices have so much to gain from proper optimization of their websites. There are a lot of places you can start and a lot of resources you can gain tons of professional SEO information from, but it's important you start with the basics. So, how should hospitals and medical practices harness the power of the search engines and user queries? We list some quick wins below...
Focus On Site Architecture & Content
Search engines and crawlers are constantly trying to make sense of the architecture of websites, how content is laid out, and what information is on a page. Even more so than search engines, website visitors are trying to find the information they need quickly and easily to help them make a decision or take action. Having a well developed website, one where your website's navigation is properly categorized and optimized, will increase your website's crawlability and also help users quickly find information they need and convert or schedule an appointment.
Beyond site navigation and architecture, it's important the content on your website is reflective of your medical services and how potential patients are searching. A lot of times, the word "content" is confused as simply text on a page. This is simply not true and something that goes well beyond words on a page. Content can be…
Videos
Testimonials
Infographics
Case studies
Blogs
Interviews
Research articles
Content is any piece of information that is communicated through a medium that is digested by an audience. Content can be simple text to any of the types listed above and beyond, and content will be an ever evolving thing. It's important to remember that with content comes onsite SEO responsibility. This includes making sure that...
Title tags
Meta descriptions
Internal linking
Headers
Keyword placement
...are all optimized for the searches that you're trying to capture. It's also important that your content type matches the intent of the user's search. Search intent can be broken into three types:
Transactional: This is where a user is trying to take an action. In this case, this could be scheduling an appointment, attending an event, downloading information, or more.
Informational: This is where a user is looking for a specific piece of information. In this case, this could be looking for medical condition, treatment, symptom, doctor, or surgery information.
Navigational: This is where a user is looking for a particular brand or website. In this case, it would be a user searching for a particular hospital or medical office.
When trying to capture search traffic for certain pieces of medical information or services, make sure that you are providing the type of content that the user is looking for. Any content that is on your website that does not match a potential patient's search intent or provides a beneficial user experience, is known as "content noise" and should be considered low priority.
Focus On Mobile Usability
Mobile browsing has skyrocketed over the years, with nearly 60 percent of searches happening on mobile devices. Beyond that, when it comes the healthcare industry, 44 percent of patients who research hospitals on a mobile device scheduled an appointment. From a user experience standpoint, a responsive mobile website is the best way to create a stellar mobile experience and highly recommended by Google themselves.
Developing a mobile friendly website that renders properly to a user's device, providing a fast and streamlined web experience, will greatly help your hospital or medical office obtain new patients and appointment opportunities. This is important to remember, because (according to Kissmetrics) 47% of consumers expect a load time of 2 seconds or less, with a 1 second delay resulting in a 7% decrease in conversions, or in this case appointments.
Create a mobile friendly web experience, one that provides fast and proper device rendering, great and helpful content, and an easy appointment scheduling process. Not only will the search engines reward you with more visibility, but your users will appreciate the gesture, and not look elsewhere for a faster response to their healthcare needs.
Leverage Schema & Microdata
In 2011, major search engines like Google, Bing, Yandex, and Yahoo! got together to create a common set of data markup opportunities that webmasters can use to help their crawlers better understand the meaning of and information on a webpage. This collaborative markup is called Schema.org.
Over time, these pieces of markup have been correlated to higher search rankings and rich snippets that appear in search. However, most webmasters are either not properly utilizing these opportunities, or not using them altogether. This could simply be because they are unaware, have bigger tasks to handle, or are intimidated by the tasks (we'll provide resources below), but it should not be underestimated how powerful this markup can be for your website and it's organic visibility.
The types of information you can markup on your website...
Hospital or practice information
Address
Contact
Surgery
Treatments
Certifications
Employee
And so much more. When you take advantage of these markup opportunities, Google and other search engines will reward you in not only potentially better rankings, but in the form of rich snippets. For instance, information about your organization (coupled with complete and accurate contact information and listings) can appear as such...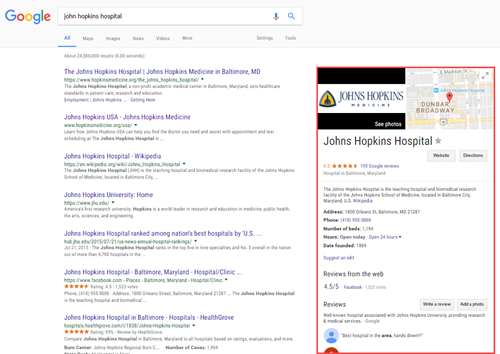 If you markup information about medical conditions, this snippet can return…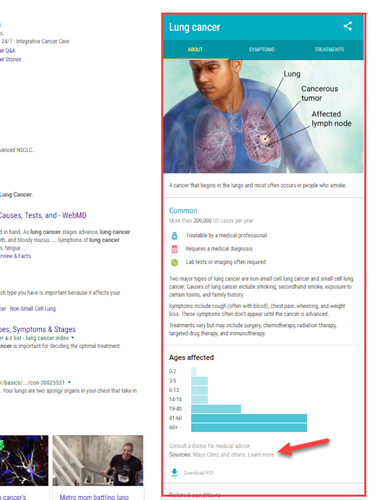 Not only does Schema.org give you all sorts of opportunities and documentation to review, but Google also gives you the Structured Data Markup Helper which allows you to choose a type of markup, a URL, and highlight corresponding pieces of important information directly. This is very helpful for webmasters / site owners that are not the most well versed in coding or tagging.
One last bit of information, pages with Schema markup can potentially rank 4 positions higher according to Searchmetrics. If that's not a testament to leveraging Schema, I don't know what is. But all that said, my point is - use it.
Focus On Local Search
Over the last few years, search engines have put a lot of effort into local search and creating a mobile search experience that takes into account your location, your search, establishments relating to that search, and the reviews users have left on these establishments. Google and other search engines have given organizations and establishments a lot of opportunities and resources to optimize for local search. For instance…
These resources above are one of the best (if not, the best) way to get your business information directly to the search engines. But, it doesn't stop there. You should also focus on building relevant listings beyond these search engine provide profiles. Here are two places you can look to create these listings:
These above resources will allow you to create listings across relevant and authoritative local websites that will not only help you build a natural and organic link profile, but help your users and search engines find you more easily.
But most of all, make sure your organization and contact information on your website and across your listings are both correct and up to date. This is extremely important, because as search engine crawlers go across the web, they verify your hospital or medical practice information, and if they find inconsistencies that information could be returned either incorrectly or not at all. Local SEO best practices ensure that this information can be crawled and returned in search results.
Focus On Reviews (Please...Seriously...)
It's said that customers (or patients in this case) with a negative experience will tell 8 to 10 people about it. That's quite a few people - we're creatures of venting, so it's only right that we air our grievances when we feel we've been wronged. But in 2017, this number is extrapolated. Not only do we have the ability to tell our close friends and family, but now we tell the world, or anyone searching for a healthcare provider.
With the development of review websites such as Yelp, Google My Business, and Yahoo! Local Listings, search engines have begun showing overall ratings of businesses and the review that customers leave…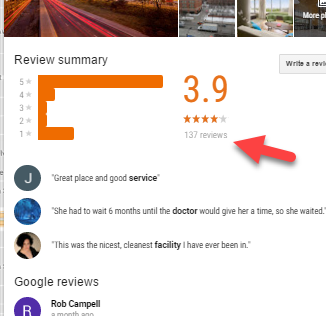 It's incredible how often these reviews go unnoticed or left without a response from the organization for which they are left. I want to stress here how important patient engagement is when it comes to your reviews. And I mean this not only for those leaving the review, but those reading the review. If searchers read reviews for something as simple as a water bottle, they are definitely reading reviews about medical offices and hospitals in which they are considering for treatment.
There are two things to do when patients leave review:
Positive review

Thank them and respond
Reinforce their decision in choosing your organization

Negative review

Thank them and respond
Make their negative review a positive
I may be oversimplifying these situations, but to a patient knowing that when they left a review, someone read it and took the time to respond, that's the best customer service you could ever provide. Take advantage of these opportunities. Afterall, your patients are.
If your hospital or medical practice is considering SEO services to help gain traction in organic visibility, feel free to reach out to the experts at Marcel Digital. Our team is standing by and ready to help you in whatever you goals may be. Our custom strategies align organizational goals with patient goals, resulting in a better web experience for those coming to your website. We'd love to hear your story and goals.