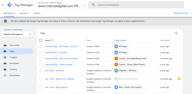 I think that we can agree that one of the biggest pain points we see as marketers is getting our work prioritized by web developers. Whether it's getting tools integrated, conversions and events tracked or employing third-party tags, our needs are often put by the wayside for bigger internal development projects. Well, Google heard our pain and decided to do something about it by creating Google Tag Manager.
With Google Tag Manager, marketers can quickly set up tracking, tags, integrations, and keep them all organized for quick publishing, reference, and changes - but there's so much more.
Table of contents:
What Is Google Tag Manager (GTM)?
Google Tag Manager (called GTM for short) is an opportunity to manage all of the tags associated with your website in one simple and easy way, all without needing to write even a single line of code. 
This brings with it a number of unique benefits — chief among them being the fact that you can easily add and update your own website tags, all in an effort to better understand conversions, site analytics, and other factors that matter most to you. In addition to both supporting and integrating with all Google and third-party tags, Google Tag Manager also includes error checking, security features and fast tag loading — all to make sure that your tags are working properly, no matter what.
Google Tag Manager vs Google Analytics
Note that Google Tag Manager is very different from another tool that you may be familiar with — Google Analytics. Google Tag Manager is used to both store and manages third-party code, there are no reporting or analytical features of any kind. Google Analytics is the solution you would want to use for genuine reporting and analysis.
Likewise, the management of your conversion tracking goals along with all other filters would be managed through Google Analytics. The same is true of conversion reports, custom segments, insights into eCommerce sales, and more.
As a result, the two work very well together, and using them in tandem is likely a good idea depending on your situation.
What Does Google Tag Manager Do?
Google Tag Manager uses a few core elements to function, including but not limited to ones like:
Data Layer
This is one of the most important elements of Google Tag Manager, and it is indeed what allows for maximum flexibility and ease of implementation. On a technical level, the Google Tag Manager data layer is a JavaScript array that stores information pertaining to the tags, triggers, and variables that you set up. It also sends information to other tools that you might be using, like Google Analytics or Google Ads. 
Tags
These are snippets of JavaScript that you can put into your website's code, all of which are designed to perform a specific function. You can use tags to retarget visitors or to track conversions, for example. You can also use them to send out behavioral emails and for much, much more.
Triggers
These are the user-driven events that cause tags to perform their desired function as outlined above. The types of triggers that you can choose from include those relating to specific page views, clicks, form submission, history change, and more. You can even set up custom events depending on your needs.
Variables
These are the types of conditions that you can set to give tags a bit of additional information to perform their desired function. If you want to send out a targeted email after a user makes a purchase on your website, for example, you can set up a trigger to do that. However, if you want to take things farther and say that the email should only go out if the purchase is above $250, you would use variables to accomplish this.
Containers
This is the term used to describe a group of tags, triggers, and variables that are all working together in tandem with one another. All told, a container "sets the rules" for your domain. It's what you get once you finish setting up your tag, your trigger, and any related variables that you're working with. 
How to Use Google Tag Manager
As stated, Google Tag Manager is an inherently flexible way to manage your website's tags — meaning that its core functionality is broken down into a few basic areas. 
Integrations with Google Analytics
There are a variety of different tag configurations that you can leverage once you set up Google Analytics in GTM, which you can do by selecting "Tags > New" from the menu, and then by specifying "Universal Analytics" in the "Tag Configuration" menu.
You can use GTM and Google Analytics to view basic web page activity, for example, which is the most common way this implementation is used. To do this, you would set your "Track Type" to "Page View" and specify in the "Triggering" section that this should fire on all pages across your domain.
You can also use GTM and Google Analytics to measure specific events, like whenever someone clicks on a particular link or button on your page. Google Tag Manager event tracking with Google Analytics can also be used to understand user activity across multiple domains at the same time in nearly the same way.
Other viable uses for Google Analytics, when integrated with Google Tag Manager, include measuring eCommerce usage and implementing dynamic remarketing to show users ads that contain specific products and/or services that they themselves have previously viewed. 
Integrations with Third-Party Tools
Note that Google Tag Manager can also be used to manage any third-party tracking tools that you may be working with, along with any custom data integrations that are important to you. Once you are signed up for your Google Tag Manager account, all you have to do is enabled the data layer on your checkout pages and set up your tags using the associated third-party data layer and events. 
What Can I Track in GTM?
As stated, Google Tag Manager allows you to track a wide range of different things pertaining to the ongoing operation of your website. Just a few examples of this include but are not limited to things like:
Tracking website page views
Tracking the views of a single page or of a web-based application
Tracking Accelerated Mobile Pages, which can be helpful if you want to compare them to a regular website
Tracking mobile applications for both the iOS and Android operating systems
Tracking button clicks
Tracking clicks of social buttons, which is particularly helpful when keeping an eye on social activity across sites like Facebook and Twitter
Tracking contact links, like emails and phone numbers
Tracking file downloads
Tracking outbound link clicks, which is especially important because it's always just as important to know where your visitors are leaving your site as it is to know where they've arrived
Tracking affiliate links
Google Tag Manager also allows you to track a wide array of different actions as they relate to forms, like form submissions, abandonment, drop-down field selection tracking, timing tracking, pre-fill form fields, and many others. 
Finally, Google Tag Manager is particularly helpful when it comes to tracking activities related to sales, eCommerce, conversions, and remarketing. You can track affiliate sales, keep an eye on very large eCommerce transactions with Google Analytics, track conversions, install multiple Facebook Pixels on the same page, and more.
What Can't I Track in GTM?
Thanks to the custom solutions offered by Google Tag Manager, there is actually very little that you cannot track using this tool. There are some types of website buttons that cannot be tracked with any of the included default click triggers, for example, because they are embedded using a limited technology called iFrame. 
Along the same lines, it's also important to point out that turn key tags are limited in Google Tag Manager. These are the types of tags that are created through forms as opposed to ones generated directly through JavaScript code. This means that while it's possible to work with third-party analytics tools that are not Google Analytics, it would actually require some technical expertise to make sure that all of your tags are working properly.
What Are the Benefits of GTM?
By far, the biggest benefit that Google Tag Manager brings to the table is that it really is as easy to use as Google claims it to be. You don't need years of technical experience to get it working, or developers to help avoid some type of catastrophic mistake during installation. Marketers can do it all themselves, allowing those in the office who do have deeply rooted technical experience to focus more time and attention on those matters that really need them.
Another major benefit comes by way of the fact that the Google Tag Manager Data Layer is inherently flexible — allowing you to send information like page category and even actions as variables that can all be utilized when updating pixels across your domain. 
But really, the biggest benefit of Google Tag Manager is that it's a viable way to help dramatically improve the user experience of your site. If there are a lot of tags on the same site, for example, it could easily impact loading speed in a negative way. With Google Tag Manager, on the other hand, only a tag container snipped will be loaded and the rest will be stored within that snippet, thus making sure that your site loads as quickly as possible. Likewise, users can manage all tags from a single place, thus dramatically simplifying things across the board.
What Are the Drawbacks of GTM?
Maybe the biggest drawback of Google Tag Manager is that users get no dedicated support team to turn to if they need any help. To their credit, Google will offer assistance when creating the Google Tag Manager data layer — but that's where that experience ends. 
Likewise, any tag management system (not just Google Tag Manager) opens the door to potential security risks if they're not looked after properly. All of this is a big, big part of the reason why it's so important to work with a professional, an expert, or some type of agency partner when developing a strategy and setting up Google Tag Manager for the first time. Yes, it's so simple anyone without technical expertise can get it up and running on their own — but you really want that outside help to make sure you're getting it up and running in the right way to meet your needs. 
How to Set Up Google Tag Manager
Before you can install Google Tag Manager, you must first begin by creating an account (or using an existing one) through Google Tag Manager. The good news is that a new container is automatically created along with the account, so you don't have to do anything extra to that end. You can easily create additional containers within each account as needed.
Then, you can install the container on your website or in your mobile app. For web pages, just add the container snipped to the code as instructed by Google Tag Manager. Likewise, be sure to remove any existing tags. For mobile apps, you can install the container using the Firebase SDK for either the Android or iOS operating systems.
At that point, all you have to do is add and publish your tags as outlined above and everything will be ready to go.
What Is Google Tag Manager 360?
While it's absolutely true that Google Tag Manager is free to use for anyone, larger enterprises who need more advanced features can upgrade to Google Tag Manager 360. The amount you'll pay per month will vary depending on the size of your enterprise, so it's recommended that you contact Google's sales department for more specific pricing information.
In addition to all of the features in the base-level Google Tag Manager account, Tag Manager 360 also gives you unlimited workspaces for concurrent tagging projects as opposed to just three. It also adds in approval workflows for greater visibility and zones for large-scale implementations and to control access to tagging.
But the biggest advantage here is that Google Tag Manager 360 also gives you services, support and SLAs that are provided by both Google and the company's global partner network. This is in addition to the self-service help center and community forums that free members are limited to. Therefore, upgrading to Google Tag Manager 360 becomes one of the best ways to eliminate a major disadvantage that most users find when using the solution.
If you'd like to find out more information about how to get the most out of Google Tag Manager, or if you have any additional questions that you'd like to go over with someone in a bit more detail, please don't hesitate to contact us today.