In the world of paid media advertising, there are numerous channels and platforms for marketing teams to leverage. From paid search to paid social media advertising and programmatic advertising to Amazon marketing, the paid channel options to get your brand, products, and services in front of your target audiences are unlimited, and truthfully, it can be overwhelming to find where your budget is best suited.
One channel that Marcel Digital leverages from a paid perspective that can cover all areas of the paid advertising funnel is display advertising. Display advertising can be used for every facet of your marketing strategy, including brand awareness, product or service ad promotion, as well as converting previous visitors to your website through display remarketing. 
But before diving in and placing bids, it's important to take a step back and start with your marketing goals, conducting thorough target audience research about what content is needed to attract them, and looking at the costs of keywords and searches you'd be bidding on to attract them.
So, to do just that, let's start from the top.
Table of contents:
What Is Display Advertising?
Display advertising is a type of digital advertising where ads that promote a brand, product, or service are displayed on a network of publisher websites using image, video, and text. They come in a variety of shapes and sizes that you leverage depending on the purpose of your ad and the device on which that ad will render. These ads appear within the content, as well as at the top, bottom, and side of a webpage.
Examples of Display Advertising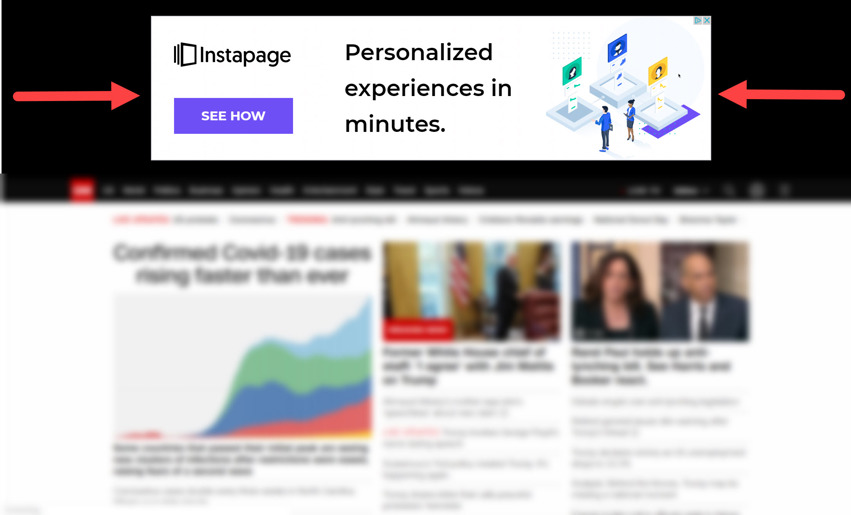 And here is an ad within content...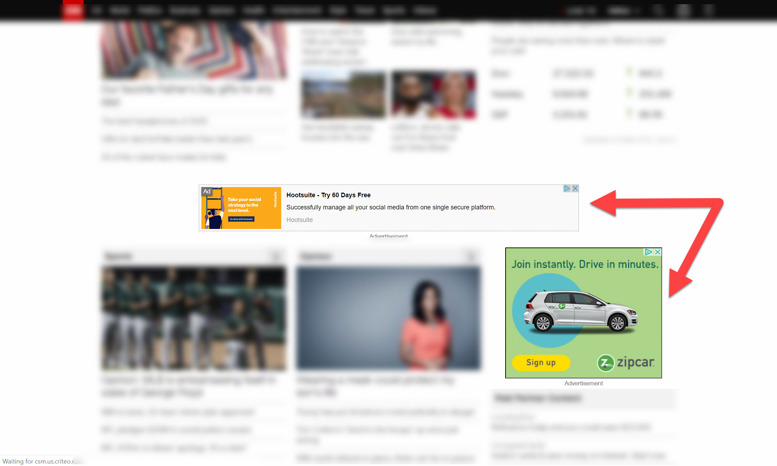 What Are the Benefits of Display Advertising?
When a proper display ad strategy is developed, executed, and optimized over time, there are many benefits. With the ability to create eye-catching visual ads that engage target audiences and drive them to click, display advertising can be leveraged at multiple points in your marketing funnel, from visibility to brand awareness, as well as product promotion and remarketing.
Effective Targeting Capabilities
Display advertising gives marketers the ability to put their ads in front of specific audiences based on a range of target criteria. We'll dive more into this momentarily, but some of the ways marketing teams are able to target audiences include:
Age
Location
Content they consume
Keywords
Gender
Placements
Products they've viewed
And more
This gives you the ability to choose specific sets of audiences that see specific ads and allows you to make that audience as focused as you want based on targeting options, increasing the likelihood of engagement and conversions.
Higher Quality Visibility
When leveraging the above targeting capabilities, you also increase the quality of the audience your ads appear in front of. What we mean by this is that display advertising platforms give you the ability to choose where your ads will be displayed, such as choosing the outlet or publication your ads will appear on, as well as the types of content they will appear in.
What this comes down to is relevancy: making sure your ads appear on topically relevant websites to a relevant audience. This increases engagement overall and depending on the goal and purpose of the ad you're showing, the conversion rate of your ads.
Builds Brand Awareness
As display ads are highly visual and engaging, you're able to showcase your brand in front of relevant audiences to familiarize them with your name, logo, and more. You can do this by leveraging your branded assets in your ads, for instance using your company:
Logo
Taglines
Colors
Messaging
Images
Products
Videos
This helps ingrain your brand in the users' minds and associates you with specific products and services that you provide. Make sure that when you're doing a branded display campaign that you're high level, showing your logo and a quick message of who you are and what you do.
Supports Retargeting Efforts
Your website gets visitors from a number of places. Unfortunately, many of those visitors will either not take action on your site while there, or they'll leave and possibly never come back. With display advertising, you're able to retarget and remarket to that audience.
This means that you're able to show ads to users that have previously visited your website. This allows you to tailor messaging specifically to them based on the interaction they had with your brand and website in hopes that they come back and further engage or convert. This helps increase the overall effectiveness of your display campaigns, as it helps to boost your conversion rate over time.
Flexible Costs
Much like any PPC campaign, you set the price you want to pay for your ad to be shown in display advertising. First, you set the price you want to pay for your ad to appear. Then, the display advertising platform you're using will compare your bid to the bidding prices from other businesses for that same ad space. It will then pick a winner and either your ad will appear or not.
Again, it's important here to review the platform you want to use for display advertising, the cost of the placements you want your ad to appear in, and who else is bidding on those same placements. It will help you gauge your budget and how much you can afford to bid.
Display advertising has two pricing solutions:
Cost per click bidding (CPC): The amount you'll be charged for each click on your display ad. This is the most widely used display pricing solution.
Cost per thousand impressions bidding (CPM): Price based on the number impressions your ad will receive, or how many people will see your ad.
Not Sure Where to Start With Display Advertising?
Our experts have decades of experience driving paid media results for our clients. We can help. 
How Much Does Display Advertising Cost?
The budget you'll need for a display advertising campaign comes down to a number of factors. For instance, the platform you use, the keywords you want it to appear for, your industry, the publications or websites you want to appear on, and the type of audience you will be targeting all factor into your final budget. You'll also want to consider a new budget for opportunities that arise when monitoring your performance over time.
Our friends at Wordstream put together a comprehensive list that we've put below of what you can expect to pay based on your industry's average CPC in Google Display Network. The average cost per click of an ad on the Google Display Network is under $0.58.


Average Display Advertising Cost by Industry


Industry

Average CPC
(Google Display Network)

Advocacy

$0.32

Auto

$0.39

B2B

$0.37

Consumer Services

$0.69

Dating & Personals

$0.18

E-Commerce

$0.29

Education

$0.40

Employment Services

$1.66

Finance & Insurance

$0.72

Health & Medical

$0.37

Home Goods

$0.70

Industrial Services

$0.60

Legal

$ 0.60

Real Estate

$0.88

Technology

$0.20

Travel & Hospitality

$0.24
(source: Wordstream)
How to Target Audiences in Display Advertising
We've already discussed some of the ways that you can leverage targeting in your display advertising campaigns to make them more effective, but we really only scratched the surface. Display advertising platforms offer various types of targeting capabilities depending on the platform you use, so as you're researching the platform best suited for your needs, take a look at how much control you have on targeting your audience. Go by the old adage, "The more the better."
Types of Audience Targeting in Display Advertising:
Contextual: Targeting based on the types of content your audience consumes. If you sell car parts, you'll want your ads to appear in content about automotive news or mechanics.
Placement: Targeting based on the types of websites your audience regularly browse. For instance, if you sold lawnmowers, you'd want your ads to appear on home care or home improvement websites.
Remarketing: Targeting based on users who have visited your website before to attract them back. You'll use these ads in hopes of drawing previous site visitors back to your website to create further engagement or convert them to action, like filling out a form or making a purchase.
Interest: Targeting an audience based on their interest. This is a higher level form of targeting. For instance, if you are running brand awareness campaigns, you'll want to make sure your ad appears on a site that's topically relevant to products or services you sell.
Location / Language: Targeting based on where users are located in the world and what language they speak. This is especially useful if you sell products or services in different parts of the world.
Demographic: Targeting users based on their age, gender, income, and more! Take a look at your previous customers and prospects. Note who they are and where they fall in all these categories. From there, you can more accurately target audiences based on those details.
Custom Intent: Targeting individuals specifically interested in your services or products through the keywords they search on Google and other search engines. This can be used for search and even YouTube.
Custom Affinity: Along the same lines as interest, custom affinity allows you to target individuals who visit websites related to your services or products. 
Lookalike: This is a great targeting feature that allows you to leverage your first party data in the Google Display channel. For instance, you can pull a list of individuals who have visited your site (by connecting Google Ads to Google Analytics and pulling that data into a list) or uploading an email marketing list, and target individuals who are similar to people on your marketing lists. This gives you the ability to show your ads to similar audiences of users who have visited your site before.
What Are Display Advertising Platforms?
Google Display Network
Google Display Network (GDN) is by the best platform for display advertising campaigns. With over 2 million websites, apps, and video sites (like YouTube) where your ad could potentially appear, GDN reaches over 90% of internet users across the world.
As a Google Premier Partner, Marcel Digital heavily leverages Google Display Network in our client's ongoing display advertising and remarketing campaigns.
Microsoft Advertising
While not nearly as powerful and broad as Google Display Network, Microsoft Advertising (formerly Bing Ads) puts your ads in front of audiences on their specific branded platforms. These include:
Outlook
MSN
Windows
Microsoft Edge
XBox
If your audience uses these platforms more than others, or your service or product is exclusive to Microsoft platforms, your best bet may be to use Microsoft Advertising, as Google does not have access to these particular Microsoft services.
Third-Party Display Advertising Platforms
There are also display platforms outside of Google Display Network and Microsoft Advertising that you can leverage to run and manage your display advertising campaigns. These platforms run on their own networks and have a completely different set of targeting options, as well as websites and apps they'll show your ads on.
If you're looking for a comprehensive list, Single Grain put together this awesome list of alternative ad networks to check out.
What Are the Best Ad Dimensions in Display Advertising?
There are various dimension sizes in display advertising to consider when looking at creating display ads and it really comes down to the display ad platform you choose and sizes they recommend.
To save time in helping you get started, and again, because we are a Google Premier Partner, we pulled the list below of the display ad dimensions that Google says work best.


The Top Performing Display Ad Dimensions


Display Ad Size

Ad Example

Ad Description

300x250

This ad type is known as a "medium rectangle" and is often seen to the side or between content. According to Google, these ads tend to have more ad inventory available from advertisers, which can increase earnings when both text and image ads are enabled.

These ads perform well when embedded within text content, on the sidebar of an article, or at the end of articles.

336x280




You know this ad as the "large rectangle" that is embedded in content, on the sidebar, or at the end of articles. This is another ad that, according to Google, tends to have more ad inventory available from advertisers, increasing earnings when both text and image ads are enabled.

728x90




These ads are known as a "mobile leaderboard". According to Google, these tend to have more ad inventory available from advertisers.

These ads perform well placed above the main content and on forum websites.

300x600




According to Google, the 300x600 "half page" ad is one of the fastest growing sizes by impressions and is indicative of a trend where publishers are offering more visually impactful ad sizes that are preferred by brand advertisers.

320x100

These ads are large mobile banners and can be used as alternatives to the 320x50 and the 300x250 banner sizes.

According to Google, these ads offer advertisers twice the height of their standard "mobile leaderboard".
Looking for Paid Ads Help?
Our paid media experts have been running paid advertising for decades.
What's the Difference Between PPC and Display Advertising?
While display advertising is a form of pay per click, it's not the same thing as search engine advertising. Search engine PPC ads appear in search results, while display ads appear on topically relevant websites and apps.
Pay-Per-Click (PPC)
Ads that appear within search results and rank accordingly by the amount you bid, the keywords you're bidding on, the quality of the landing page the user will click through to, and how long that ad account has been active in the search engine.
PPC ads usually live at the top, bottom, and sides of search results pages. Here is an example screenshot of those ads: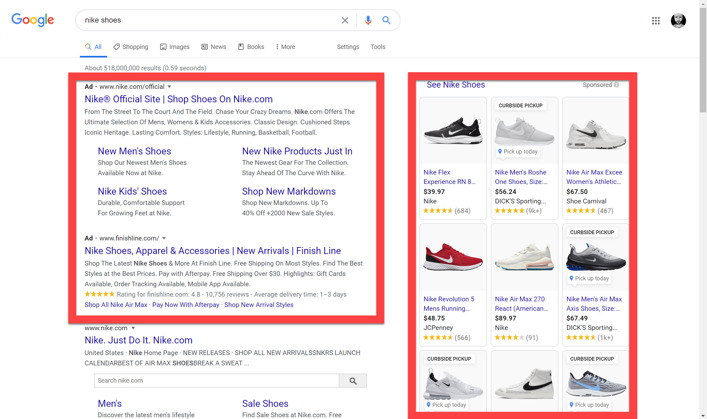 Display Ads
Display ads are paid advertisements shown on websites, apps, or videos based on a specific set of keywords that are matched to the hosting website's topic. Display can be text, image, and video ads.
What Are Display Advertising Best Practices?
Again, every display advertising platform will come with its own set of best practices and recommendations to be successful in your display advertising campaigns, but there are some high level best practices that we at Marcel Digital recommend when getting started with your display campaign.
Simplicity
Keep your ads simple and to the point. Don't overwhelm with too much information or too much text. Avoid distractions that will make the ad confusing or lose track of the messaging and purpose of your ad. It's best to use minimal images, quick and concise messaging, in one of the display ad dimensions listed above.
Keep your ads simple and to the point. Don't overwhelm with too much information or too much text. Avoid distractions that will make the ad confusing or cause users to lose track of the messaging and purpose of your ad. It's best to use minimal images, quick and concise messaging, in one of the display ad dimensions listed above.
If you need help kick-starting your design ideas for display ads, we highly recommend checking out this resource from Wordsteam. In it you'll find a ton of great display ads along with best practices.
Make It Brand or Product-Centric
Remember, display ads are highly visual and eye-catching. This makes it super easy to create ads that speak to your brand and the tone you want to set for your brand. Make it memorable by using company taglines and messages. Make sure your logo is prominently displayed in your advertising without taking up too much space or overshadowing messages. Be sure to use branded colors and stick to the brand guidelines your company has in place.
Don't have branding guidelines? No problem, check out this branding resource from Venngage.
Make It Relevant
Relevancy is everything in the mind of a prospect or customer. They're only going to pay attention to ads that speak directly to their needs at that moment. This is extremely important in display advertising. If you are bidding on irrelevant keywords, on irrelevant websites, with irrelevant messaging, you're not only wasting your time and budget, but you're also turning off prospects and lowering the overall engagement and conversion rates of your ads.
Remember: make your ads relevant to the audience you're trying to attract. Make sure you map out where display advertising falls in your digital strategy, and what types of messaging will have the most impact on those target audiences..
Include High-Quality Images
It's very easy to settle on stock images to save time and effort, and while a lot of stock images are high resolution and do look "good enough," we can't stress the importance of having high quality, unique images in your display ads. Having an unoptimized image, stock image, or irrelevant image can cause a user to disregard your ad altogether, leading to low click through rates, and even worse, engagement and conversion rates on your website. 
Best Practices for Display Ad Images
Optimize your images for scaling
Make sure your logo is visible
Make sure you have your image sized to recommended dimensions
Make sure your message doesn't clutter the image
Don't use overly large images that take a long time to load
Make sure images are relevant to audience and message
How Do You Measure Success with Display Advertising?
As with any marketing channel, you're going to want to make sure you are tracking performance in your display advertising campaigns as you execute your strategy. You'll want to know what metrics to watch depending on the goal of your campaigns and where you are in the funnel leveraging display. 
We broke down what metrics to look for depending on where you are leveraging display advertising below.
Top of Funnel Metrics
New Site Visitors: How many new visitors are your display ads driving to your website? Are they driving a good amount of new visitors depending on the impressions that ad is getting? If your ad is meant to drive brand awareness and new visitors, start here.
Time on Site: Once users come to your site, depending on the purpose of your ad, you'll want them to spend time on your website. Make sure they are moving through the site and spending time there. This shows interest and engagement with your content and brand.
Bounce Rate: You never want a high bounce rate, especially if you're paying for the traffic. High bounce rates usually mean the user didn't find what they were looking for and left. You want to engage your audience or make them convert, so if they're not doing either of those things when clicking through from your ad, either the ad has the wrong messaging or your content isn't up to snuff.
Pages Viewed: When users get to your landing page, are they moving through the site as they should? Are they going to the logical next page you're internally linking to or navigating the website to get more information?
Middle of Funnel Metrics
Conversion: Once users land on your landing page or navigate through your site, did they take action? This comes down to if the purpose of the ad is to convert, i.e., fill out a form or make a purchase. If they're converting, that's great, especially if your conversion rate is high. If they're not, take a look at your copy or content of the website.
View Through Conversions: Sometimes users see ads, don't click, but end up converting on your site later on when they revisit. This is where View-through Conversions come into play, allowing you to get a fair and accurate picture of the effectiveness of each ad.
Attribution: Attribution reporting allows you to see where your display ads are having impact across your marketing efforts, not just your bottom line. What this means is, again, depending on where your ads are falling in your marketing funnel and strategy, you want to make sure the ad is doing its job. If its job is brand awareness, you'll want to make sure it's a First Click in your attribution report. Learn more about Attribution Reporting from Google.
Bottom of Funnel Metrics
Conversions: Again, are they converting? Are they affecting your bottom line in a positive way by converting audiences at a higher rate than before you were running ads? This is important if you're selling a product or service through your display ads or remarketing efforts.
ROI: This is the most important aspect of your marketing efforts. You're going to ask yourself with every report and every effort: is this marketing channel and the effort we're putting into it doing what it's supposed to do? Is it driving traffic? Is it driving conversions? Is it contributing to our net profit the way it's supposed to? If it's not, then scrap it, but if it is, keep doing it and optimize it.
Life-Time Value of Customer: How much net profit does that customer who converted from display advertising provide over their lifetime? Essentially, what's the customer's ROI over their customer lifetime cycle? There are countless ways to calculate a customer's lifetime value, but the most effective model will be one tailored to your sales cycle.
Conclusion
Now, there's a lot here and a lot to digest before hopping into a display advertising campaign. You'll first want to understand if display advertising is worth your efforts, understand what your goals are, what assets and content you'll need, and then how you will track and optimize performance over time. Be sure to sit down with your team and review this guide if you have to. From there, you'll have a clearer direction of what you'll need to be successful in display.
Get In Touch
Have questions about our Paid Media services? We'd love to chat. Fill out the form and someone from our team will be in touch with you shortly.