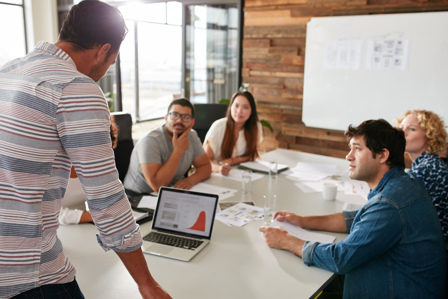 Anyone tired of digital marketing agencies saying yes to all business, pretending they are experts at all services, faking it until they make it, simply because they don't want to say no? After almost 18 years in this space, we've had enough experience to develop a perspective on what work an agency should handle and what a client should handle in-house. There are exceptions of course, but we have a good sense of what works and what doesn't work. First, a little history of the digital marketing industry.
Back in March 2003 when I launched Marcel Digital, there was no such thing as a digital marketing agency. There were plenty of traditional agencies, and some had carved out a corner in the basement for a few nerds who seemed to know certain things about websites, Google, digital ads, and red Swingline staplers.
Marcel was different — we were entirely focused on digital and would have nothing to do with traditional. We looked for clients who had a website and wanted to be found on Google. It was a brand new concept and felt like the Wild West. Do we charge a standard agency fee? Do we charge a retainer? Do we charge more for Google than for other search engines or for ads on AOL? In retrospect, it was amazingly limited and straightforward, but did not feel that way as we were actually creating the market.
Over the years I've seen confusion in the industry of what a digital marketing agency should and should not do for clients. We've had enough experience and done enough projects to finetune where our strengths as an agency are and where they aren't. Where do our efforts get the most ROI for clients and where do they not? I created a list below that lays out what your digital marketing agency should do and what they should not do, leaving certain tasks to the clients. Let's start with the basic groundwork of the digital marketing agency industry.
What Is a Digital Marketing Agency?
Today, a digital marketing agency covers the gamut from paid search, Google Analytics, SEO,  website development, content marketing, social media advertising, display, programmatic, and other digital marketing services. Agencies need to be able to speak to everything from strategy to implementation, data, insights, apps, marketing technology, and everything from antiquated solutions to the future of digital marketing. Digital marketing agencies have become true business partners to firms. They have made their way out of the basement and into the boardroom where the C-suite asks for their input and respects their perspective.
What Types of Digital Marketing Agencies Are There?
There are all sorts of digital marketing agencies. Some are a small part of a larger entity. Some are full-service digital agencies. Some are full-service digital agencies with website development capabilities. Some are hyper-focused on a particular discipline such as a paid media agency or an SEO agency. Some are a website development agency or website design agency and some are website analytics agencies. Some are practically full-service agencies but do not completely close the loop. Many of those will depend on third parties to fill any gaps which works well in 2021, not as well 18 years ago. Many agencies utilize off-shore resources to keep costs down and plug holes in their offerings. Many times this creates more problems than it solves.
A digital marketing agency is made up of a number of subject matter experts from a variety of digital disciplines including SEO, PPC, website analytics, and website development. These experts must be formally connected to each other through a defined and validated process so that clients can benefit from their shared perspectives.
Digital marketing agencies should have resources dedicated to strategy. These individuals are able to mold that perspective into a logical path forward for their client complete with goals and expectations.
Digital marketing agencies will also deploy project managers to handle day-to-day communication and ensure the agencies do what they said they would do.
The Benefits of Digital Marketing Agency
A team consisting of focused, skilled individuals continually honing their craft
They read every blog, listen to every podcast, and attend every conference around their specialty. They have several clients from which they can see patterns and plan for the future. They are often supported by a variety of technologies that they have been mastering over many years. They are typically surrounded by a team to brainstorm and debate with.
Access to a wide variety of experts
Would you prefer to go to a hospital with only a cardiology department? What if the issue is muscular, nerve, blood, or even allergies? You want experts available from all departments communicating with each other along with someone to formalize their findings into a go-forward plan of action.
Flexibility and scalability
Agencies can scale up and down with relative ease and can be brought in to complement existing teams. As your existing teams change over time, so might your engagement with your digital marketing agency. Or you can leverage an agency to be your turnkey digital marketing team.
This brings me neatly to two very important questions: 
What work should be accomplished by an internal team vs. your agency? 
Who should be substantially responsible for the different elements of digital marketing work given that you will all work together to some degree?
What Should a Digital Marketing Client Do?
Establish goals
This is harder than you might think. "More revenue" is not a great answer if you are going to empower your digital agency to be successful. An agency is not going to be in charge of sales. 
Revenue is affected by a variety of factors from the C-level to sales to technology and more. Clients should ask themselves what specific achievable outcome would result in the C-suite giving each other a virtual high five. Can it be turned into a SMART goal? Can your digital marketing agency largely accomplish this goal themselves or are they dependent on factors outside their control? 
Keep in mind there can be multiple goals, but there must be one primary goal we are all rowing toward.
Provide a primary point of contact into the rest of the organization
If your digital marketing agency is asked to report to a variety of individuals who have new or different goals, your digital marketing agency will soon be rowing multiple directions at once. Your agency is going to have a hard time telling individuals "no." They will fail to accomplish even a single goal as they scramble to keep several stakeholders happy at once. Digital marketing agencies need a champion inside the organization.
Clear internal barriers
Agencies can and should push for what is needed and what will benefit the client. However, we will run into internal roadblocks. We need our client, preferably our primary point of contact, to fight internal battles on our behalf. If we need content generated or a title tag adjusted or access to analytics, we need the client to clear those barriers.
Establish and maintain brand voice
Yes, there are brand marketing and communications firms that play a pivotal role for clients. Those teams may even exist inside digital marketing agencies. I am referring to developing a dependence on your agency to speak on your behalf. Brands cannot be authentic and authoritative while delegating their expertise. They should not ask an agency to communicate with their customers.
Agencies will never know the brand and their customers as well as an internal marketing team. Therefore, agencies should not be taking over the community management of your social channels. Agencies should not be writing all of your content from scratch pretending to be an employee of the firm. Trying to sound authentic is not a skill a digital marketing agency should try to develop.
Create content
If you agree that the brand should be in charge of its own brand voice, then you will agree that the brand should be heavily involved in content development. Content includes everything from service pages to blog posts, videos, and infographics. Your agency should inform much of what needs to be created after researching keywords and competition. That research is in itself a heavy lift and extremely important. The agency should also optimize all produced content. But the brand should produce the content in their own voice if possible. 
If not possible, they should provide their own POV on the content research the agency has prescribed. For example, Marcel has had a lot of positive experience having collaborative conversations with client experts and asking them to provide bullet point responses for content that needs to be produced. Marcel will then create the content utilizing a team of expert writers or have a call/Zoom meeting where the client pontificates their POV on our recommended topic and our writers then turn into a completed piece.
What Should a Digital Marketing Agency Do?
Create and drive digital strategy to accomplish established goals
Clients need to be involved, and their input is important. However, agencies should largely be in charge of deciding how to accomplish established goals. Which channels and which tactics will attack which parts of the funnel to what degree to create the most efficient results? Even more important than the original agreed-upon strategy, agencies should be responsible for how the strategy is optimized as real data is consumed.
Paid media channels strategy and execution
Paid search, paid social, paid display, programmatic, retargeting on every platform requires daily, weekly, and monthly optimizations as digital agencies continuously calibrate toward our goals. Even if you can deploy one internal resource to be entirely dedicated to paid search and they are supported with all necessary tools and technology, are they going to be able to coordinate with all other paid media channels, as well as SEO and your analytics teams? Even if they can, I know very few paid media specialists who want to work on a single account every single day.
Create and execute SEO
Search Engine Optimization is as much an art as a science. There are algorithm updates practically every week and substantial updates each month and quarter. Content is the lifeblood of SEO. Your agency should handle all technical SEO and likely has advanced link-building strategies to acquire quality, relevant, and authoritative backlinks which would be virtually impossible for any one individual to develop. What your agency needs is for the brand to develop content. We can research the right topics, length, tone, even POV, but the writing should be in the voice of the brand.
Set up, optimize, and generate insights from website analytics
Agencies should be held accountable for establishing comprehensive installations of Google Analytics and other analytics tools. Digital agencies should be responsible for establishing goal conversion tracking, attribution models, tagging strategy, Google Tag Manager, and reporting including Google Data Studio. 
Your agency should also be responsible for gleaning the insights from that report. The data is "what." What you are after is the "so what" — the insight, why it matters, and what should be done about it. Some of those action items should be handled by your agency if they affect paid media channel management, SEO, or your website if your agency has a development side. Some of those action items need to be handled internally by the client.
Before Selecting an Agency
Brands should take a moment to determine what internal resources they currently have in place. What skills do they have? What skills are they looking to develop? If you have a large enough team, you may only need an agency to plug a few holes. If you have a small team, you'll want to work with an agency that can not only fill more gaps, but can do so in a coordinated manner. Do they have internal processes that connect their subject matter experts so the client gains all of the value of the agency? 
If you are building your own internal team, I suggest you consider my points above. All of this work needs to be completed, and you are better off putting people in the best place possible to succeed. In other words, put your aces in their place.