Umbraco, the world's leading open-source content management system (aka "The Friendly CMS), released Umbraco 11 in late 2022 to deliver performance enhancements and a new marketplace as well as Block Grid Editor, a brand-new property editor that enhances layout and content structure capabilities. Cleaner architecture, updated dependencies and modernized documentation round out the list of notable improvements. 
Significantly, Umbraco began running .NET 7 shortly after Microsoft released it to support both developers and content editors. This bonus multiplies the benefits of Umbraco 11 since .NET 7 features performance enhancements that make it faster, simpler and more modern than its predecessor. Even better, the upgrade from Umbraco 10 to 11 is reportedly the easiest of its kind.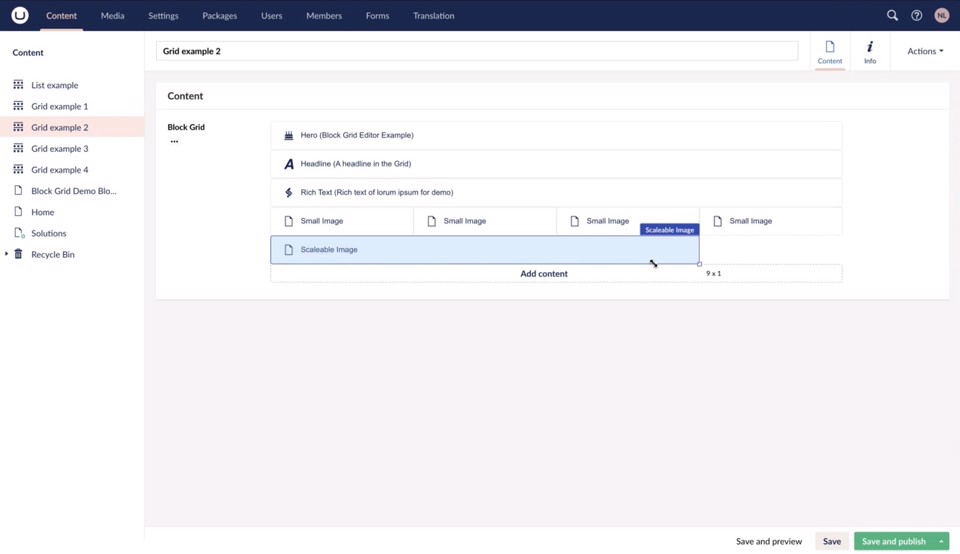 The latest Umbraco interface features an intuitive dashboard with search, help and profile settings as well as the following sections: content, media, settings, packages, users, members, forms, translation—and a sections tree.
Learn About Umbraco 11 Development
Who is Umbraco 11 for?
Versatile, secure and SEO-friendly, Umbraco 11 is ideal for agencies, marketers, developers, freelancers and virtually anyone seeking a new content management system, thanks to its ease of use and scalability. It can be used for websites, online shops and intranets. It is also touted for its intuitive editing and flexible platform that provides full control.
Likewise, it is a perfect fit for the healthcare, SAAS and digital marketing industries, among others, because it provides:
Security

These industries handle sensitive data, making security a top priority. Enhancing safety for its users, Umbraco 11 offers encrypted passwords, two-factor authentication and IP blocking to prevent unauthorized access.
Scalability
All of these industries also require a platform that can scale to meet the demands of growing businesses. To that end, Umbraco 11 was designed to easily accommodate and grow along with these burgeoning industries.
Flexibility
SAAS, healthcare and digital marketing organizations need platforms that can be readily customized to meet their specific and evolving needs. Umbraco 11 is an open-source platform that allows developers ample opportunity for extension and modification to suit their unique needs.
User-friendly 
Simply put, users must be able to easily navigate and use the platform, and Umbraco 11's user-friendly interface is intuitive and easy to use for all levels and user groups.
Multilingual support
All of these industries operate in a global market and require a platform that supports multiple languages. With its multilingual support, Umbraco 11 helps users communicate across industries, countries and languages with 1:1 multilingual support.
The Benefits of Umbraco 11
Clearly, the list of Umbraco 11 benefits is extensive with enhanced performance and new features leading the way. The other key benefits include:
More and better performance

"Fastest ever" is not an exaggeration: The latest and greatest Umbraco features significant performance gains that improve load times, make for a more responsive back office, reduce server loads and come through for user experience. According to the company, you will enjoy pages that load a full 20% faster than before.
Safe and secure
Undoubtedly, security is more important than ever, and Umbraco 11 delivers on tighter security and prevention of unauthorized access as well as 24/7 paid support.
New property editor
The Block Grid Editor was created by developers and editors to feature more flexible settings, more modern technology and more user-friendly updates through a modular approach. With additional tools and options out-of-the-box, content is managed via blocks for easier updating. 
Better content capabilities
Already a leading CMS, Umbraco dazzles in its latest version, particularly with the new editor, which is more flexible and simplifies content creation and management. Your team will spend less time creating new templates and more time enjoying freedom of expression.
Accessible for all

Improved accessibility was a stated goal of Umbraco 11 and the release supports more accessible UX with new accessibility requirements that can be set in the editors' workflow. Sites should be accessible to those with vision or hearing impairments, mobility issues and more. Future updates to standards or governance will also be easier to implement with the addition of a more flexible, customizable back end.
The brand-new marketplace
Ensuring that Umbraco connects with e-commerce, analytics, personalization, translation and more, the new Umbraco Marketplace is a central location that highlights packages such as apps, integrations and add-ons that are all compatible with Umbraco. You can search for packages on the portal and find relevant third-party services. 
And more…
In addition to all of the above Umbraco 11 benefits, the latest release updates and decouples several dependencies, offers a new documentation platform and, last but not least, helps users create a more attractive frontend.
Migrating to Umbraco 11
You might be thinking: This sounds great, but Umbraco 10 (or an earlier version) is working just fine for me right now and I don't really want to hassle with an upgrade.
Well, the truth is that Umbraco 10 is still a valid route as it is a long-term support release. But it's important to note that you now have a choice to make an easy, hassle-free upgrade to the latest and greatest Umbraco 11 platform. However, if you are currently running an older Umbraco version, an upgrade is definitely worth considering. For instance, Umbraco—version 7 users might want to consider making the leap, as it has an end-of-life deadline coming up in September 2023.
If you want some support for your migration, Marcel Digital is one of the longest-tenured Certified Gold Umbraco Partners and can help with website migrations and other web development services. Our web development experts make sure your site is migrated in an SEO-friendly fashion so you never lose rankings or data along the way.
And if you're not already using Umbraco for your site, you might want to put it on your to-do list for your next one. The leading content management system supports websites and businesses of all sizes with the flexibility and scalability you need to succeed.
uSkinned
An official Umbraco app built and supported by Umbraco Gold Partners, uSkinned powers thousands of websites in nearly 100 countries across the globe.
In addition to flexible and intuitive content management, its benefits are also extensive:
The ability to create any website
Craft a site with the ability to grow along with organizations of all sizes. uSkinned supports ease of use, flexibility and branding. One-click installs can create Umbraco websites in an instant.


Time and cost savings
The award-winning uSkinned Site Builder offers efficiencies that save organizations both time and money.


24/7 customer care
In addition to upfront support guides and tutorials, users enjoy ongoing access to uSkinned's support team, backed by Umbraco Certified Masters and gold partners.


Must-have features
From drag-and-drop editing to responsive themes and from SEO-friendly to eCommerce, uSkinned is packed with the features that developers and editors want and need.


Accessibility and inclusivity
The site builders make it easy to create "compliant, inclusive and equal-opportunity websites that are accessible to everyone."
With its modular, component-based design architecture, the uSkinned Site Builder includes the full range of sliders, galleries and forms. Custom components can also be added with the Block List Property Editor and step-by-step instructions. 
Integrating uSkinned and Umbraco 11 extends marketing and analytics data, including Google analytics tracking, Google tag manager, Facebook and Twitter pixel tracking, and more.  Other key integration features are eCommerce and payment platforms, booking and scheduling platforms, video and music platforms, and other options such as adding Google Maps to a post, embedding third-party widgets and implementing social-sharing buttons. Additional integrations can be added in any amount at any time.