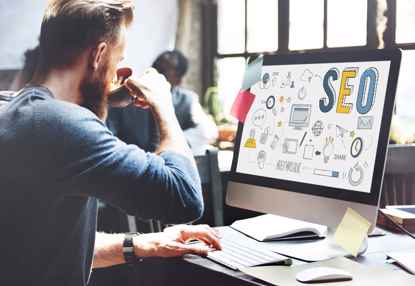 Billions of people use search engines every day to find the products and services they need. Less than five percent of those navigate past the first page of Google. If your business is not using the most up-to-date search engine optimization (SEO) web design practices, you risk getting lost in the millions of listings that never make the front page. An SEO friendly website sends the right signals to search engines to help them connect you with the right prospects, giving you the chance to convert them to happy customers.
What Is SEO Friendly Web Design?
SEO friendly web design is a design that allows Google and other search engines to effectively and efficiently crawl and interpret each page on your site. Once your site has been crawled and indexed in their databases, search engines can serve your page to searchers based on the topics that they are looking for.
Why Is SEO Friendly Web Design Beneficial?
When people are looking for local businesses, 97% of them start at a search engine. SEO website design allows you to increase your rankings in Google so that you are more likely to show up near the top. Additionally, better SEO web design means that Google gets a better understanding of your offerings, so they send you higher quality, more qualified traffic.
A lot of the practices that will help you get higher in the search engine results pages (SERPs) are also ones that contribute to a better visitor experience. Google gives points for things like easy-to-navigate sites that are easily usable on any device. Good SEO design keeps visitors engaged, so they stay on your site longer. It allows you to stay in Google's good graces so that your site continues to be easily found.
How to Design an SEO Friendly Website
The good news is that Google has been very clear about what they want to see in modern, effective websites. Following the most up-to-date practices for web design and SEO can help ensure that your site performs well.
Focus on Architecture
An easy-to-navigate site is a must. This makes it easy not just for Google, but for users, as well. Users are more likely to stick with you if they can find what they want.
Start with a robust home page. Build from that, categorizing everything else underneath into relevant high-level sections.
Use breadcrumbs, special links that allow users to see where they are on a site and how to get back home.
Keep your URLs short and simple. Longer URLs with numbers or irrelevant characters like session IDs and unnecessary parameters bog users down. When appropriate, use keywords in URLs to show with pages are about. Keep the URL structure short and have correct directories and subfolders to help both Google and users understand where a page falls on your site.
Focus on Responsive Design
Responsive design keeps your site experience consistent whether your users come to you on their desktop, smartphone or tablet. This is Google's preferred site design method since it helps ensure that every visitor on every browser and device has the same quality experience. It allows you to avoid the hassle of creating separate mobile and desktop sites with different URL structures, which means less time and resources dedicated to content management.
This sort of design can increase your sales and conversions because of the high level of consistency. A visitor who surfed to your site on their phone during their lunch break can come back on their desktop later to complete a sale.
Focus on Speed
Every fraction of a second your site takes to load is one that can cost you your customer. Good SEO web design eliminates elements that can slow down your site. A good design reduces redirects so that users aren't being bounced around Minify CSS, HTML, and JavaScript so that everything loads faster. You should also remove render-blocking JavaScript.
Using browser caching allows your site to load faster since it utilizes what users have already downloaded from previous visits. Using a CDN can help reduce server time response so that the rest arrives quickly.
Optimize Images
Images are vital to site engagement. But, if they are not loading quickly, they can work against your goals. Use relevant images in a compressed file format so that they load more quickly. Short and descriptive image names, paired with descriptive alt text help search engines parse image content and figure out what is being depicted. These text helpers also make your site more accessible for people with visual disabilities, which helps with your ranking. Use captions where they are relevant to give search engines more text to use to determine what your images are about.
An XML image sitemap allows Google to discover images on your site that search engine spiders might otherwise not find. This is especially helpful for images that your site reaches using JavaScript code.
Optimize Content
Just as important as SEO web design is the written content on your site. It goes without saying that, to convert customers, your site needs relevant content that your users want and search for. Adding fresh content regularly keeps you up to date and gives Google new things to index.
There are also many technical steps you can take to ensure that your content indexes better. Conduct proper keyword research before writing to see what people are searching for. Then, use those keywords in your content in a way that fulfills user intent and without spamming.
Use descriptive titles. This tells both users and Google what they'll find in the body of the text. Leverage quality meta descriptions. These should not just describe what's on the page but should entice people to click and read it.
Break up content into sections with keyword-driven headers. This makes even long content easily skimmable, so people can look it over and find just the content they want.
If you use videos as part of your content, add transcripts, as well. Google can't see the content of a video, but it can read your text.
Add relevant images to blog posts, articles and web pages. These draw people in and make them more likely to read.
Build links to your content across a range of networks. Quality backlinks show that your text has high authority and that other sites consider it worthwhile.
Add relevant schema to your site's HTML to improve the way that search engines read your site.
Use Schema
What's schema? It's a semantic vocabulary of tabs that can be added to a site's HTML to better represent a page in the SERPs. Created in a collaboration between Google, Bing, Yahoo! and Yandex, it allows you to provide information that helps search engines better understand your content.
Schema is thought to increase your chances of rich snippets that give more information about your site when it appears in the SERPs. It is thought to improve both rankings and visibility.
Tag blog posts, products, services, videos, organization, employees, contacts and more to give the most information possible as part of your SEO web design.
Summing Up
Some SEO principles are durable, changing little over time. Others evolve as technology advances and the way that people connect to content like yours evolves and changes. Understanding the latest best practices for creating engaging, easy-to-use sites is vital to continue to get the visibility your need. By creating and maintaining an SEO friendly website, you can ensure that your visitors can find you and that your site answers their needs.