2023 is a massive year for Google Analytics users. Google Analytics 4, or GA4, is set to replace Universal Analytics on July 1, 2023. Since this transition was first announced, Google has focused on updating GA4. One of these updates is in regard to quota limits.
As of November 2022, Google announced that Looker Studio reports that connect directly to GA4 data subject to Analytics Data API quotas. If you exceed the quota limit, your reports will show a quota exceeded error, which will display something like this:

In this article, we'll explain what quota limits are and the current GA4 limitations, how to monitor your data token usage, and potential workarounds to still use your Looker Studio reports effectively.
What is a Google Analytics 4 Quota Limit?
GA4 quotas are limitations that are set by Google in order to prevent users from overloading the API with too many requests at once. This is to ensure that the system does not receive more data than it can handle and to ensure that the system resources are equitably distributed between all users. According to Google's Developer Quota Resource, the quotas vary and are subject to change.
What are the current GA4 Quota Limits?
The Google Analytics 4 quota limits are drastically lower than those in Universal Analytics. As expected, the limits allowed for standard GA4 users is significantly lower than paid Analytics 360 users. The full list of quotas and their limits are as follows: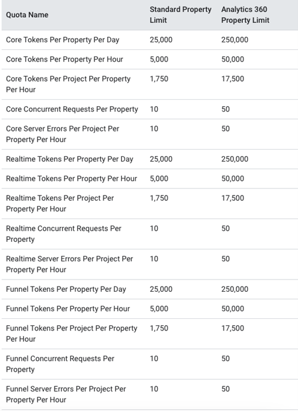 (Image source: Google)
There are three request categories: Core, Realtime, and Funnel. API requests to the Core methods only charge Core quotas, Realtime only charge Realtime quotas, and so forth. One request cannot consume both Core & Realtime quotas. Once a Google Analytics 4 property is created, it can do the following:
Concurrent Requests: 10 (50 for GA4 360 users)
Hourly Tokens Per Property Per Project: 1,250 (12,500 for GA4 360 users)
Daily Tokens Per Property Per Project: 25,000 (250,000 for GA4 360 users)
This means that a basic dashboard with around 10-12 charts can easily exceed the allotted hourly tokens and the concurrent requests. That said, reports for larger accounts can exceed these limits with even fewer charts. Once these limits are exceeded, the chart will break and become unusable until the quota is refreshed at the end of the hour or day. 
These new limits  affect all users. If a Looker Studio report uses up all available quota for a GA4 property, data sources used in other places may fail to fetch new data. Or, if more users are making API calls at the same time, error messages will begin to appear.
How do I monitor my GA4 Token Usage?
As of December 20, 2022, Google released an update that allows users to view a report's GA4 usage data. While in edit mode, right-click on a GA4 chart and select "Google Analytics token usage" which will bring you to this dialog box: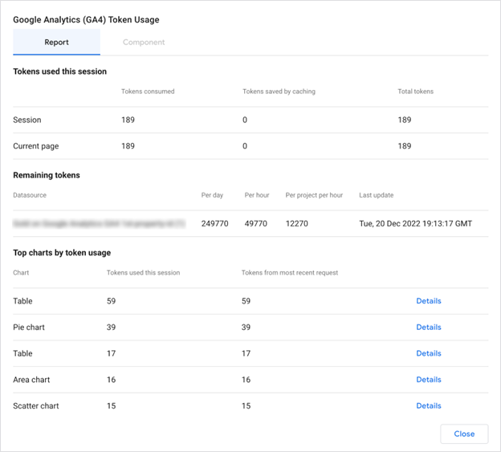 (Image source: Google)
Google implemented this change to make it easier for users to monitor their quota token usage as well as the remaining amount.
How Can I Work Around these GA4 Quota Limits?
Even with close monitoring of your token usage, you may still feel stuck on how to make your reports work. We've come up with a list of solutions that can help.