Google released a new version of its web analytics service in October 2020 which collects data and analyzes web traffic. This version is known as Google Analytics 4 (GA4) and is the new default for Google Analytics (GA). Millions of businesses use GA to monitor their marketing channels and measure their Key Performance Indicators (KPIs).
GA4 has many features that make it quite different from its processor, Universal Analytics (UA). The new data modeling capability is one of the biggest of these, as it uses artificial intelligence (AI) to fill in gaps left by UA. The user interface (UI) of the new Google Analytics is also different from UA. Businesses will also need to consider these and other differences between the two versions of GA when deciding whether to upgrade to GA4.
What Is GA4?
GA4 is also based on the same platform as the "App + Web" system that Google released in 2019, which gave marketers a way to track users across applications, software, and websites. The main goal of all these capabilities is to analyze the behavior of users, especially their journey toward becoming customers. Events are also a major part of GA4 since they describe the presentation of data.
The primary purpose of GA4 is to provide a next-generation approach to AI-based predictive data, privacy-first tracking, and x-channel measurement, according to Google. GA4's advanced machine learning (ML) models also allow it to provide data for user behavior and website traffic without relying on the hits for each page.
GA4 is particularly useful because website visitors are increasingly likely to opt-out of cookie usage and other means of data collection. Furthermore, Mozilla Firefox can now block GA, and many websites require consent from visitors to define their GA tracking. New privacy protection laws like the California Consumer Privacy Act (CCPA) and the General Data Protection Regulation (GDPR) reduce the usefulness of traditional analytics like UA. Businesses that rely on these services often experience problems with missing or inaccurate data due to the cookie consent options these laws require. GA4 is built to adapt to a future with or without cookies.
Highlights of GA4
The major highlights of GA4 include its seamless integration with Google tools, ML capability, and scalable cross-platform analytics.
Integration with Google Tools
GA4 is closely integrated with YouTube and Google is currently working to improve its evaluations for YouTube advertising campaigns. These changes could allow users to track view-through conversions, which would measure a campaign's effect on the involvement of specific audiences, bounce rates, and website events.
Deeper integration of GA4 with Google Ads allows users to run campaigns that provide relevant and useful offers to specific audiences, regardless of the device they're using to surf the web.
In addition, the BigQuery Export feature is free for all GA4 users, whereas this feature is only available to users of the paid version of UA. GA4 also has resource settings that allow users to activate data collection in BigQuery cloud storage.
Machine Learning
GA4's machine learning (ML) capability and natural language processing (NLP) functions are one of its main benefits of Google Analytics 4, as they allow users to estimate the probability of converting a visitor into a customer. Users can also develop audiences for Google Ads based on that probability and receive notifications on conversion trends, such as how product demand is changing user requirements. GA4 can also predict customer behavior so users can make the investments needed to retain them. Google will continue developing GA4 to add additional forecasts like average revenue per user (ARPU), allowing users to further adjust their marketing strategies and increase their return on investment (ROI).
Cross-platform Analytics
It has been historically difficult to analyze a visitor's transition between platforms, such as a website to an app because there has been no universal standard of visitor behavior. For example, UA builds its information around visitor sessions, while Firebase, Google's platform for developing mobile and web applications, uses events. GA4 addresses this limitation by using an event-based approach to analytics that collect standardized data across multiple platforms. This approach improves the data quality and provides users with a single report across visitor paths.
Google Analytics 4 vs Universal Analytics
Application and website owners who are migrating from UA to GA4 need to understand the specific differences between the two analytics services. These include events, sessions, and hit types.
Events
Event handling is fundamentally different between UA and GA4. UA events have a category, action, and label, while GA4 doesn't recognize these concepts as they exist in UA. For example, the categories for GA4 events include automatically collected events, recommended events, enhanced measurement events, and custom events. Unlike UA, each hit is an event in GA4, so GA4 doesn't distinguish between hit types. Migrating to GA4 therefore requires a new event structure for collecting data in most cases, rather than simply porting the existing structure over to GA4. However, automatically collected and enhanced measurement events don't require the user to add code to an application or web page.
Sessions
A session is a set of interactions between a visitor and a website within a given timeframe. They usually end after 30 minutes of inactivity or until a qualifying event resets the session. UA sessions comprise multiple pageviews, events, interactions, and transactions. However, a GA4 session is explicitly defined by the session_start event, which is an automatically collected event. The time span between events determines the end of a session in GA4.
The determination of active users is another difference in session definition between the two analytics tools. UA relies on manual instrumentation like an interactive event to establish when a user is active, whereas GA4 detects user activity automatically. This difference means that a user who launches an application is active under GA4 but not UA. These differences can result in discrepancies in sessions between UA and GA4. For example, GA4 generally has a higher active user count than UA.
Hit Types
UA hit types include event hits, eCommerce hits, page hits, and social interaction hits. However, GA4's property measurements are event-based, meaning it can capture any interaction as an event. As a result, GA4 translates UA hit types into events within a GA4 property.
Should You Switch to Google Analytics 4?
Users must consider a number of pros and cons before migrating from UA to GA4.
Pros
GA4's AI and ML capabilities are one of its biggest advantages over UA. These capabilities make GA4 a better analytical tool, as they allow it to predict the future. It isn't perfect yet, but GA4 can already notify users of developing trends. ML lets users make better sense of the data they collect, allowing them to predict visitor behavior more accurately.
Codeless tracking of events is another great feature of GA4. Users can now track events in real-time without any coding knowledge, providing more information on how visitors interact with a website. GA4 adds video to UA's existing tracking events, which include page scrolls and clicks present. This addition means that users can count the number of visitors who are watching a video in real-time.
Cons
Users with a lot of experience in UA may not want to upgrade to GA4 right away due to the many changes that GA4 introduces. These changes greatly affect the data that users receive and how they view it. For example, the tools for collecting, analyzing, and reporting data are now separate, so GA4 users have more options to deal with. The organization of data is also different since UA has the tiers of
Account, Property, and View, whereas GA4 only has Accounts and Property. Furthermore, some of the UA reports are missing in GA4. It's Marcel's recommendation to our clients we run GA4 in parallel with the existing UA. That way, when we decide to make the transition, we will have historical data in GA4. We do not recommend comparing performance across platforms for many of the reasons listed above.
How to Set Up GA4
Setting up GA4 on a new application or website requires the following steps:
Create an Analytics account
Create a GA4 property
Add a data stream
Setup data collection
Create an Analytics Account
You only need to create an Analytics account if you've never used any version of Analytics before. Click Create Account in the Admin section of the Account column. Enter your account name, and configure the data-sharing settings to specify the data you want to share with Google. Add properties to the account by clicking Next.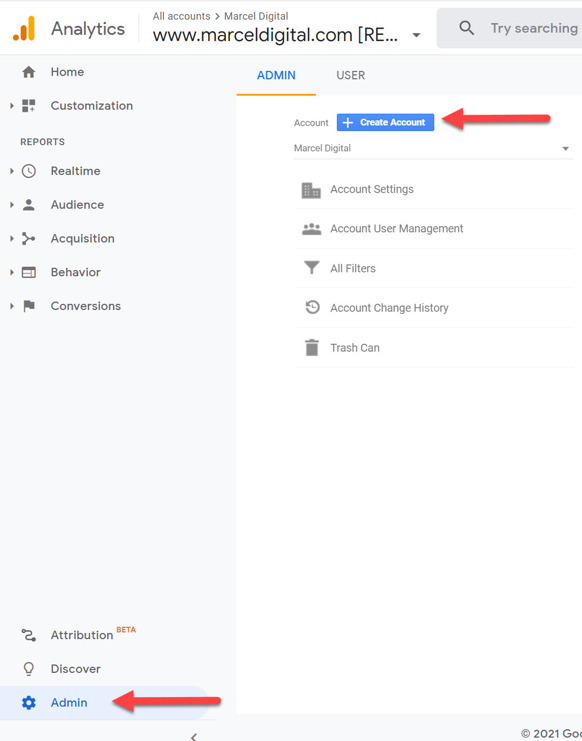 Create a Google Analytics 4 Property
Enter the property's name, reporting time zone, and currency. The time zone is the day boundary for reports, regardless of their data's origin. Changing the time zone later only affects future data. Click Next to select industry category and business size. Click Create, and accept the terms of service and data processing amendment.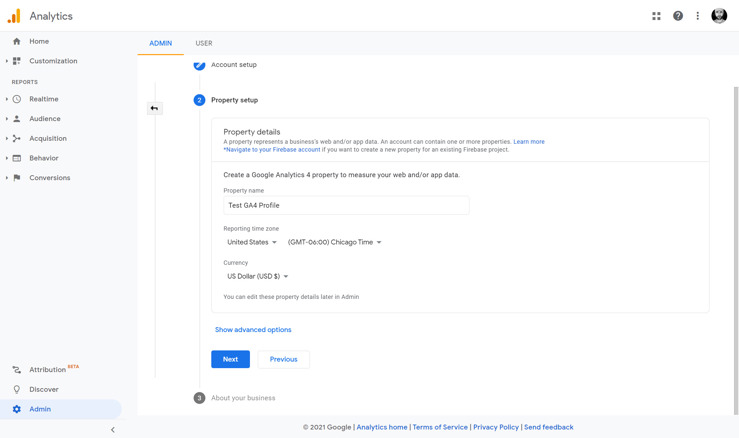 Add a Data Stream
Click Data Streams in the Property column. Click Add Stream, and then select the stream type by clicking Android app, iOS app or Web.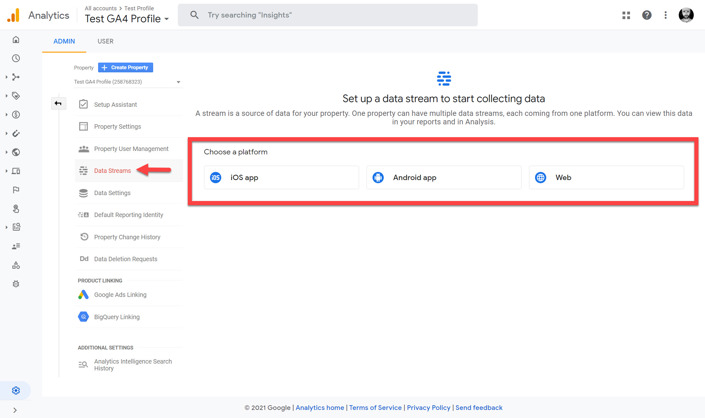 Set Up Data Collection
Add the Analytic tag to each web page for which you want to collect data in your GA4 property. Add the global site tag to a website builder or Content Management System (CMS)-hosted websites like Shopify or WordPress. You also need to add the global site tag directly to your web pages by using Google Tag Manager.