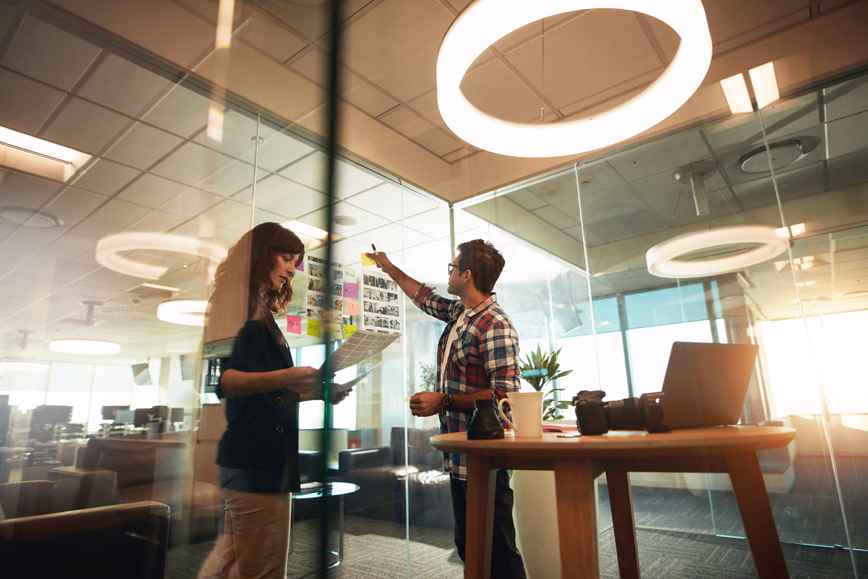 It's not too early to be thinking about your digital marketing strategy for 2021. In this unique and uncertain economic environment, having a strong digital presence is more important than ever before. With an increasing number of consumers staying home because of the COVID-19 pandemic, your business needs to be visible and enticing to buyers who are shopping from their living rooms or home offices. If you are groaning at just the thought of writing a digital marketing plan, don't worry about it - we'll work you through all the steps you need to create an easy and successful 2021 digital marketing strategy.
What Is a Digital Marketing Strategy?
A digital marketing strategy is a plan to promote your goods or services through your online channels, such as your website and social media pages, as well as via paid advertising and email and text messaging. Such a plan might include paid search, SEO (search engine optimization), content marketing, or email marketing. Without such a strategy, your business is likely missing out on reaching your share of the more than 209.6 million U.S. consumers who buy goods and services online annually.
A good digital marketing strategy gives your company a cohesive plan that is consistent through your many online and offline channels. After all, you want your branding and message to be the same on your point-of-purchase advertising in your stores as it is on your social media pages and website. A cohesive message saves time and effort by not having employees recreate a marketing message for every channel.
What Are Digital Marketing Strategy Tactics?
Digital marketing strategy tactics are the individual efforts marketers and business owners make to achieve their business and marketing goals through their digital channels and properties. It is our firm belief as a digital marketing agency employing experts who have worked on 100s of campaigns that the only way a digital marketing strategy is successful is by leveraging integrating digital marketing services and tactics. The reason for this - the digital world is interconnected. Your digital strategy MUST include a comprehensive approach, leveraging multiple digital marketing solutions, while remaining flexible to a digital landscape that's constantly evolving.
Digital marketing tactics run the gamut:
Search Engine Optimization
Content Marketing
Whitepapers, eBooks, Webinars
Email Marketing
Landing Page Optimization
Marketing Automation
Public Relations
Full-Funnel Digital Strategy
How to Plan a Digital Marketing Strategy for 2021
Identify Your Digital Marketing Goals
The first step to creating a dynamic digital marketing strategy is to identify your goal. For example, do you want to increase sales, get more people to sign up for your webinars or conferences, or drive higher quality traffic to your website from our various branded channels or mentions? Sit down and think about what specifcally you want to accomplish with your marketing. Having a clearly defined and agreed-upon goal will help guide your digital marketing strategy, and having regular Google Analytics consulting will help ensure you're on the right path to achieving that goal.
Develop a Target Audience
Next, you need to know who you are targeting with your marketing. If you don't already know what type of buyers you're trying to attract, now is the time to decide. What are your key demographics? Do you know whom your products or services appeal to? Are they women or men, young or older, local or virtual? Remember that the best type of marketing seeks to fill a need. With that in mind, what are your customers' pain points, and how does your product or service alleviate that "pain"? What type of marketing messaging resonates with them? Are they more likely to respond to email marketing or social media posts?
Don't just assume that you know all the answers to these questions or that previous answers are still valid today. A good place to start is to look at your previous and current customers. Do you see a pattern? Are they mostly women? Mostly local? Mostly young? Go a step further and survey your customers. Ask them how they found your business and what they were searching for when they connected with you online. You'll likely find that you have more than one type of customer. If this is the case, you'll want to create a separate, personalized message and ad copy for each segment.
Evaluate Digital Marketing Channels & Platforms
The next thing you need to do in creating your new digital marketing strategy is to look at your current digital marketing channels. What digital marketing platforms and channels are you actively using? Is your website optimized and SEO-friendly? Ask yourself if you can stand to let go of some channels that are costing money with little return, or do you want to revamp the way you are using these channels in an effort to make them more effective?
Look at What's Working and What's Not Working
As you look at your existing marketing channels, you'll want to evaluate what's working best for you and what you need to change. Take a look at whether you're getting the most from each marketing channel. Are you leveraging them as much as you could? What else could you be doing to gain traction on your website or your social media pages? Lastly, if a particular marketing channel is costing you a lot of money with little or no results, it's probably time to make the decision to cut it from your budget and use that money in another area.
Look for New Digital Marketing Opportunities
As you evaluate your existing marketing efforts, look at your reports, and brainstorm about new ways you can use your existing marketing channels and new channels that might work well for you. Take a look at your competitor's marketing to see if anything they are doing might work for you also. Now is also the time to analyze whether you are making the most of your existing marketing channels. For example, are you using paid search? Are you using SEO best practices on all of your website and social media content? Have you explored less common marketing options, such as Amazon marketing, YouTube advertising, or programmatic marketing?
Choose Your Digital Marketing Methods
Once you have completed your research and your brainstorming, it's time to put together a list of tactics and marketing channels you want to leverage in your new digital marketing strategy. Prioritize which channels and tactics you want to spend the most time and money on and clearly define (in writing) your goals for each channel. This is the part of your marketing strategy that you'll want to spend the most time on because it will become your road map for implementing your plan as you go through 2021. This is the time to set up a timetable for your marketing and to divvy up the responsibilities for each channel. Be specific about who on your marketing team is going to be the point person for each channel.
Develop a Digital Marketing Budget
Of course, no marketing strategy is complete without talking about how much your plans are going to cost. You'll want to take the specific plan you developed in the last step and put a price tag on each of the channels. You don't want to be a spendthrift, but neither do you want to spend less than it takes for the marketing strategy in a particular channel to be successful. Think about where you want to spend the bulk of your budget. Is it on pay-per-click advertising? Email marketing? Or hiring a social media manager to write posts, respond to comments, and generally make the most of your social media presence?
As you're making your marketing budget, put a projected return on investment (ROI) on each item. That way, you'll be able to tell during the year and at the end of 2021 whether you've been successful. It's a good idea to set benchmarks throughout the year, such as at each quarter, so you'll be able to adjust your tactics and projections if you aren't hitting the initial goals.
Set Up Your Digital Marketing Process
Once you've completed your written digital marketing strategy, you want to confirm your goals with your marketing team. Ideally, your key employees have been helping you with your plan, but you want to make sure that everyone understands what's expected of them throughout 2021 and that they have the information they need to communicate the details of their part of the plan to the people who report to them.
In addition to the goals, you'll want to confirm your tactics and channels and make sure that your overall strategy is cohesive and consistent. If you are adding new channels, you'll want to set those up so they are ready to use when you need them.
Lastly, you'll want to set up regular check-in meetings for your team to analyze the results of your marketing strategy and to discuss what's working, the roadblocks you've encountered, and what needs some fine-tuning as you proceed. It's also a good idea to share financial results and ROI with your team to allow them to see how their results impact the company and its financial health as a whole.
Measure Your Results and Do Any Necessary Fine-Tuning
Finally, you need to set up ways to measure your results. Even the best digital marketing plan is worthless if you can't measure whether it's working or not. If you use Google Analytics for your reports, make sure that the system is set up properly to be able to give you the information you need to track your goals. You'll want to check the reporting before the year begins to make sure that Google is capturing the type of data you need to measure your marketing performance. To do this, make sure you have goal tracking in place along with marketing attribution and goal values setup.
You want to check your data regularly, but not so often that you spend more time on your data than on your marketing work. Weekly check-ins are ideal. Let the data, not your own "gut reactions" guide your actions. You aren't your customers, and you aren't likely interacting with everyone who purchases a product or service from your company. Share the data with your marketing team along with your suggestions on which actions are needed going forward. Use the data to back up your suggestions.
Creating a successful digital marketing strategy doesn't have to be scary or even extremely time-consuming. Just break down the process into easily managed steps (as we've outlined here), start early, and get your marketing team to share their ideas and insights, and you'll be set up for success in 2021.