It's an exciting time for SEO and digital marketing. Our work as marketers (and yes, that's what we are) has taken us to new levels of strategy and has forced us to use our creativity in ways never thought possible. We have entered a time in an industry that feels much like the Old West; a world of exploration at our fingertips by way of data and a vast number of resources available at every turn. It's a beautiful thing and it's time to dive in, taking full advantage.
But where do we start? First, it's no longer enough to increase organic traffic to your, or your customer's, website. Don't get me wrong, that's what you are getting paid for, but your job requires a lot more effort and creative thinking beyond simply traffic. You need to answer questions…
What happens once a user get lands on a site?
Where do they go?
Are they taking the actions you want them to take?
Do they leave?
These are just a few of the questions you need to have answers for, because without these answers or ways of tracking them, you are wandering aimlessly in the dark and probably not getting very far.
The Traditional Sales Funnel
We all know the sales funnel. It's the traditional layout for the way a customer moves through the sales process, ending in the hopeful sale, becoming a customer. If you have been living under a rock, here's what I mean:
Pretty straight forward. A user or prospect comes into the funnel, some magic, schmoozing, and other things happen, and bam - a new customer. Rinse and repeat. The issue with this model is that it's no longer sustainable. And while there is no definitive answer to new customer acquisition vs. customer retention given the complexities of customers, industry, and segments, it's thought to cost between 4 to 10 times more acquiring new customers.
That's pretty substantial. The scarier thing is that this traditional way of thinking is the way a lot of companies and agencies are still running - get the customer in the funnel, sell them, and get the next. This has to change.
This Isn't Your Grandpa's Marketing
There was a fantastic article written in May 2014 by Mark Bonchek and Cara France of the Harvard Business Review called Marketing Can No Longer Rely on the Funnel which my sentiments above echo. The issue is this: users don't just enter at the top of the funnel and step by step move through the funnel, it just doesn't work like that anymore.
Users and prospects are incredibly savvy, empowered, and well versed in research about the companies they will begin conversations with. Users now enter the funnel at any given point, expecting information to be readily available wherever they enter. If they don't find it at that moment, they will move onto the next company that will be prepared to handle their questions or concerns.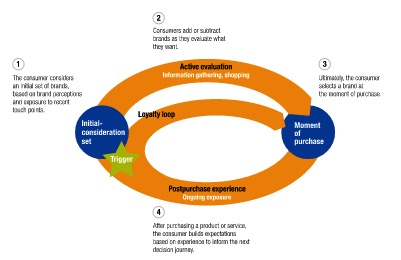 This new way of thought can be seen by Mckinsey's Consumer Decision Journey. Customers have a new level of expectations and will evaluate based on specific criteria based on their needs and their past experiences. It is now our job as digital marketers and strategists to ensure that users and customers are satisfied at any point of entry and beyond. Customers aren't just customers anymore, they are partner-based relationships where both the client and the company depend on each other to be honest and sustainable.
Keeping Users Engaged And Measuring Your Success
The same way we think about consumers moving through a cycle, we as marketers now have to think of our websites and online experience as a cycle. What does that mean? We need to be creating content that builds awareness of our brand, interest in our brand, consideration of our brand, action in our brand, and continued advocacy and loyalty of our brand.
So, what kind of content needs to be created within these areas? Here are my thoughts...
Awareness Phase
This is the stage where potential customers and users find out about your company and what you do. Content that falls within this category usually comes from:
Social platforms
Articles
Mentions
Email
SEO
PPC
PR
Metrics used to measure success of Awareness content and traffic:
Referrals
Landing pages
Time on site
Bounce rates
Next page(s)
Interest Phase
This is the stage where potential customers and users learn more about your company and what you have to offer them. Content that falls within this category ranges from:
About us
Biographies
Staff pages
Blog posts (depending on purpose of piece)
History pages
Metrics used to measure success of Interest content:
Pageviews
Time on site
Bounce rate
Next page(s)
Contact submissions
Lead submissions
Consideration Phase
This stage in the funnel is where potential customers differentiate your company & what you offer from other companies. This is where content expresses the benefits of going with your service. Content that falls within this category ranges from:
Webinars
Whitepapers
Case studies
Videos
How-to
Testimonials
Demos
Consultations
Metrics used to measure success of Consideration content:
Micro goals
Leads
Downloads
Form submissions
Next page(s)
Action Phase
Content within this phase of the content funnel is created to show your potential customers how your offers and services are not the best service, but the only. Content that falls into this category ranges from:
Product / service pages
Special offers pages
Promotion pages
Consultation pages
Contact Us pages
Offering downloads for information
Metrics used to measure success of Consideration content:
Macro goals
Revenue
Orders
Average order value
Assisted conversions
Advocacy Phase
In this phase, we are developing nurturing content to create community of customers that help advocate the company and its message. Properly tagging URLs for specific content like this will help us determine our success in distribution, and what channels are best accomplishing our goals with created content. Content that falls into this category ranges from:
Blog posts
Email marketing
Social posts
Testimonials
Updates to products
Videos
Customers using products Metrics used to measure success of Advocacy content:
Shares
Open rates
Next page(s)
New customers
Returning customers
Time on site
Lead submissions
So, What Changes?
Actually, a lot, and this is where our jobs start to get exciting. We are now empowered to get more involved in different aspects of the digital landscape and able to optimize multiple areas to boost metrics listed above. From content creation & distribution, web development, social media, conversion rate optimization, design, using paid search to help gauge keyword/query success, and beyond, digital marketers and SEOs are now responsible to ensure engagement and user experience metrics are performing to the best of their capabilities.
At Marcel Digital, we call this Website Optimization, and you can read more about it in a blog post from our CEO Ben Swartz called You've Never Heard of Website Optimization, But You Will. The point is this - from an SEO standpoint, search engines and their crawlers are becoming ridiculously smart about not only the words on a page, but how the page is laid out, how users interact with your content, the topics that are related to your domain and content, and if a brand is engaging on social platforms.
It's all about engagement and user experience, and because of this, it allows us to have our hands in a lot of different services. That alone should excite you beyond belief. We are now able to build, promote, and market a website that creates a riveting experience to its target audience and sends positive signals to search engines.
Next Steps?
Learn and don't stop learning. Collaborate, and don't stop collaborating. Ask questions, and don't stop asking questions. If you have a passion in digital marketing, run with it. The beauty about digital marketing is that no one has nailed it down quite yet. The internet is still young and growing, changing every day.
We need to be experimenting more, and not be afraid to fail. Don't read the constant onslaught of click-bait articles claiming that SEO is dead and you should be fearing for your job. It's not dead, it just got a much-needed facelift; giving you a lot of opportunities to expand your knowledge and capabilities. Be grateful and dive in headfirst. You've got nothing to lose, trust me.
Some Resources To Help You Get Started: