You have many goals for your website, but more than likely the two main goals include informing your target audiences about your business or services and driving more revenue or leads through your website to move your business forward. But most of the time, website owners and marketers aren't aware of the tools and resources available to them to make that happen, or they have so many of those tools and resources installed on their website that they lose ability to track and enhance performance.
With Umbraco, the world's #1 Microsoft open source CMS, you'll be able to cut out unnecessary tools and tasks to focus on driving more traffic to your website, enticing that traffic to convert at a more effective rate, and testing different marketing methods and layouts to increase the user experience and profitability of your website.
Below, our team of Umbraco developers put together 4 ways to help you get started - today!
Create Better Content
By now, you've probably read "you need to be creating more and more content" enough times to see it when you close your eyes, but it can't be understated. Creating content that speaks directly to your target audiences, both informing and engaging them in the process, will not only help strengthen your brand in their minds, but it will also provide them with information they need to ultimately take action on your website.
Content is anything on your website that provides information to your website visitors. Content can be anything from blog content to service pages, videos to images, or ebooks to whitepapers. Creating content that is relevant to your user's needs, provides information to fulfill that need, or how your offerings fulfill that need, as well as provides next steps or actions for them to take is considered the best kind of kind of content.
With Umbraco, creating, updating, and editing content is easier. Not only is the Umbraco rich text editing interface user intuitive and easy to use, but you'll able to create and categorize content with a few clicks. Umbraco uses the tree menu, which looks like this in the Umbraco backend…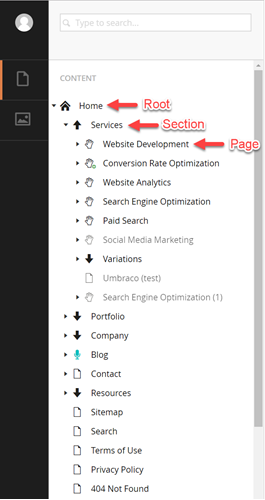 As you can see, your website is broken down by a root, a section, and an individual page. Using this system, you can quickly and easily click when you want certain sections or pages of your website to live, creating a clean and easy to follow architecture for your users…
This translates to your website via your website's root domain and navigation. When you're creating relevant content and laying it out in an intuitive fashion via your website's navigation, users are more likely to convert and take action. Anything less will only lead to a difficult to follow navigation, creating a bad user experience, and ultimately, less leads and revenue through your website..
Constantly Test Content / Calls To Action
In that same vein, make sure that you're testing your website's content, layout, and calls to action (where a user takes an action like filling out a form, downloading a piece of content, contacting your business, or makes a purchase). Unfortunately, many marketers and website owners focus so much of their time, efforts, and budget on driving more traffic to their website, with the assumption being that more traffic will result in more conversions. While, in some cases, this could be true, no more of that traffic will convert if the website's content or conversion points aren't relevant or speaking to your users.
That's where website testing comes in, otherwise known as Conversion Rate Optimization (CRO). Conversion Rate Optimization is the continual evaluation and optimization of your website's lead or sales funnel. Conversion Rate Optimization services are meant to increase the overall percentage of users converting on your website by identifying and removing the obstacles keeping them from taking a particular action. There could be a multiple number of reasons your website isn't converting, from design to content, to broken pages or more, but it's important you let data guide you.
While Umbraco offers numerous analytics solutions, but we prefer Google Analytics as a Google Analytics Certified Partner, as it will give you the most solid foundation to your website's overall performance. From there, you can add other tools for heat and click maps, as well as user videos and surveys, like Hotjar to get more visual insights. This is a tool we use in house as a Founding Member of Hotjar. To get an idea of the types of visuals available to you, here is an example of a clickmap, or where users clicked most on your website...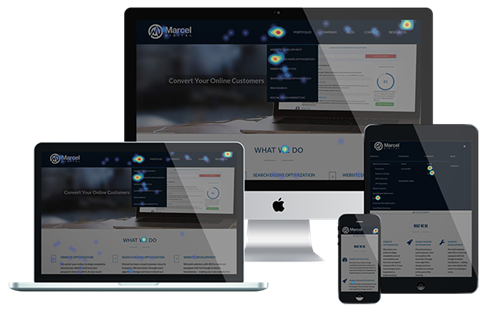 Heatmaps, or where the user's mouse is going on the page...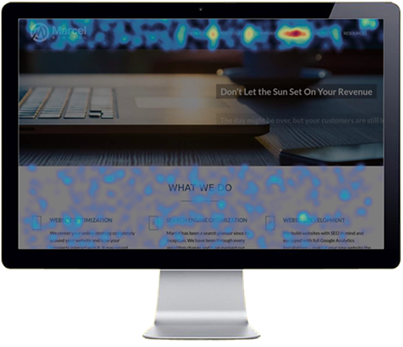 User videos, where you can watch exactly how users are navigating your website...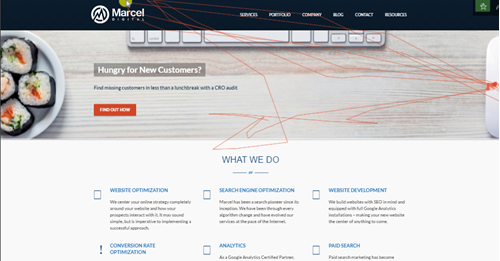 And there are a ton more. Leveraging these visuals will help you go beyond the numbers and metrics in Google Analytics and give you invaluable data on how users are navigating and engaging your website in the most direct way possible.
From here, you'll want to analyze all of this data to get full scope of how users are actually using your website. Based on data, you can develop a hypothesis on what might be stopping your users from converting, and what would alleviate this pain point. You can then test this hypothesis by putting it up against your current website and test which will perform better by sending equal amounts of traffic to that page.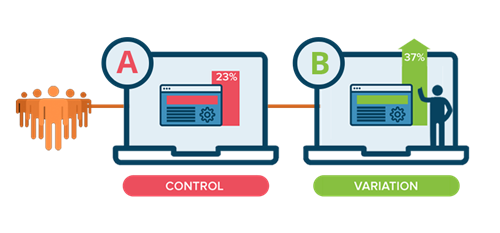 As you can see in this example, layout B performs better, so you would now make this the layout of the page in question. You continue this process through a prioritized testing plan that focuses on important pages and conversion points of your website. Umbraco has a great package called uSplit which can get you started on website testing, otherwise there are more expensive options via Optimizely or Visual Website Optimizer.
But remember, Conversion Rate Optimization is a long-term marketing practice, so even if your website is a conversion rate is decent, you should be continually analyzing your data and creating hypotheses to boost your conversion rate, testing and tweaking in the process. This is one of the only ways to ensure that you continue to have a great user experience that results in more website engagement and conversions.
Utilize Packages Or Tools That You Actually Need
One of the best aspects of the Umbraco CMS? Almost any and every piece of software or business tool you use can be integrated with it - that means that any tool you rely on to run your business can be used with the Umbraco CMS with no limitations. Not only that, Umbraco and the Umbraco developer community provides you with (literally) thousands of Umbraco packages ranging from CRM to SEO packages, eCommerce packages and more!
Like with any website, you need to make sure that you're leveraging tools that benefit your website and move your business forward. To do so, simply:
Discuss and finalize your marketing goals (Is it sales? Leads? Testing? User experience?)
Review options and packages available to you
Consult your development team
Install your Umbraco package or business tools
Train your marketing teams
Taking a step back and going through this process with your marketing and development team will help you better understand what tools you need and how those tools will be monitored and maintained moving forward. It will also help your team get a better layout of what tools you're currently using on your website and if they are necessary or not. Make sure that you assess tools on a regular basis to make sure you're not overwhelming your team or your budget!
Take Advantage Of The Umbraco Community
We can't stress this point enough - if you're an Umbraco website owner and need assistance in any way, shape, or form, from development to marketing, the Umbraco community has got you covered. There's an extensive Umbraco Certified Partners (we're an Umbraco Gold Partner!) community across the globe, filled with Certified Developers and Masters to help you get the most out of the Umbraco CMS and it's capabilities for all your development and marketing needs.
Not only that, Umbraco HQ offers numerous training solutions to help you fully understand your Umbraco CMS website and how you can enhance both your and your user's experience. Have any questions that you need answered right now? Go ahead and send us a message! We'd be happy to help where we can!
Conclusion
While this particular blog post is geared to Umbraco CMS users, the rules and best practices still apply globally. Understanding your exact business needs along with your user's needs will help you better and more effectively build and maintain a comprehensive marketing plan that focuses on attracting, engaging, and converting your most coveted audiences. Make sure that you are properly assessing your business and marketing goals, focus on your user's needs, provide a stellar user experience via your content and website design, and install tools and packages that are helping you monitor overall performance. Again, going through this process is the only way that you can ensure you're boosting the profitability of your website, Umbraco or otherwise.