The Umbraco CMS is already a very powerful tool you can use to customize your site or application. But how do you know you are getting the most out of it? Did you know that there are some simple Umbraco packages (plugins) out there that can supercharge your site quickly and easily? Packages that could quite possibly change the way you view your website? Even possibly change your life?
Fear not. If you've got serious FOMO, we've got the answers. Here are eight Umbraco packages to get you started on the path to awesomeness.
LeBlender
By now, you should be familiar with Umbraco's Grid Editor. It's a great way to quickly and easily create and implement layouts for web pages. LeBlender powers up the Grid Editor by allowing developers to quickly create, remove, order, and extend editors in the Grid Layout. It also helps content managers get the options they need to create amazing web pages utilizing the Grid Layout without having to write a single line of code.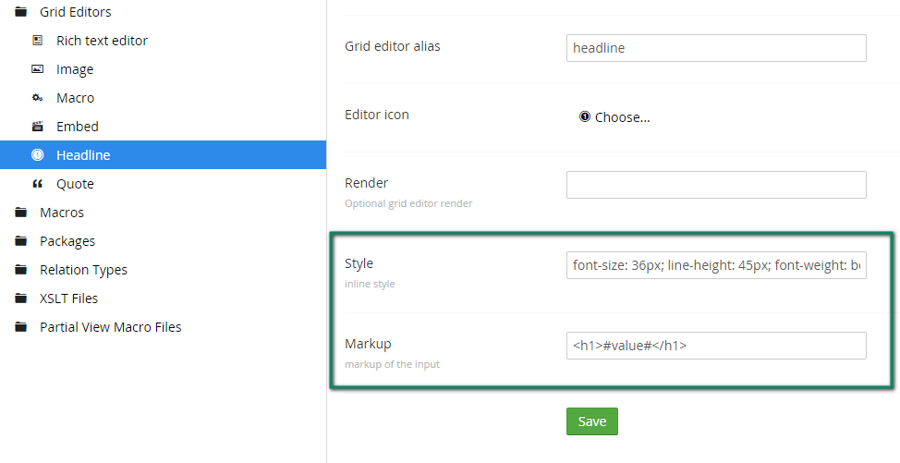 It's great for creating sliders, carousels, and new tabs (among other applications.) You can also see your changes in-line on the grid editor which traditionally only shows the content elements and not necessarily a true layout of what the page will look like with actual content.
Here's a quick video snapshot from the creator, Lecoati:
LeBlender is a great way to take an already great editing solution and make it even greater. Plus, it has a sweet name that's fun to say out loud. Try it.
Nested Content
On Umbraco 7+ (let's be honest, you should be upgraded by now the new versions are way better), Nested Content is a list editing property editor that creates a simple-to-use UI that allows you to quickly add and edit more complex data in the Grid by re-using doctypes. It removes some of the limitations of the Grid by allowing you to handle more complex data within your Grid elements. Especially if you are creating similar items in the Grid and you want your editing to be simple. I'm not sure why you would want your editing to be difficult. But hey, everybody's different!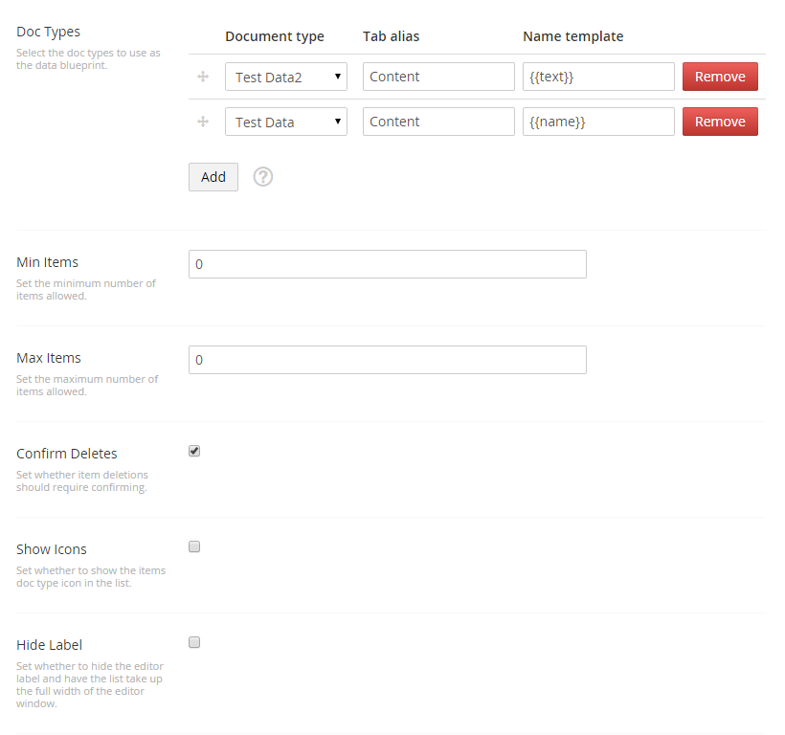 The nice thing about Nested Content (one of them anyways) is it decreases the need to utilize the Macro Grid editor as much to create custom fields for each type of information that you have to add.
uSplit
One of the best things you can do for any website is test landing pages. You never know how users are going to interact with your site, so why not test different layouts and experiences to ensure that you are continually improving your site? For most, the answer is "because I don't know how to do it right."
The truth is, the whole concept of testing can be hard. While there are many tools that have made it easier, it can still seem like a difficult task. For Umbraco, that's where uSplit comes in.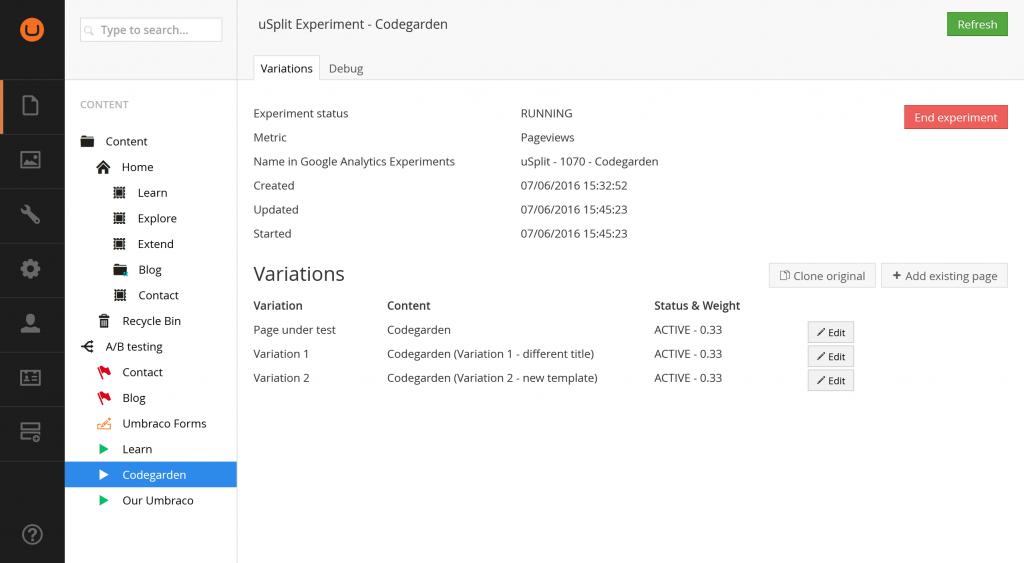 uSplit allows you to easily create tests directly in Umbraco without having to utilize another tool. It will even directly feed the data from the test to your Google Analytics so all you have to do is set it up and look at your data to see the results.
While most testing software requires you to pay a monthly subscription, this package is available to all Umbraco users for free. That way you can spend more money on things that matter. Like beer. Or cheese. Or beer AND cheese.
uSync
uSync keeps your site in sync. Not NSYNC (which we here at Marcel are hoping will make a comeback), but IN sync. Yes, uSync is a synchronization tool for Umbraco that saves information and settings to a disk so you can easily copy and move your Umbraco site between servers.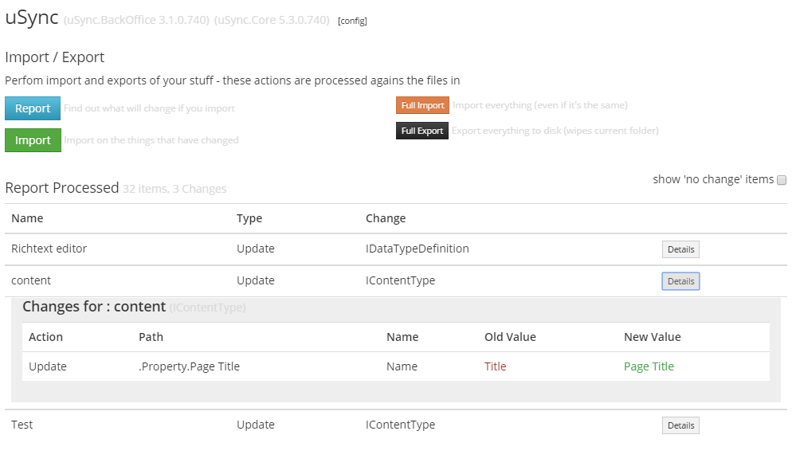 It will save:
Document Types
Data Types
Media Types
Templates
Macros
Languages
Dictionary Items
Member Types (disabled by default)
And for all you non-technical folks out there (like myself), it basically keeps you from pulling your hair out should you have to work on multiple machines or transfer a site. Doing it any other way is just archaic.
nuPickers
nuPickers is a collection of new Property Editors for Umbraco 7+. It allows you to quickly create Editors using predefined values without having to recreate the wheel each time. This could be a checkbox picker, radio button picker, dropdown, or others that can utilize any of the following data sources:
DotNet
Enum
JSON
Lucene
Relations
SQL
XML

It's great for building out Property Editors quickly and easily, giving you more flexibility with the combination of Editors and data sources.
Umbraco XML Sitemap
At Marcel Digital, our in-house team of Umbraco Masters and Professionals have collaborated to create packages benefiting the entire Umbraco community! For instance, we developed a package called Umbraco XML Sitemap that takes an inventory of the URLs on your website, compiles them in an XML format (here's ours as an example) and gives them to search engines (with your help) so they know what pages live on your website and can rank them in relevant searches. This is the best way to notify search engines of new and existing content on your website, because it tells search engines directly what's on your website, instead of them having to find it!
SEO Starter Kit
As a premier SEO agency, our Umbraco Masters and Moz Oracles worked together to create a package for Umbraco that would help the community to quickly create SEO friendly websites. The package is called SEO Starter Kit and it helps content marketers and site owners add SEO elements to existing and new website documents.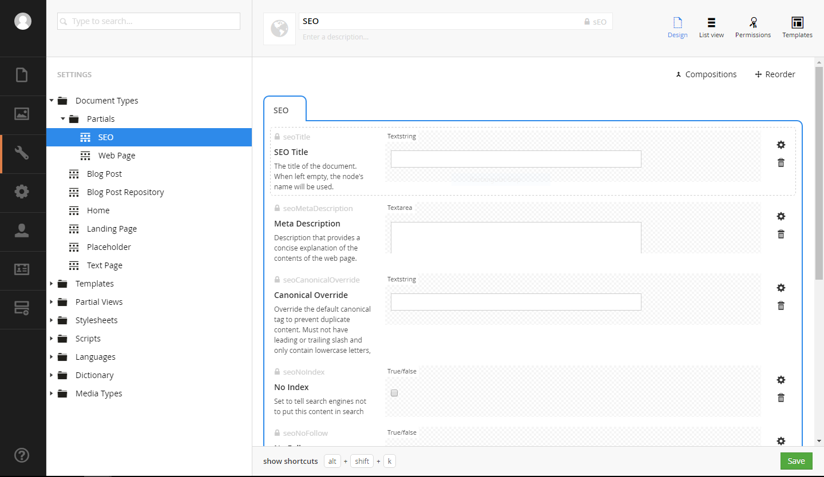 With the SEO Starter Kit, you'll be able to create and update:
Page titles
Meta description
Canonical tags
Robots tags
Sitemap XML inclusion
The SEO Starter Kit package for Umbraco makes SEO quick, simple, easy, and you can take comfort knowing that it's cocreated by our leading and industry-recognized SEO experts.
AMP for Umbraco
Last up is another package we created called AMP for Umbraco. Search engines have put a lot of effort into ranking websites based on quality and authority, but since 2014, they've also been focused on another factor – a website's mobile experience. The Google AMP (Accelerated Mobile Pages) project ensures that websites:
Load content quickly for mobile
Rendering all content / page elements correctly for screen size
Prioritize resource loading
And more. By taking the time to install this code on your website, you can ensure you're providing a fast and valuable mobile experience for searchers landing on your website from their smartphone and tablet devices. Remember, Google and other search engines now use mobile experience as a ranking factor, so it's important you get on board to help maintain and increase your mobile organic visibility!
Now Start Installing!
These are just a few of the many great packages that Umbraco has to offer to make your site a more efficient, more amazing, more incredible, powerhouse of awesomeness. Of course, keep your eyes open for the latest and greatest because there are always great packages being released. Now, enjoy your newly enhanced Umbraco website!