The Umbraco CMS offers numerous features, packages, and customization capabilities to help the everyday marketer increase user engagement and boost conversions over time. At Marcel Digital, we've found that the main reason some Umbraco websites struggle to convert is because most marketing users are unaware of the powerful tools available to them to help increase their conversions, such as sales and leads. The truth is, when marketers leverage these tools, it takes Umbraco from being an already fantastic CMS to a fully-fledged conversion machine.
To help remedy this issue, I spoke with our in-house expert in Umbraco web development, Alex Vilmur, and together we created a list of five ways that you can boost conversions on your Umbraco website.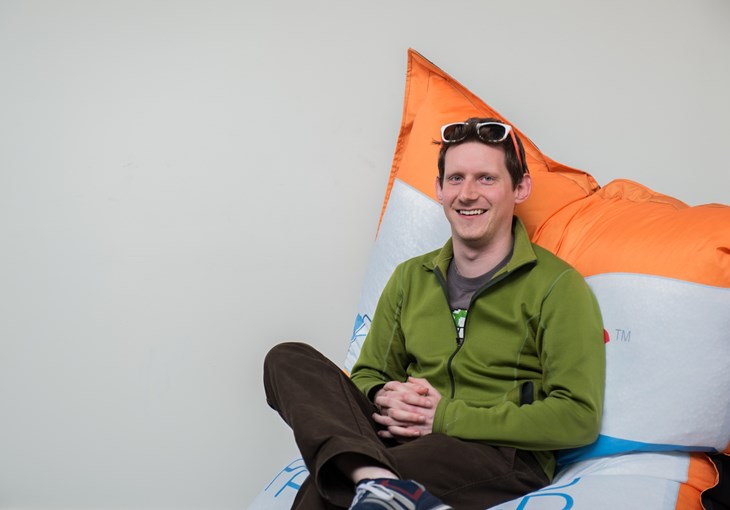 Build the Perfect Layout
A huge draw to the Umbraco CMS is that it's open source, meaning it's flexible to your branding guidelines, customizable to your business needs, and also scalable. So as your business grows, Umbraco grows with you. One way Umbraco does this is through the often underutilized feature called the grid editor, a simple drag-and-drop page editor that helps content loaders create structured and uniformed layouts to content and webpages.
To explain, think of a newspaper. The way a newspaper is laid out is like that of a grid to move the reader across and down the page in a prioritized manner: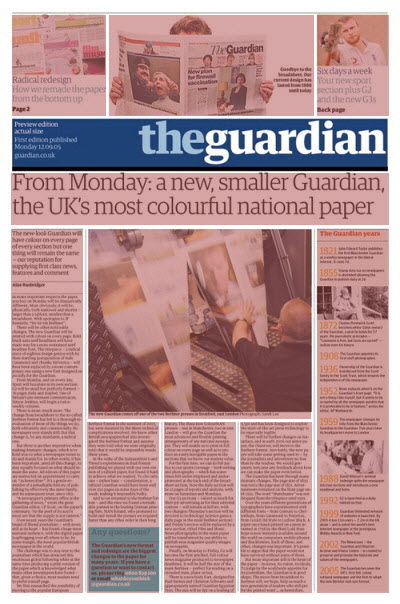 The grid editor in Umbraco CMS allows you to create the same types of layouts. Here's an example of a web design using the grid layout: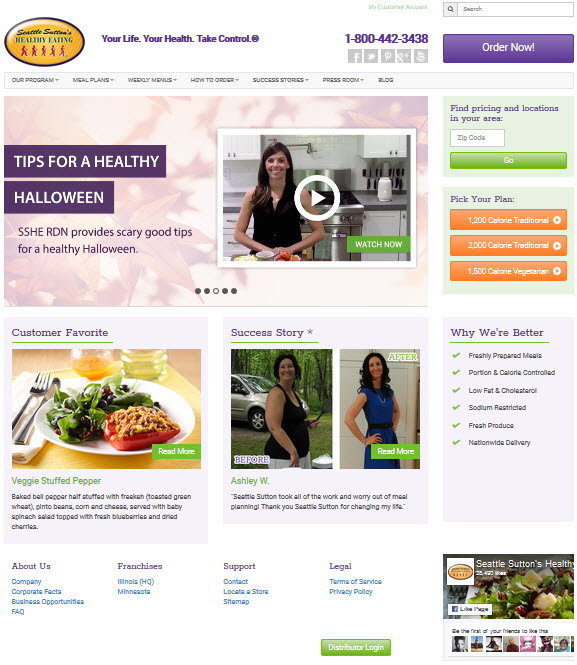 The grid editor is a feature that's available to content loaders in the backend of the CMS. When you go to create a new page, you'll be able to choose how you want your content to layout to the user: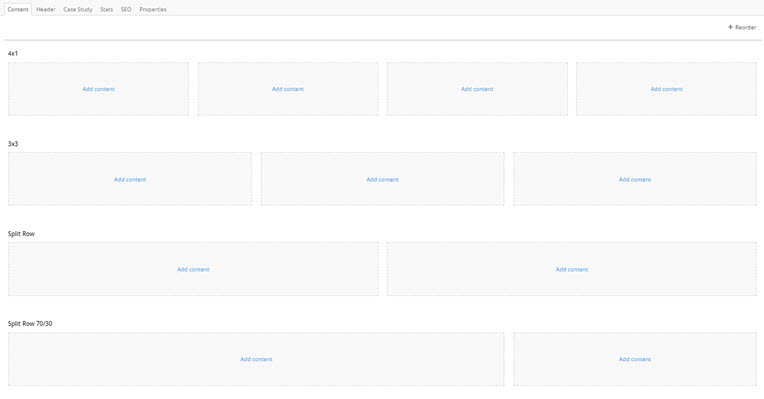 This is an important Umbraco CMS feature for any content editor or marketer that has an Umbraco website to leverage because it helps you lay your web pages out in a prioritized and easy to follow manner. This means you'll be able to put your website's calls to action, forms, and important information in a logical flow that will capture the user's attention. The information is laid out in a structured format that we are used to seeing and engaging with. This not only makes your site easier to use and navigate, but it removes obstacles and builds the user's confidence in taking action.
Another bonus of the grid editor and layout is that web pages will render properly on different devices, such as smartphones and tablets. Having your web page laid out in a mobile friendly fashion will help increase organic visibility as well because Google and other search engines now use it as ranking factor.
Leverage SEO Packages
The Umbraco CMS offers numerous packages (plugins) from certified Umbraco community web developers that help make the CMS more customizable and efficient to suit your business needs. For instance, you can utilize packages that:
Find errors or broken pages
Share content on social media
Manage translated content
Validate form submissions
Optimize your images and other media
And much more. But one of our favorite packages in particular (shameless plug) helps boost conversions by driving more qualified traffic to websites from search engines. That package is the SEO Starter Kit created by our in-house Umbraco Masters. The SEO Starter Kit allows you to optimize content in the Umbraco CMS more to boost organic visibility for your content and website for relevant searches.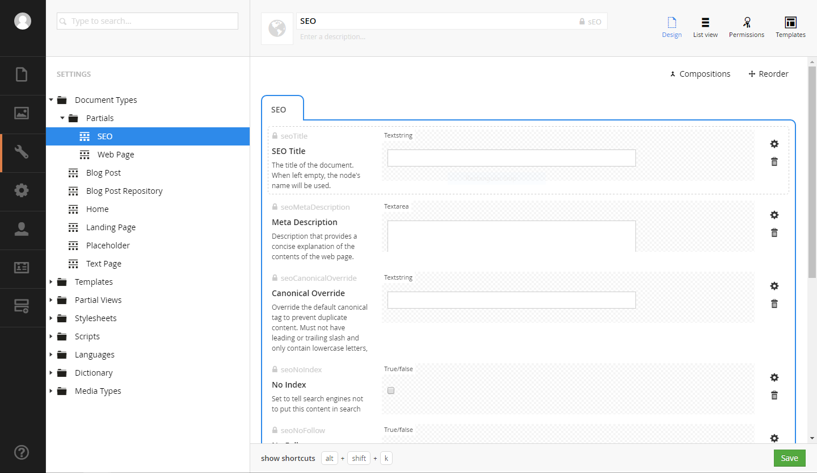 You'll be able to:
Create / edit page title tags
Create canonical tags
Index or deindex content (especially helpful for gated content!)
Update meta descriptions
Add pages to your sitemap XML
And more!
When you drive more qualified and targeted traffic to your website from search engines, you'll begin to see your audience engage more with the content they see on your site and also increase your conversions in the process.
Test Your Content and Calls to Action
As marketers, we tend to start making changes to our website and content if we notice that users aren't converting or engaging. This is understandable as we want to make sure that our website is performing at all times and that we are capturing as many leads or sales as we can from our marketing efforts. But it's important that before we make changes to our website or content, we properly test those changes to ensure they will convert or engage our users at a higher level than our current designs or layouts.
Umbraco CMS makes it possible through uSplit, an A/B testing package that allows Umbraco users to easily create design variations of web pages and test them against their current web page layouts to see which performs better. This is a sure way to see if your proposed changes will result in more conversions.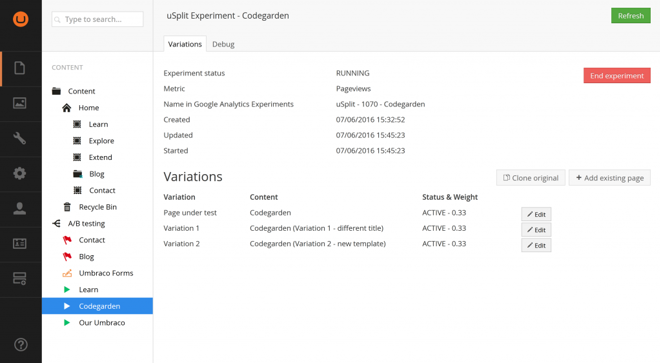 But wait! Umbraco easily integrates outside tools as well, so no matter what testing tool or software you want to use, you can integrate it into your website. This way you can start testing your proposed changes right away and watch that conversion rate climb!
Optimize Your Page Speed
As digital marketing and websites become more in tune with user experience and behavior, it's important that we focus more and more on optimizing our websites for quick website load times. This is also important to Google and other search engines, as they expect websites to load quickly on both desktop and mobile and are actually starting to cater their algorithms to reward sites with faster load times.
Consider these statistics from Google:
A 1 second delay in page response results in a 7% reduction in conversions
A 1 second delay decreases customer satisfaction by about 16%
A 1 second delay can result in a 2.1% decrease in cart size
53% abandon a website that takes more than 3 seconds to load
Regularly checking your Google Analytics to look at SiteSpeed metrics will help you pinpoint pages with slow loading times and prioritize pages that need to be fixed first. For instance, you'll want to focus on important pages that user's interact with most, such as your homepage, service or product pages, and your checkout or conversion based pages.
Some areas to consider on your site to reduce load times:
Reducing server response times
Enable compression
Enable browser caching
Minify resources (JS / CSS / HTML)
Prioritize above the fold content
The Umbraco community offers numerous resources and documentation to help alleviate speed issues on your website through their forums. There is also a great resource from KeyMan you can pass along to your web development team to help them implement changes on your website to speed up load times and keep users converting on your website.
Optimize Your Form Length
There's a common misconception that having shorter forms are the best way to increase conversions on your website. While this may be true in some cases, it's not always the best way to go. A better rule to follow is to consider what you are offering, what information you absolutely need, and what information a prospect or lead is most likely to give in exchange for that offer.
While by no means the only option available for form creation, Umbraco Forms allows marketers to easily and quickly create or update forms on their website within the Umbraco CMS. Not only can you create a form that is the optimal length for users, but you can also create different validation or conditions for your forms. Depending on how a user answers a question on a form, the next question or form they see will populate based on previous answers. This means that instead of 100 questions out of the gate, you can ask sets of questions over time as to not overwhelm or scare off the user and still get the information you need.
Again, depending on the form or marketing automation platform you use, Umbraco easily integrates with various tools to help you collect user information. Whether it's Salesforce, Act-On, Marketo, HubSpot, or everything in between, Umbraco can be paired with virtually any platform or CRM to help you collect and score leads more efficiently and effectively.
Conclusion
Umbraco CMS is a highly effective platform to help marketers boost conversions. When it's built and customized to use the tools available to you, Umbraco can help you create a user-focused experience that continually moves them through the website and more efficiently leads them to convert.
Our recommendation is to sit down and discuss the above tips with your team to see how you can best utilize Umbraco CMS features to increase your overall user engagement and boost conversions in the process. Over time, you'll begin to see your website metrics increase as well as get a clearer picture of how your marketing efforts are performing and how best to adjust them as you move forward.