When it's time to choose a CMS for your new website or website migration, it's best to seek control, stability, and versatility with your CMS platform. You'll want to give your designers the piece of mind to create a branded experience that your visitors will love, your developers a foundation to build a beautiful and engaging website, and your content marketers the back-end interface to effortlessly update and manage content on your website.
At Marcel Digital, we choose the Umbraco CMS for our web development and content marketing needs. Not only does Umbraco give us the customization capabilities needed to bring our client's websites to life, but it also requires minimal training for our clients to take the reigns and maintain from both a content management and development standpoint.
We love Umbraco CMS, and we think you will too. Here are 5 reasons why...
Ease of Use
The Umbraco CMS makes it easy to edit and content manage your website. There's no need for technical knowledge or abilities here, the Umbraco CMS is user-intuitive for non-developers and non-designers alike, meaning your marketing team spends less time learning how to use Umbraco CMS and spends more time doing what it does best: creating a killer branded user experience for your customers and visitors.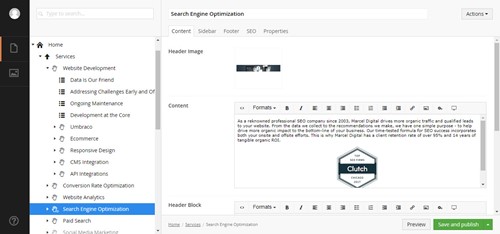 Umbraco CMS makes it easy to quickly update:
Content
Page titles
URLs
Publish/unpublish dates
Navigation
Web media (images / video / audio)
And more with just a few easy clicks! Log in, create or find the page you wish to edit, and start building your vision - it's that simple!
It's Completely Customizable
Whether you have a full web development and web design team on your side or are designing a website entirely on your own from scratch, Umbraco is able to fulfill all of your custom branding and design needs. Umbraco is open-sourced, meaning the source code of Umbraco is available to your web development team to modify so they can create the brand, content, and functionality experience your website requires.
Don't have a web development or design team? Not a problem at all! Umbraco offers numerous themes and skins to choose from so you can pick a template that suits your needs and dive right into editing. This eliminates the need to hire a designer and web developer, getting your website up and running with limited resources, fast.
Create A Stellar Experience For All Devices
More than 80% of internet users own a smartphone and 83% of mobile users say that a seamless web experience across multiple devices is very important to them. These numbers are so telling that in 2015 Google made mobile-friendliness a ranking factor, requiring all websites to maintain an optimized mobile experience in order to keep their mobile rankings and organic visibility.
The preferred design for both Google and users is called responsive design. Responsive design allows you to change elements on your page to respond to different screen sizes, changing the layout of the page based on the device the user happens to be using. Here's an example...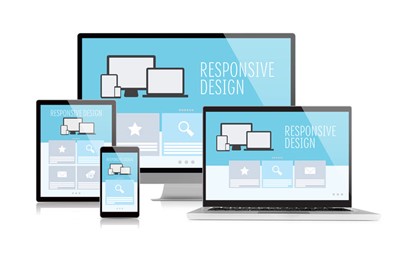 With Umbraco CMS, responsive design is baked into the platform, so your website's content is able to be rendered and function across multiple devices. Umbraco CMS makes this possible by way of the grid editor, a drag and drop editing experience that puts mobile-first websites in the hands of content editors. With Umbraco CMS, there's never a need to develop a separate mobile website because the grid editor tailors the content to the user's device. Allowing content editors to instrument layout changes in a standard way ensures your website meets Google's best practices, and most importantly, your audience's expectations!
Get Unrivaled Support
It doesn't matter if you're a web developer or a content marketer, Umbraco's developer community and support library is second to none, and growing daily! From user videos and forums to step-by-step tutorials, Umbraco offers second to none support and education to help your team get the most out of the platform.
In need of personalized help and support? Not a problem! Marcel Digital is a Umbraco Certified Gold Partner, with Umbraco Masters and Professionals on staff, meaning we are set up and staffed to handle all Umbraco development, maintenance, and back-end CMS training needs, AND we are also a Contributing Partner. We also host the Umbraco US Festival here in the United States (the only one in the US) and attend Codegarden every year in Denmark.
True Scalability, Umbraco Grows As Your Grow
The goal of any business is to grow. You're always on the lookout to grow your new customer base and to grow the relationship you have with current customers. Chances are you're going to grow your product or service offerings, or expand features and benefits of current products or services. Whatever "growth" looks like to you and your business, Umbraco CMS can scale with you. From the smallest brochure to full-scale enterprise level websites, Umbraco CMS can do it all, which means you'll never have to switch to a new CMS to create the website experience you need and want. Once you have Umbraco CMS, you'll never need another CMS.
Ready to Talk to the Umbraco CMS Experts?
Not only is Marcel Digital an Umbraco Certified Gold Partner, our web developers are Umbraco Certified Masters and Professionals, meaning from the development process to ongoing support for the Umbraco CMS, we are with you every step of the way! Feel free to reach out to us today for any questions you may have! We're standing by and look forward to hearing from you!