Unless you've been living under a digital rock for the past few years, you know that local search engine optimization (or local SEO) is an essential element to a business' overall digital plan and marketing strategy. Local businesses within communities and large businesses that operate in various localities require an online presence through which they can connect with their customer base and be found online by potential customers.
This reality is in the numbers. Of the 100 billion global searches on Google each month, 4 billion desktop queries have local intent - just in the United States alone. About 15% - 20% of all searches are done on mobile devices (e.g. smartphones, tablets) and over 50% of those mobile queries have local intent.
Additionally, 78% of local-mobile searches result in offline (in-store) purchases. If we do the math, that's roughly 234 million purchases on which your company is potentially missing out. I know the math is not actually that simple. Traditional marketing influencers such as industry vertical, competition, brand recognition, and economic factors like supply and demand also affect conversions. However, the point is clear: A business can gain a lot from a well thought out local SEO plan.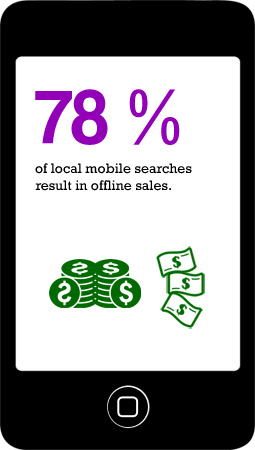 Local SEO best practices can be divided into three sections:
Research
On-Site
Off-site
I decided to break out each section below to show you how all of these can have an effect on your local SEO.
Local SEO Research
The foundation of any good local SEO plan is understanding how users online are searching for the types of products your company offers. Keyword research tools like keywordtool.io and ubersuggest are free tools that can provide insight into the particular vernacular searchers are using when looking for the types of goods your company offers.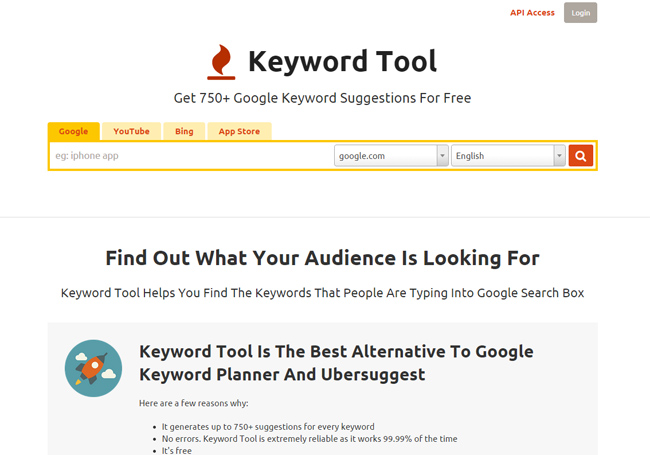 For those who have a Google AdWords account, the Keyword Planner can take your research even one step further with the ability to research search queries by specific Neilson® DMA® regions and languages. This insight becomes the driving component of your local SEO strategy, plan, and tactics.
On-Site Local SEO
The next step is to take what is discovered during the research phase and apply it to your website. Your website is the base from which your SEO stems for both traditional organic and local. In addition to traditional optimization, there are a few key search engine optimization elements that need to be in place in order to have a strong base for local SEO.
Local SEO On-Site Best Practices
Include company name and business contact information in your site footer

Have an About Us page or a Location page that also includes your business address and an embedded map with directions like Google Maps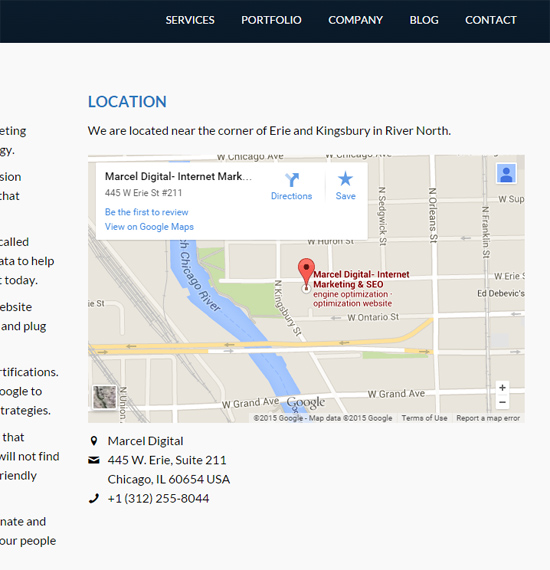 Use schema.org structured data markup to wrap the address and company information found in the source code for your Footer and Location pages. Structured data helps search engines better understand the content within a web page. Other structured data markup include microdata, microformats, and RDFa. However, schema.org markup is the recommended standard by Google, Bing, and Yahoo.
Choose a business Name, Address, Phone number, and Website (NAPW) standard. If you have a LLC or an Inc. in your business name you must choose how your wish your business name to appear in searches. You will need to decide if you will abbreviate elements of the street address or if you will use parenthesis in the phone number or http:// and www in the website address.
Business Name LLC
1234 West First Avenue
City, State 12345
(312) 123-4567
www.businessdomain.com
Once you choose an NAPW standard be consistent every time the NAPW is used on your site and on all other sites whenever possible. It might seem like a small thing, but consistency across all citations (instances) of your NAPW on yours and on other sites helps search engines identify them as referencing the same business and match each citation to your business.
Focus on Mobile
The second part of on-site local SEO is the mobile aspect. Having a mobile-friendly site can play a large role in your site's local presence. As it was mentioned earlier, Mobile search represents 15-20% of all searches in the United States. Of those mobile searches, 50% have local intent and 78% of local intent mobile searches result in an offline purchase. The mobile-friendliness of a site is considered to be a ranking factor for both mobile and desktop search results.
There are two main ways a site can be mobile-friendly:
The first option is to create a responsive website design. This option would allow you to have one site that adjusts its size and scale according to the user's device. It can require additional web development costs or a completely new site and design upfront. In the long term, one site is easier to manage. A single site also reduces duplicate content concerns and other technical SEO headaches. Search engines like Google prefer sites to be a responsive design. You can learn more about mobile-optimization here.
The second is to have a separate m.businessdomain.com site that mirrors your main site. It's relatively easy to implement and you can have mobile-specific content. But it requires the management of two separate sites and is costly to maintain on an on-going basis.
Off-Site
Off-page SEO refers to citations and business listings that live on review sites, local directories, niche or industry specific directories, and other sites that may make mention of your business. These off-site citations legitimize your business in the eyes of search engines and help them to understand your business as an entity.
Local SEO Off-Site Best Practices


Find All Of Your Listings
The first step is to identify and verify any previously created listings and remove or merge duplicates. Online publishers like Yelp and Facebook often allow for user-generated listings if an official listing has not yet been created.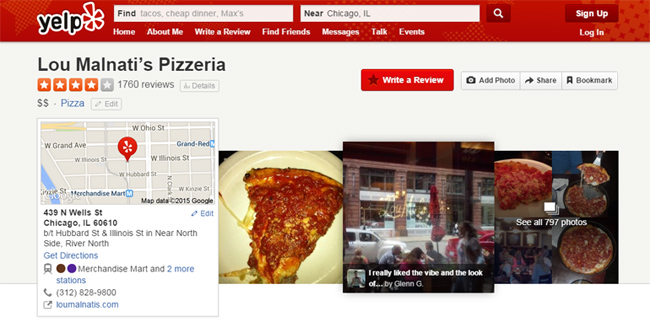 It is common to find these listings with inaccurate and outdated information. Finding, building, and then managing these listings can be daunting and rather time consuming. Your digital agency partner or local business services like Neustar's Localeze, Factual, Infogroup, Yext, and Moz Local can help with this as well as with the on-going management and optimization of your local listings.
Optimize Your Listings
Next is to create, optimize, and then manage business listings on local directory publishers and social review sites where your site is not yet been listed. Hundreds exist on the web, but I would start with these industry accepted go-tos:
Google My Business (Google+ for businesses)
Foursquare
Facebook
Yelp
Superpages
Yellowpages.com
Citysearch
Best of the Web
Add to this list any respected and well-known industry directories or niche directories, the Better Business Bureau, and local chambers of commerce for the areas in which your business operates.
It's important to fully unlock each listing's potential by optimizing them with accurate information and utilize all of the available fields for your NAPW, business description, business categories, store hours, products or services offered, and images. Each directory or social review site will also have its own set of guidelines and best practices to follow.
Leverage Customer Reviews
Lastly, many of these sites have sections for customer reviews. Reviews (both good and bad) add substance to your company's online presence further establishing it as a legitimate entity and as a local business. Commenting or replying to specific comments can overlap with online reputation management and customer service, however, many of these review sites double as social platforms (e.g. Yelp, G+, and Facebook). Customer engagement and company dialogue can positively influence your local SEO performance when done right.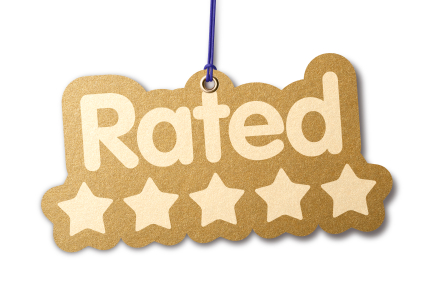 Local SEO has become an essential part of company's digital marketing strategy. It requires research, strategy, and crosses multiple digital outlets. Online users are searching for area businesses at home and on the go, many of which result in purchases. The tips included above can help you maximize your company's potential to be a powerhouse local business in sales and on the Web.
sources: Moz Local, Search Engine Land