Last week on February 16 2023, Marcel Digital employees assembled in person for a day of internal strategy, workshops, and fun. It was great to connect with everyone in downtown Chicago, but the day also helped inform us of our aligned plans and goals for the year ahead. There's a host of materials we covered during the Playbook Meetings and we're excited to share some of that with our network of clients and friends. Keep reading for more!
Umbraco Gold Partner 10 Year Anniversary
First off, we wanted to use this moment to celebrate and reflect on our 10 years as an Umbraco Gold Partner and one of the foremost experts in Umbraco in the US. You may have seen us share a video around this anniversary last month, where Kyle and Alex reflected on all of the things that have changed since our Gold Partnership started in 2013. Well, the celebration continued with the full Marcel Team last week plus a custom cake to honor the milestone! Our team is excited to continue the Marcel tradition of building quality, performant websites with Umbraco and we even have some photos to prove it.
It's been a great journey to this point, partnering with some wonderful b2b organizations to build their next level experiences for their customers and we are excited at what the future has in store with our continued partnership with Umbraco.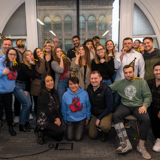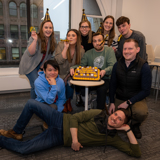 Digital Marketing Workshops
The Playbook Meeting also consisted of three workshops with smaller breakout groups to help us brainstorm and gather strategic ideas to build on in 2023. The workshops focused on three key topics: internal marketing, Google Analytics, and Curiosity. Some key highlights are outlined below:
Data and Insights
In our first of three breakout sessions, we took a deeper look at the Data & Insights arm of our business. With the sunsetting of Google's Universal Analytics happening this summer, we're taking time to better articulate our analytics insights strategy for the influx of clients migrating to GA4. Marcel Digital's philosophy is to take the time to understand our client's business, goals, and challenges before we recommend a solution. We never report on anything we don't trust. Our holistic understanding of web analytics, as well as our seamless integration between all teams at Marcel, gives us a unique vantage point to derive insights for our clients and internal teams. 
Marketing Marcel
Our second workshop focused on how we think about marketing what we do and brainstorming marketing content ideas to meet our goals for the year. The session was important not only for generating ideas, but also to discuss leveraging our subject matter experts to create authentic, informative, and relevant content within our industry to help people learn more about what we do and how we do it. Additionally, we'll be making efforts to grow our LinkedIn Network to better connect and distribute our marketing insights this year. Stay tuned! 
Curiosity
Our final workshop of the day focused on something we hold dear - our core values. As part of our ongoing effort to push ourselves and identify ways in which we can serve our clients more effectively, build stronger relationships and ultimately better results, we are adjusting our values to have a greater focus on curiosity.
To get us thinking, we all took part in an exercise in which each team member could practice the art of asking good questions to uncover insights. Not only do questions help us uncover solutions, but they also help us better understand the unique challenges and perspectives of our clients. Read on to learn more about what Curiosity means to us.  
What does curiosity mean to us? 
Our passion for bringing digital marketing insight to clients is what drives us every day and we do that through curiosity. It's not just technical marketing knowledge, we challenge ourselves to differentiate between goals, strategy, channels, and tactics. More importantly, curiosity helps us link insight to action. Marcel takes tangible steps to set goals, deliver results, and grow your digital presence. With digital marketing being an ever-changing landscape, we proactively think about your business needs through multiple perspectives and larger industry changes.
Some of the ways we define and measure curiosity:
You completely agree with this quote from Albert Einstein: "If you can't explain it simply, you don't understand it well enough" 
Ask clear, logical questions in order to get to the heart of the discussion.
Uses "what" and "how" questions most to get to the root of the topic whilst minimizing "why?"
Understands the difference between a data point and an insight, the "what" and the "so what."
Understands and can differentiate between goals, strategy, channels and tactics for any particular client, because they have asked enough questions.
Works to link insight to action to create impactful results for our clients
Proactively thinks about the client through multiple perspectives, not just digital
Anticipates risks and stakeholder needs and takes action to address them in a proactive manner.
As you can see, we covered a lot of ground at the 2023 Playbook Meeting. The team was very happy we got a chance to connect to become better aligned and integrated. We're looking forward to asking more good questions and taking on more exciting challenges this year, and we're glad you're part of it.