This week Marcel Digital employees came together to celebrate Earth Day by participating in a plastic bag drive for the Clean Up Give Back organization. This year's plastic bag drive was focused on collecting plastic bags to be recycled into benches that will be placed in the Cook County Forest Preserve.
The event was a great success, with employees saving and collecting 15lbs of plastic bags. These bags will be recycled and repurposed into benches that will serve as a reminder of the importance of sustainability and environmental consciousness. Plastic bags are a major source of pollution and harm to our environment. They often end up in landfills, where they can take up to 1,000 years to decompose. By recycling these bags into benches, we are not only reducing waste, but also creating something useful and beautiful for the Chicagoland community to enjoy.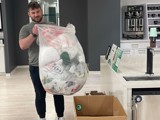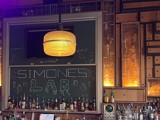 To wrap up the event, Marcel Digital employees headed to Simone's Bar, an environmentally accountable establishment, for a well-deserved happy hour. Simone's Bar is committed to reducing waste, conserving energy, and using sustainable materials wherever possible.
Marcel Digital is proud to support Clean Up Give Back in their mission to reduce plastic waste and promote a more sustainable future. By participating in this year's plastic bag drive and celebrating at an environmentally accountable establishment like Simone's Bar, we hope to inspire others to take action and make a positive impact on our planet.
We would like to thank all of our employees who participated in the plastic bag drive and happy hour at Simone's Bar, and helped to make this event a success. Together, we can make a difference and create a cleaner, more sustainable world for generations to come.
If you would like to learn more about Clean Up Give Back and their plastic bag drive, please visit their website.