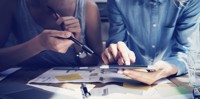 One area that has been hit particularly hard by Coronavirus is marketing and the digital strategies needed to rise above the noise of panic content and cookie cutter email templates. Below, we put together a list of actions you can take now to course correct your digital marketing strategy during Coronavirus and what areas will have the biggest impact moving forward.
Don't Take Advantage of the Situation
Avoid leveraging fear in your marketing efforts. Not only are you taking advantage of people's anxiety but you're also sacrificing the long term for the short term. Be a brand that can be trusted during this frightening time: Transparent, compassionate, and fully aware that there is a bright future ahead.
Focus on Your Content
What do your customers want to hear during this time? What do they need to hear during this time? What value can your brand provide? Answering these questions will give you a head start developing the content marketing strategy needed to reach them. A content audit will help inform what content can be updated, consolidated, or removed completely.
Focus on Marketing Projects You Never Had Time for in the Past
There are projects that can be more easily completed with a remote workforce. For instance, focusing on your content discussed above. Or web development/website maintenance work. Also, this is a great time to elevate your marketing decks. 
Finally, SEO - if there any time to disrupt organic rankings, it is now. While the competition takes their eye off the ball, the content you are developing can be written to attract quality, relevant and authoritative backlinks.
Audit your Marketing Channels
This is a great time to audit your SEO, paid media campaigns, CRO, and Google Analytics implementation. Consider re-evaluating your key focus areas for SEO and your keywords for PPC. You'll also want to update and optimize your audiences in your paid social and paid display campaigns. Is your data being tracked properly in GA? Is GTM installed? Can you create more revealing dashboards in Google Data Studio? This is an opportune time to check your heatmaps and user videos to see what tests you can be running to optimize user flows.
Time of Opportunity
Let the competition scramble and go negative. This is a great opportunity to focus on important initiatives that ensure your firm's bright future. Keep focusing on developing valuable content for prospects and customers that keep them informed and engaged. Work with your marketing and web development teams to knock out backlogged tasks that can be worked on remotely. Leverage your SEO, paid, and Analytics teams to conduct audits of your channels and Google Analytics implementation. Let all the data you collect inform the next steps for your ongoing digital marketing strategy.
Remember - keep pushing. This is only temporary, and you want to be prepared for the long-term when this all blows over. If you need any assistance on where to start or which direction to head, give us a shout. We're always happy to help where we can!