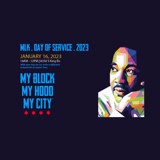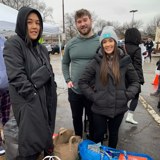 If you are a regular reader of the Marcel Digital Blog, you know we take volunteering seriously. Giving back is very important to our values and we always appreciate the chance to come together to support organizations doing important work and helping those in need. To kick off our volunteering events for 2023, the Marcel Team found an excellent opportunity to give back to our community through My Block My Hood My City in Chicago. 
In honor of Dr. Martin Luther King Jr., the organization held their MLK Day of Service event on January 16, 2023. The purpose of the event was to collect donated items and deliver them to over 500 seniors across Chicago. Marcel Digital is very proud to have participated through both collecting donations and the delivery of those items to their drop-off location in Chicago's Chatham neighborhood. But first, we needed to coordinate our efforts. Employees met at our office location on January 12 with various food, PPE, winter apparel (hats, gloves, scarves) and home goods to donate for delivery to those in need on MLK Day.
Marcel Digital would like to give a big thank you to My Block My Hood My City for putting on this event and giving us a chance to use the holiday as an opportunity to get involved and help people in our community. We would also highly recommend getting involved with them on a personal or organizational level, as they have an excellent mission. They work to inspire youth, empower communities, and build a better world one block at a time.
What's more is that My Block My Hood My City believes in providing opportunities for community members to step outside of their comfort zones to explore new neighborhoods, cultures, and cuisines. They believe in making efforts like these to help us all gain a greater understanding of the world...and so do we! You can learn more here or get information about their future events and volunteering opportunities. 
Get In Touch
Looking for help with your website? Fill out our form and our team will be in touch shortly!