There's no doubt about it that users and search engines are both putting higher expectations on website owners to provide a top-notch mobile experience, and for good reason. Between 2016 and 2017, the percentage of website visits from a mobile device rose 57 percent to 63 percent, while time on site from mobile devices grew from 40 percent to 49 percent. What this study from SimilarWeb shows is that there was a faster than expected shift of web usage from desktop to mobile devices over the past year.
This does not go unnoticed by Google and other search engines. In fact, in 2018 Google started rolling out what they are calling "Mobile-first indexing", meaning they will use the mobile version of a website for indexing and ranking to help mobile users find what they are looking for. Search engine's main objective is to provide quality results because if they don't, people will start using them. With more users browsing on mobile, it's no wonder they are focusing so much on the mobile experience of their results.
What this means for you is that you as a website owner is that you need to be focusing on providing a stellar mobile experience for your website. Below, we'll show you how you can take your already great Umbraco mobile website and provide a top quality, optimized experience.
Use The Power Of The Grid
One of the greatest features of the Umbraco CMS is the ability for users to create clean, responsive web pages using the grid layout system. What the grid editor allows you to do is easily prioritize your content and quickly create layouts that are uniform and responsive to the device that they are being viewed on. To do this, simply click elements in the Umbraco backend, choose the element type (such as text, image, video, form, etc.) and add!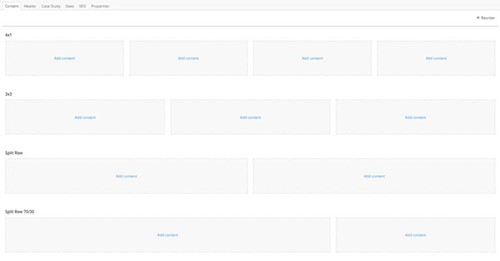 From there you'll be able to drag those elements to wherever you want them to live on the web page, adding colors and styling to suit your branding guidelines without bothering your web developer (trust us, they'll appreciate it!)
Don't Use A Separate Mobile Website
One of the questions we get most as digital marketers and Umbraco web developers is "Should we have a separate desktop and mobile websites?" Our answer (and Google's) is a resounding "No!" When it comes to Umbraco and the grid editor (which we touched on earlier), you are already ensuring your website is responsive and renders to any device that it's being viewed on. Essentially, there is no need to create a separate website because your website will already be viewable on whatever device the user is browsing on!
Speed Your Website Up
When it comes to mobile, it's so important that your website renders and delivers content as quick as possible. To do this, you'll want to make sure that you are minifying your code, taking advantage of AMP (we developed an Umbraco package for this!), reduce redirects (although you shouldn't have to due to having a responsive website), and make sure you are using browser caching. If you're wondering where you can get feedback on how to improve your site speed for mobile (and desktop!), check out the Google PageSpeed Insights tool!
Always Test Your Website
This is more of a universal best practice when it comes to owning and maintaining a website, but you should always be testing your website. What we mean by this is that you should be constantly watching the analytics of your website, surveying your website's visitors, analyzing click and heat maps on your website (we recommend Hotjar - we're a founding member!), and setting up a website testing campaign to help boost engagement and conversions on your website.
When it comes to mobile, you should be looking for ways to make your mobile experience even better. Make sure you are testing layouts, font sizes, colors, buttons, and more. Also, make sure that assets are rendering properly on different devices. If these items aren't, it could lower engagement from users, causing them to not take action like making a purchase or contacting you, or worst of all, leaving your website altogether.
Not Sure How Your Umbraco Website Holds Up On Mobile?
If you're not sure how your website is performing on mobile, there are numerous ways to check and see! For instance, Google provides the Mobile-Friendly Test tool to give you direct feedback on how they view your website from a mobile standpoint, and what steps you can take to ensure it meets mobile best practices and is optimized.
If you'd like a more personalized assessment, feel free to contact us and we'd be happy to take a look! We're happy to help however we can!